Martin Meyerson Dies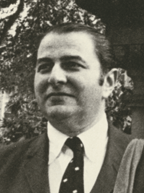 Martin Meyerson Hon'70, president of the University from 1970 to 1981, died on June 2 in Philadelphia. He was 84.
"As the first city planner to serve as president of a research university, Martin brought tremendous vision to his role" as Penn's fifth president (and 19th head), said President Amy Gutmann, adding: "He was particularly committed to the centrality of the liberal arts to a great research university." He took over the University when it was in dire financial straits, gradually steered it to solvency—sometimes making unpopular decisions to cut programs such as varsity hockey—and presided over some important initiatives. Among them were the consolidation of the College, the Graduate School of Arts and Sciences, the College for Women, the College of General Studies, and the social-science departments of the Wharton School into the School of Arts and Sciences. His tenure was also marked by the creation of what later would become the College House system, the transformation of the campus core with the creation of Blanche P. Levy Park, and the first stirrings of Penn's engagement with West Philadelphia.
"As an administrator, faculty member, volunteer, and mentor, Martin was an exemplary citizen of this University for more than five decades," said Gutmann. "Martin drew upon his expertise as one of the nation's preeminent city planners to articulate an integrated vision of 'One University,' in which all of Penn's schools would collaborate to produce leading-edge teaching and research that benefited society. His broad interests and vast contributions personified the integration of knowledge that Penn holds dear."
Educated at Columbia and Harvard, Meyerson began his professional academic career in 1948 at the University of Chicago, then came to Penn in 1952 as an associate professor of city and regional planning. He left to teach at Harvard in 1957, and later served as dean of the College of Environmental Design at the University of California-Berkeley. At Berkeley, he served as acting chancellor during the student unrest of the Free Speech movement, and served as president of the State University of New York at Buffalo before returning to Penn as president in 1970.
"A person of great wisdom, warmth, and integrity, a personal friend to so many of us, Martin will be sorely missed by his extended Penn family and by everyone who had the privilege of getting to know him," said Gutmann.
A University-wide memorial service will be held for him sometime this fall, and a full obituary will be published in a future issue of the Gazette.
---
We look back on his first day as president of the University, in this issue's "Window."