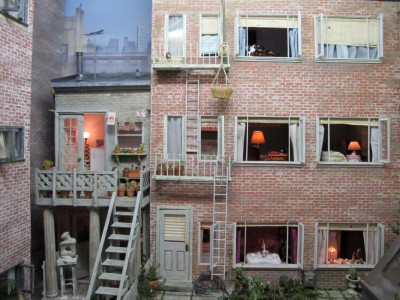 The clues are always there: torn and crumpled sheet music; a cigarette leaking wispy smoke; a busted flower pot; a bag of dragon dung spilling onto the floor. To call them little details might be an overstatement though. They'd be small in a full-size room, but in the miniature scenes Louise Krasniewicz creates, they're downright miniscule.
Yet Krasniewicz, an adjunct anthropology professor, says it's these tiny hints—"evidence," she calls it—that can turn a miniature scene from skillful or charming to intriguing.
"We should think of miniatures not as cute children's toys or art objects, but as views of other worlds," she says. "I leave clues that someone has been there or something is about to happen. The [miniatures] that don't absorb me are the ones that are pristine."
Krasniewicz has become a miniature-making pro over the last five years. She's 3D-printed dozens of blackbirds, crocheted tiny textiles, and manipulated countless metal and wood objects. Her creations have won top awards at the Philadelphia Flower Show. She even has a dedicated miniatures studio in her Belmar, N.J. home.
"On a maker level, it's something that constantly challenges you to improve your skills," she says of working in the tiny. But miniatures are more than a creative obsession for Krasniewicz. She's also been examining them as an anthropologist for some 20 years.
In studying popular culture, she noticed that "something about miniaturizing worlds was fascinating to people"—whether it was action figures at a comic book convention, tabletop war games, or even video games.
She hunted for theories on why people are drawn to miniatures—why they've popped up across so many times and cultures—but the little she found was "all very psychoanalytic." So Krasniewicz has developed her own hypothesis: "We as humans create our cultures and languages and religions and symbols," she says. "Those are artificial. We make them. And as humans, we are constantly breaking this world down."
"I think in some ways that's what miniatures enable people to do: create worlds that you can step back from, see how they're made, and then step into," she continues. "It's a very philosophical approach that took me a long time to get to."
Krasniewicz took her first crack at miniature-making in 2010 when a spot opened up last minute for the Philadelphia Flower Show's miniature settings exhibit. Here she walks us through that prize-winning entry and the four that followed.
2011: Jules Verne's office and garden
Flower Show award: Third Place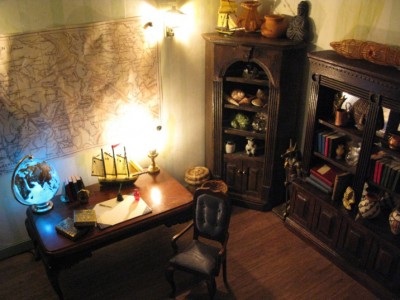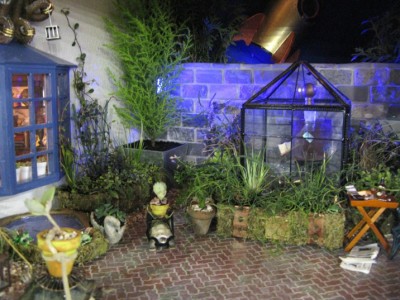 "The first year was by the seat of my pants, but it was a topic I loved. To me, making miniature worlds is the same as writing fiction or a comic book. People come in and see a world you created, and when they leave, they have an alternative to the world we live in. I think it's a much better explanation than saying people [make these] to relieve stress or reach for their inner child. None of that explains the lengths people go to to create miniature worlds or scenes."
2012: Hawaiian Museum with Charlie Chan murder scene
Flower Show award: Second Place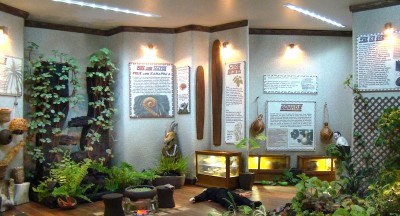 "For the group I entered—miniature settings—you have to have perfectly scaled miniatures and live miniature plants, too. We'd come in every morning [of the Flower Show] to water and trim and replant. I've had plants that lived for months afterwards."
2013: Professor Sprout's greenhouse and office from Harry Potter
Flower Show awards: First Place and Best of Show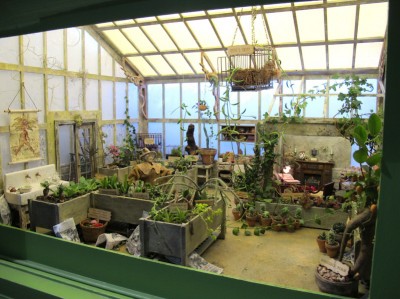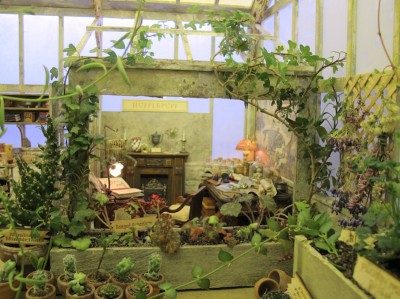 "Most of the stuff in that exhibit was lasercut: the planters, the window frames, the greenhouse. The most popular post on my blog is actually from this one. It's on how to make miniature paint look like it's peeling. Because not only do you have to scale down objects, you also have to scale down things like dirt or chipped paint."
2014: Scene from Hitchcock's The Birds
Flower Show award: Second Place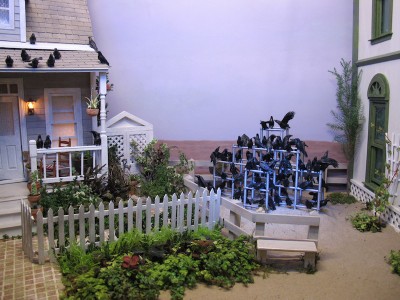 "I needed 200 miniature birds all in different poses. I found one bird and it was, like, $30, and they were all in the same position. That was the year I bought a 3D printer. I designed the bird models and then printed them out. I also bought things like doorways and windows and then manipulated them. No miniaturist I know actually uses stuff directly."
2015: Scene from Hitchcock's Rear Window
Flower Show awards: First Place and Best of Show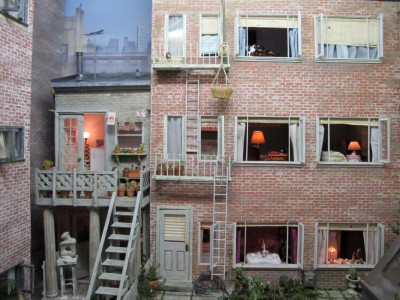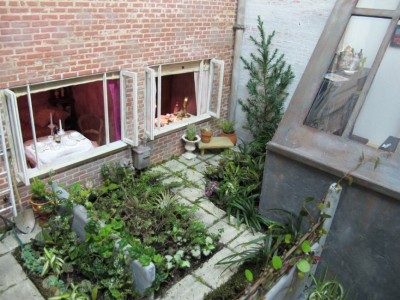 "Rear Window is probably my best in terms of concept. I don't like to use human figures, but there's always evidence left behind. Here's it's pill bottles, glasses. Miniatures offer a real focus on making things—on materializing your ideas. There's a real pleasure in that." 
•
Krasniewicz is taking a break from the Flower Show competitions and won't have an entry in this year's event. Instead she's working on a piece for the National Building Museum in Washginton, D.C.—a replica of Harry Potter's cupboard room under the stairs. She's found a new challenge, too: recreating scenes from black-and-white movies in their original grayscale.
She also plans to write a book about miniatures, models, and dioramas at the World's Fairs. Her favorite discovery so far: the largest and smallest steam engines in the world, exhibited side by side at the 1876 Fair.
—Molly Petrilla C'06