Ladies and Gentlemen, The Booda Velvets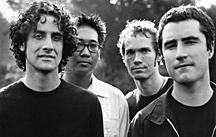 Dan Cromie C'93 was the type of freshman who made noise in the Quad's lounges at all hours of the night. But when a campus rock band called him up, having liked the voice they heard wailing in the halls, his hobby took flight. "I didn't even know I could sing," recalls Cromie a decade later, unwinding after a summer concert at the Grape Street Pub in Philadelphia's Manayunk district. 
Cromie has teamed up with bassist Jamie Balling W'93, drummer Jonathan Yang C'93, and guitarist Adam Lerner to tour the country with their "sonic rock" band, The Booda Velvets. Promoting the music on their new CD, Headrush(Gotham Records 2001), which is often compared to the work of bands such as U2, Radiohead, and Live, Balling describes their music as "layered, passionate, intelligent guitar and sonic rock."
At Penn, Balling and Cromie first aligned their musical talents in the band Rhinolift, while Yang was beating his drums in the Dead Cat Quintet. Though the group evolved into full-time musicians only after moving to New York and teaming up with Lerner, Cromie says, "Penn was where we really came into our love and passion for music."
Touring the east coast since last September, the band—which took its name from a dog chew-toy spotted in a catalogue—describes the 20 performances a month, the late hours with fans and the nights spent sleeping in the woods in their RV as "a nine-to-five job: 9 p.m to 5 a.m." And unlike their past jobs, when Balling worked as an applications developer for Citibank and Yang was manager of video post-production for Showtime Networks, their careers as professional musicians have landed them the thrill of being onstage. "When you play every single night, you start to breathe together as a band," says Cromie, who spent several years as a financial analyst for Interlaken Capital after mistakenly dropping his resume in Career Services' "Finance" slot rather than the "Fine Arts" folder he intended.
While on tour, the Booda Velvets have opened for bands such as Dispatch and The Strokes, had music from Headrush featured on the season finale of MTV's hit television show Road Rules, and landed enough gigs to create the hectic concert schedule listed on their website. However, according to Balling, "There is definitely an element of tedium involved" in the lifestyle of traveling musicians. Barring traffic delays and blown tires, the band spends four to six hours per day on the road before setting up onstage to entertain. During it all, "people seldom realize we are actually working," Yang says.
The Booda Velvets have found one sponsor in Puma, the athletics-wear designer, which is sending out samples of Headrush with all of its online orders. However, the band still considers its biggest promoter to be its growing network of fans. "We're accruing a small army right now," says Yang, "a Booda Velvets street team at a grass-roots level." A second album may be on the horizon, according to Balling.
Explaining their song-writing techniques, Cromie says, "Musical ideas come first. The emotion that music evokes" comes second and determines the lyrics. "Each song," he says, "takes me to a place and words start popping out from it."
—Sarah Blackman C'03