Key Numbers: 3 (Wins), 1 (Loss), 4 (Injuries)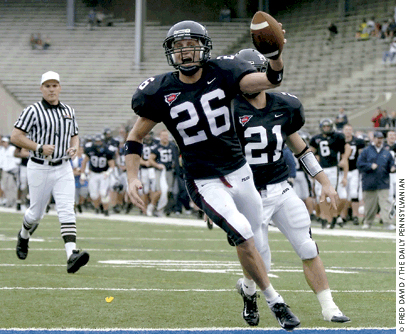 By David Porter
---
The first 40 percent of the 2005 Penn football season produced some statistical oddities, none more bizarre than the four players who play the same position and suffered injuries to the same body part over a span of three games. Yet despite those setbacks, the key numbers to emerge were 3 (wins) and 1 (loss), though the lone defeat was one of the more difficult to swallow in recent years.
The Quakers under head coach Al Bagnoli tend to make their mark the old-fashioned way, with a rock-ribbed defense that annually ranks among the national leaders in Division 1-AA. This season is no exception: After four games, Penn was seventh in the nation in total yards allowed and 10th in points allowed. Its defense against the run was even better, at No. 4. A caveat here, however: Perhaps in football more than any other sport, statistics used out of context can mislead. For example, a team that leads its conference in rushing yards allowed can trumpet that fact in all its press releases, but when the reason for the low numbers is traced to a pass defense that is at the bottom of the rankings and invites opponents to exploit it, some of the luster fades.
Not so with the Quakers, who have made it necessary for opponents to throw the ball more often just to stay competitive this season.
"The good thing that's happened this year that didn't happen last year is that we're getting out in front of people and forcing them to play catch-up," Bagnoli said. "When you do that, you pretty much negate any kind of a major running attack."
Games against Dartmouth and Villanova provided clear examples of how statistics can warp the view. In Hanover, New Hampshire, on October 1, Penn managed just 12 first downs to Dartmouth's 21 and outgained the Big Green by only 28 yards (268-240) yet still managed to win easily, 26-9. A week earlier against Villanova, the opposite held true: The Quakers rolled up 470 yards of offense, ran 16 more plays than the Wildcats and outplayed them in just about every statistical category—and still lost, 28-24.
The difference in the two games lay in what coaches call the "red zone"—the area inside the opponents' 20-yard line. Against Dartmouth, the Quakers reached the red zone six times and came away with six scores, four of them field goals by sophomore Derek Zoch. Against Villanova, they were 2-for-5, and one of the shortfalls was a missed 32-yard field goal in the second quarter by Zoch, who was close to perfect in the first four games with eight field goals in nine attempts. But his one miss proved critical when, in the final seconds, Penn drove to the Wildcats' 4-yard line. Needing a touchdown to win instead of a chip-shot field goal, senior quarterback Pat McDermott was sacked as time expired.
The loss was especially galling for Bagnoli, who has come achingly close to beating the Wildcats but is 0-4 against them, making them the only team he has faced more than twice that he has yet to defeat.
"The problem with Villanova is that you have no margin of error against them," he said. "We miss a 32-yard field goal when we're already winning, and it doesn't seem like it's a big deal. Or you don't get a first down, or the officials miss a very easy illegal formation, which resulted in a huge play for them. Sometimes you can still make a stand and overcome things like that. But they just put so much athletic pressure on you that inevitably, with their skill, they're going to create some plays on their own."
That Penn has been able to create much of anything in its offensive backfield is a tribute to the play of quarterback Pat McDermott and to the Quakers' overall resourcefulness in the face of a series of injuries to its running back corps. It started when junior Von Bryant suffered a season-ending shoulder injury in the season-opening 41-14 win over Duquesne. In the same game, leading rusher senior Sam Mathews also hurt his shoulder. A week later against Villanova, junior Joe Sandberg, who filled in for Mathews and ran for 104 yards against the Wildcats, hurt his shoulder, then strained a knee against Bucknell a week after that. In the Dartmouth game senior Kyle Ambrogi sustained yet another shoulder injury.
"It's unbelievable. We went into the season feeling that that was the deepest position, and maybe as deep a position as we've ever had," Bagnoli said. "Things go in cycles. It's crazy. One year it's hamstrings, the next year it's lower back, the next year it's shoulder. It'll be something else next year, for whatever weird reason."
Mathews and Ambrogi returned against Bucknell and Sandberg was expected to be back in the lineup by the following week. (Ambrogi even scored two touchdowns against the Bison. He and his brother, Greg, a sophomore who scored on a fumble recovery, became the first siblings to score touchdowns in the same Ivy League game since 1967, according to the Ivy League office.)
As the Quakers prepared for the meat of their Ivy League schedule, the usual suspects stood in the way of their first title since 2003 and sported a few impressive statistics of their own: A Brown team led by Nick Hartigan and his 145-yards-per-game rushing average, Harvard and Clifton Dawson, who was running for 110 yards per game, and a 3-1 Princeton team that appeared to have found its groove after several disappointing seasons.
---
 Dave Porter C'82 writes for the Associated Press.
---
Kyle Ambrogi—"One of Our Shining Lights"
As the Gazette was going to press, we learned that Wharton senior Kyle Ambrogi, a running back on Penn's football team, died at his Havertown home on October 10. His death was reported as a suicide.
"The Penn Football family is deeply saddened today with the news of the sudden death of one of our shining lights," Head Coach Al Bagnoli said. "Kyle was a remarkable young man, a true scholar-athlete, an ambassador for Penn, a tremendous teammate and leader on and off the field, as well as a caring and outstanding brother." (Kyle's brother, Greg, is a sophomore on the team.)
Athletic Director Steve Bilsky W'71 said the department was working with the many support services that exist at Penn "to lend support to Kyle's friends and teammates who are devastated by his untimely passing. All of us share the grief expressed by Coach Bagnoli and offer condolences to the Ambrogi family."