After Katrina, Penn asks: "What Can We Do?"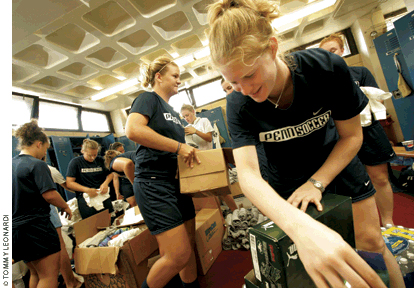 While rescuers lifted stranded Katrina victims from roofs in New Orleans, Zach Coopersmith was working at Pottruck Fitness Center with a friend and watching coverage of Hurricane Katrina's deadly aftermath on TV.
The images of the flooding and its many victims were "pretty powerful stuff," the Wharton junior said. "So we started thinking, 'We have a lot of free time. What can we do?'"
Coopersmith and a few dozen of his Pi Kappa Phi fraternity brothers set up Red Cross collection buckets on and near campus over Labor Day weekend. The response was "unbelievable," he said. "We set a goal of $500, and in the first day we collected $2,500 … We had everyone from cab drivers to homeless people [donating]. We had people giving everything they could, and all of them said they wished they could give more." Their effort raised $5,500 for the Red Cross Disaster Relief Fund—a sum that was matched by a philanthropist in Wyoming who knew one of the brothers.
After learning of the destruction left by Katrina in the Gulf Coast, many in the Penn community rushed to coordinate relief efforts and benefit events. Aid came from the highest levels of the administration to the newest student groups.
"We mourn the victims of this terrible tragedy and commit ourselves to finding solutions to help the survivors rediscover hope and rebuild shattered lives," Penn President Amy Gutmann said in a statement. "We felt it important to offer students from the Philadelphia area as much continuity as we can until they can resume studies at their home institution."
As the Gazette went to press, 110 undergraduates of Katrina-affected colleges and universities had enrolled here for the fall semester. Graduate and professional students were admitted to individual programs on a space-available basis. The University also arranged tuition deferments and other forms of financial assistance for Penn students from Louisiana, Mississippi, and Alabama who were affected by the hurricane. And faculty and staff were allowed up to three weeks of paid time off to volunteer in hurricane-recovery efforts.
One group of doctors and nurses traded their normal working quarters at the Hospital of the University of Pennsylvania for an RV in the parking lot of a Baton Rouge bingo parlor. Led by Dr. Vivek Ahya, the medical director of Penn Health System's lung-transplantation program, the team first dispensed care in a clinic where Ahya had been invited to help patients from New Orleans.
"We saw urgent-care [patients] and gave lots and lots of vaccinations," says Dr. Giora Netzer, research fellow at the Penn Lung Center and one of the team members. "Once we had 468 tetanus vaccinations in one day. After a couple of days, we got in touch with a FEMA rep and set up a mobile medical center. It was basically an RV that we stocked with whatever we could find."
Most of the patients they saw suffered from skin problems or had respiratory illnesses exacerbated by mold and from constant movement. "The biggest problem was people running out of medications because they couldn't get refills," Netzer said. "We saw diabetics with extremely high blood sugar and people with extremely high blood pressure. One woman with high blood pressure had a stroke in the parking lot."
The Penn team dispensed sample medications, made substitutions when it could, and drove in medical supplies. Netzer wished they could have done more. "The waters may be receding, but this problem of people without medication is not going to be fixed overnight," he said.
The relief efforts planned by Penn student groups were as diverse as the organizations themselves. The men's and women's soccer teams collected water, clothing, food, toys, and toiletries, which were then packed into more than 200 shoeboxes and larger containers to be shipped to Katrina victims through Philabundance, a local charity. "I heard on the news that the Red Cross was asking for money, but people also needed personal items," said women's soccer coach Darren Ambrose, explaining how Operation Shoe Box got started. "I asked the players to ask their friends to donate goods." Soon others heard of their plan and wanted to join in. The School of Dental Medicine supplied toothpaste and toothbrushes. The athletic department donated T-shirts. "People were just so generous," Ambrose said. After the donations poured in, the women's soccer team spent one Saturday sorting, packing, and labeling boxes. "Even now, weeks after the hurricane, there are still a lot of people without basic necessities, " the coach said. "[The boxes] will go wherever people need them."
The Underground Shakespeare Company, a student-run group dedicated to performing the plays of Shakespeare and his contemporaries, donated the proceeds from its production of Love's Labours Lost to the American Red Cross. "We are all basically interested in doing what we can to help, and this is one of many ways," said College senior Katie Kuhl, one of the producers.
UniversityChic.com, a new website created by Penn students as a resource and networking tool for women in undergraduate and graduate schools, planned to sponsor a charity concert. Its organizers hoped to include campus performing groups and, possibly, a headliner act, explained Christie Garton, a Penn Law student and the website's founder. University Chic had originally thought of a concert as a way to publicize the website to potential readers. After watching news reports on Katrina, however, Garton decided that the event's focus should be on helping hurricane victims. In addition to ticket sales, the proceeds from a special VIP auction for alumni of participating schools, including Penn, will go toward hurricane relief, she said.
Other relief efforts were organized through campus housing. The residents of DuBois College House went door to door to raise cash. Fisher Hassenfeld College House sold tickets to a student production of Hairspray. The staff at Harnwell College House sold gold ribbons to residents during move-in. "We decided we wanted to do something for hurricane relief," says Irene Woo, a College senior and resident adviser in Harnwell. "So I thought about what was feasible and remembered Google's [web]site had a ribbon on it. I connected the two ideas, and voila!—a ribbon drive. A girl who is from New Orleans picked the color gold because it is a color of Mardis Gras and is also a more hopeful color." In two days they collected more than a thousand dollars. "I think it showed that Penn students care about what is going on in the world and that we are willing to do something about it."
—Chelsea Tanimura C'06
---
Former New Orleans Mayor Describes Unprecedented "Humanitarian Crisis"
"We've got to ensure that this never happens again," said Marc Morial C'80.
The former mayor of New Orleans and the current president and CEO of the National Urban League ["Man in a Hurry," March/April 2005], issued a sharp critique of "the miserably failed response that took place in the 72 hours" after Hurricane Katrina hit New Orleans.
Morial, who was on campus in September to give a talk for the Fox Leadership Program, called for an investigative commission to hold leaders accountable and said rebuilding efforts must be inclusive [of minority-owned businesses] and they cannot be "an effort to grab land from people."
Morial described the aftermath of Katrina as "a humanitarian crisis … of unprecedented and unfathomable proportions. All of these Americans have been displaced … There are children who can't find their parents, parents who can't find their children, parents who can't find their parents who are senior citizens," he said. "This places a burden on the nation that is going to require a level of responsibility in action greater than anything we've faced perhaps." He suggested that a victims compensation fund, similar to the one created after 9/11, be established.
One student in the audience repeated an anecdote he'd heard about a New Orleans teenager who commandeered a school bus and drove everyone on his block to Texas. "If a 15-year-old boy on such short notice could come up with an idea like that," asked the student, "why is it that with years of planning and 48 hours of notice the government couldn't?"
Such stories underscore the need for a commission to determine the failings of government response, Morial said. "The commission needs to examine if the evacuation was given at its earliest state to provide the maximum opportunity for people to get out of the community. The second thing is, was the plan to manage the shelters of last resort fully executed?"
While he approved of the city's disaster-preparedness plan, Morial had doubts about whether its steps were effectively followed. "Last year they had a mock exercise with Hurricane Kate, which was a mock Category 5 hurricane," he said. "Did the top officials attend? Or was this relegated to some second- or third-level bureaucrat in the city? The business of disaster preparedness and disaster response is a sophisticated component of government. And the people entrusted, either the FEMA director or the local emergency-preparedness directors, have to be people who are trained, skilled, and certified in doing this. These are not jobs for political hacks."
Looking ahead, Morial challenged his audience to "give of their time, their talent and their treasure" to help the hurricane victims. "Go to a shelter here and say, 'I've got 200 students from the University of Pennsylvania here to help … What do you need?' I can't tell you the positive effect it has on people to see that people care," he said. "This is an opportunity, I think, to venture off campus and make a difference."
—Chelsea Tanimura C'06