Journalism's Digital Doyenne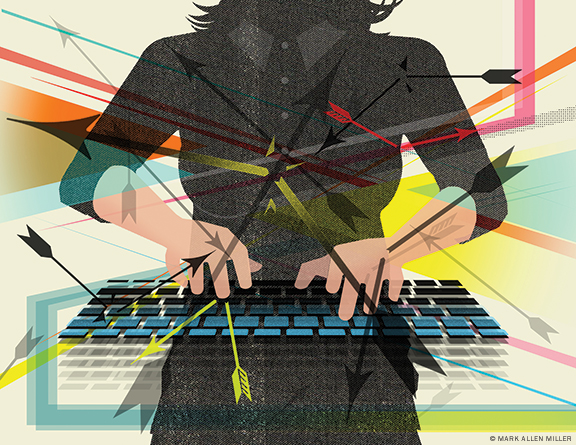 Back in the misty dawn of the Internet, when Kara Swisher was an undergrad at Georgetown, she covered a talk by an outside speaker for the student paper, The Hoya. So did The Washington Post, whose story infuriated her.
"It was full of errors," recalled Swisher, now an influential technology journalist and co-founder of the tech site Recode, during the annual Weber Symposium at Kelly Writers House last October. "Spelling errors, quoting errors, everything. So I called up, and I somehow managed to get Larry Kramer, who [later became] the publisher of USA Today. And I said, 'This is disgusting. This is The Washington Post, and you've got, like, 10 errors in a 10-inch piece.'" Then she upped the stakes: "You're an idiot if you can't send someone who can write."
Kramer's response: "Why don't you come down here and say that to my face?"
Swisher caught the next bus to the Post and went right up to his office.
"I said, 'I'm Kara Swisher. You're an idiot.' And he goes, 'You think you could do better?' I said, 'I could do better asleep and blindfolded than your stupid reporter.' So he goes, 'Well—do you want a job?'"
The Weber Symposium (funded by Stacey W'85 and Jeff Weber) emphasizes the importance of clarity in writing about finance and economics. Given digital technology's role in the economy, and Swisher's reputation for covering it—Industry Standard named her the most influential reporter covering the Internet when she was working for The Wall Street Journal—she was a natural choice.
"I run a business," she said. "You have to understand business if you're going to grow a business." Or write about it.
Consider the stories she wrote about Twitter not long before her talk at Penn.
"This is a company that is an enormous cultural phenomenon that as a business is just not very good," she said.
On September 14, amid rumors that the company's board of directors was considering selling to a bigger tech company, she and her Recode colleague Kurt Wagner wrote a lengthy article titled "Who will buy Twitter?" It ranked all the possible buyers and explained the thinking behind each assessment.
"What the story came down to is, 'No one's going to buy Twitter,'" Swisher said in response to a question from her interlocutor, Al Filreis, the Kelly Professor of English and faculty director of Kelly Writers House. "It was a bad [acquisition] for everybody."
A couple of weeks later, several news organizations ran stories suggesting that one company or another was interested in buying it, which drove up the stock price. Those reporters, Swisher told her Writers House audience, were being fed misleading information by bankers and speculators.
"It was a total Ponzi scheme," she said. "There was nothing in their numbers that would value it at this ridiculous valuation. But all these reporters played along with the bankers—'Google's interested. Disney's interested.'" They were too inexperienced to realize that "if you're Google, you have to look at Twitter. And if you're Google, you have to conclude, 'We're not going to buy it.'
"We wrote a story [on October 5] that said, 'Google's not buying it; Apple's not buying it; Disney's not buying it,'" she added. "Because we had really great sources."
The result? "The value of Twitter dropped $3 billion."
It's fair to say that some people at Twitter and elsewhere were not happy. But, she pointed out, she was only the messenger.
"They were mad at me," she said, "when they should have been mad at the original reporters who wrote false stories about all these ridiculous bids that were never going to materialize."
While she was a student at Georgetown's Walsh School of Foreign Service, Swisher had considered a career in scenario-building for the CIA. (The mind-set for that profession comes in handy when evaluating things like corporate takeovers.) She earned a master's degree in journalism at Columbia, and later, while working at The Washington Post, took some accounting courses at Wharton, which helped her uncover a certain company's financial sleights of hand.
"AOL, in its early days, was doing all kinds of tricky financial manipulation with its spreadsheets," she recalled. "I knew they were lying, but I didn't understand how. So I came up here to take accounting courses." Swisher went on to write two books about AOL, the second of which was titled: There Must Be a Pony in Here Somewhere: The AOL Time Warner Debacle and the Quest for a Digital Future.
Later, she created and wrote "Boom Town," a column for All Things Digital, which she founded and served as co-executive editor with Walt Mossberg, with whom she now runs Recode. For all her tech savvy, she's a journalist at heart, one who knows the value of cultivating sources.
"One of the things that's been lost in journalism is journalism, where people are doing actual reporting," said Swisher. "I met [Amazon's] Jeff Bezos when he had five employees. I met the Google guys in their garage when they had the garage. I met Travis [Kalanick, co-founder of Uber] when he was unsuccessful. I knew Marc Andreessen [co-founder of Netscape and Ning] when he was 19 years old. So it creates a whole different dynamic in terms of relationships.
"I call maybe a hundred people a day," she added. "'What's going on? What's happening?' You know, it's very basic. Anybody could do it."
Her outspoken nature doesn't always make her popular, and since she has 1.2 million Twitter followers, her opinions sometimes reach some pretty dark caves.
"Someone wanted to dismember me the other day," she recalled matter-of-factly. "That's nice. You know, I don't mind it because I realize where it's coming from. Then I try to find these people and call them, which drives them crazy. 'How did you find me?' I'm like, 'Oh, you're very easy to find.' And once you find them, they apologize. It's fascinating. They'll say the most vile things to you on Twitter. Then when you find them, they're freaked out. 'Oh, I'm so sorry.' I'm like, 'Well, do you have a mother or a sister? I definitely know you don't have a girlfriend because you're such an asshole.' Then they get, like, 'Whoa, whoa!'—and then they apologize." —SH