UV versus C. Diff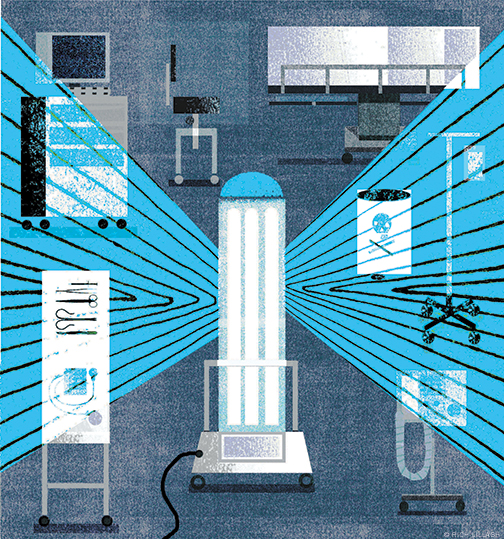 Hospital care and antibiotic drugs are indispensable bulwarks of modern medicine—and perennial sources of medical risk. In combination, they can lead to serious infections like Clostridium difficile, or C. diff, a bacterium that inflames the colons of some 500,000 patients annually in the US, roughly 15,000 of whom die, according to the CDC. But a recent experiment led by David Pegues, a professor of infectious diseases in the Perelman School of Medicine, highlights a method for cutting that infection rate.
Pegues and his colleagues illuminated the hospital rooms of discharged cancer patients (a high-risk group for C. diff infection) with a portable source of UV light, whose germ-killing properties they hoped would eradicate C. diff bacteria on room surfaces before the next patient arrived. Over a 12-month period, the incidence of inpatient C. diff infections in these rooms declined by 25 percent compared to the previous baseline, even as infections rose by 16 percent in non-study rooms.
Considering the cost of managing C. diff, the result was compelling enough for the Hospital of the University of Pennsylvania to implement the experimental protocol on a hospital-wide basis. It purchased three UV germicidal irradiation devices and hired 3.5 environmental-services associates to operate them. In a paper published in October in Infection Control and Hospital Epidemiology, Pegues and his colleagues estimated the cost of the program at about $295,000 for the first year (including acquisition of the equipment), and $195,000 for the second year. They estimate that the program has averted somewhere in the realm of $350,000 to $1.5 million annually in costs for managing cases of hospital-acquired C. diff.