Jewelry Like Grandma Might Have Made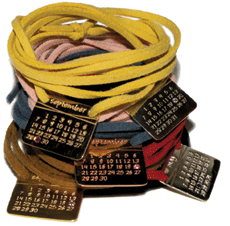 Class of '98 and '99 | Jessica Bohrer C'98 and Becca Richards C'99 had been brainstorming a vision for their business at their favorite East Village pizzeria a good two or three years before they launched Dalla Nonna Jewelry in 2008. But the inspiration went deeper than a thin-crust tomato pie.

Dalla Nonna means "from the grandmother" in Italian, and the first collection of "calendar necklaces"— customized calendar pendants with precious stones marking a date of the wearer's choice—was based on an heirloom passed down from Bohrer's Grandma Rose. (Actually, the original piece was a tiepin belonging to Bohrer's Grandpa Howard, which her grandmother had converted into a necklace.)

While neither Bohrer nor Richards could be described as deeply invested in Italian culture, both share some Italian ancestry—not to mention a love for good pizza. Besides, "everybody likes Italy," points out Richards, who studied abroad in Rome and lived in Florence for a year after college. The name Dalla Nonna evoked an appealing image of generational treasures, the sort that girls might discover while poking around their mothers' jewelry boxes. That idea—of a modern collection with sentimental value—appealed to them on a marketing level as well as an artistic one.

Which isn't to say that the success of Dalla Nonna came easily. Bohrer says it all boils down to "perseverance and a little bit of luck." Since Dalla Nonna kicked off three years ago, its jewelry has adorned such high-profile patrons as Jessica Alba and Tyra Banks and been featured in magazines ranging from Teen Vogue to Peopleto the Russian Harper's Bazaar (really). Bohrer and Richards even appeared on The Ellen DeGeneres Show's Mother's Day special.

The two women bucked another trend by insisting on manufacturing their products in the US. Their product line has expanded to include calendar bracelets and "little letter" initial pendants, while their new "portafortuna" collection, which launched on St. Patrick's Day, features such good-luck symbols as wishbones and hearts.

On the whole, their designs don't vary much.

"We want to make sure that any new collection builds on previous collections," says Richards.

Their business was built on the friendship that began at Penn. Having spent two years as roommates, Richards and Bohrer stayed connected after graduation, and founded Dalla Nonna while they were both working at law firms in New York. Richards has since moved to Chicago, so they now work as lawyers by day and as long-distance business-owners by night.

"Both of us also really like having a lot of different things going on," says Richards.

One suspects that their grandmothers would be proud.

—Maanvi Singh C'13