James Husson to Head Development and Alumni Relations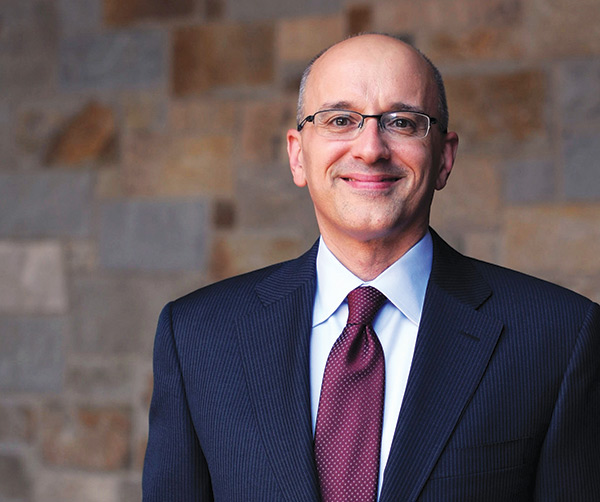 New leaders also named in public safety and finance.
---
Over the summer, new vice presidents for development and alumni relations, public safety, and finance were named, filling key slots in Penn President Liz Magill's administrative team.
In August, Magill announced the appointment of James J. Husson as vice president of development and alumni relations, effective October 17. For the past two decades, Husson headed development and alumni relations efforts at Boston College, where he led a fundraising campaign that raised $1.6 billion, exceeding its goal and more than doubling the previous record of $440 million. He previously worked in development at Harvard and Brown universities.
At Penn, he succeeds John Zeller, who retired after leading the department since 2005. In the announcement, Magill praised Zeller's "extraordinary" contributions to the University through the highly successful Making History and Power of Penn campaigns and called Husson "a worthy successor who will continue to build on the tradition of excellence that John established."
"Jim is a visionary leader, and I am thrilled to welcome him to the Penn family," Magill said, citing Husson's experience at multiple institutions and record of success in recruiting, developing, and mentoring staff to encourage collaboration, diversity, teamwork, and the setting and achieving of ambitious goals.
"I am honored to join President Magill and her leadership team at such an exciting time for Penn, and it's a special privilege to work alongside Penn's outstanding community of development and alumni relations professionals," Husson said in the August announcement.
Interviewed by the Gazette in mid-September, Husson pointed to Penn's "incredible reputation"—both as a university and within the advancement profession—as key attractions of the position. "John Zeller is somebody I've known professionally for a long time and somebody I just admire greatly," he said. "I wasn't in a mode of actively looking around, but Penn and this opportunity was something that really spoke to me in some important ways and at a point in my career when I was excited to try something new."
Though he's lived mostly in New England, Husson is not without connections to Philadelphia and to Penn. His older brother Michael did his residency at Pennsylvania Hospital and has remained there ever since, and Husson remembers visiting him in his lab as a high schooler and many later excursions to the city with his own children to see their cousins. "I feel a real affinity for Penn, and Penn Medicine in particular, because of the role it's played in my brother's life and therefore my family's life for all these years."
A first-generation college student, Husson grew up in Lowell, Massachusetts, where his mother was a bookkeeper and his father, who died when he was young, worked as a short-order cook in a diner. At the suggestion of a school counselor, he applied to and was accepted at the Northfield Mount Hermon School (NMH), a co-ed boarding school in Gill, Massachusetts—which would lead to his introduction to the development and alumni relations world.
During his college years at the University of Rochester, he remained active at NMH as an alumni volunteer. That sparked his interest in the field, and after graduation he went to work in fundraising at the school. "I was thinking about law school, and I decided to defer that," he said. "I took a job in the annual fund, and I fell in love with the work. I've been doing it ever since."
Husson moved to Harvard and stayed there from 1989 to 1999, ultimately directing the university's major gifts program. He then joined Brown, initially as head of principal gifts and later as vice president of development.
In 2002, he was named senior vice president for advancement at Boston College. (Terminology varies across universities, but functionally advancement and development and alumni relations are interchangeable, Husson explains.) There he grew the college's relatively modest development operation, which had averaged $50–60 million in fundraising annually, to ramp up for a more ambitious effort—the Light the World campaign, which despite being launched in 2008 in the teeth of the Great Recession, managed to exceed its goal of $1.5 billion. He also negotiated the reorganization of the advancement program to incorporate Boston College's alumni association, which had operated as a separate 501(c)(3) organization, into the department.
"One of the things that I was being asked to do was to build an advancement organization for the long-term future of the university," Husson said. "I came in with a real sensibility of the importance of alumni relations.
"At universities we talk often about the endowment in financial terms, but I believe for every educational institution its alumni community is also a form of endowment—they represent institutional memory; they serve as brand ambassadors of the university, if you will; they're great sources of advice and perspective." Husson worked closely with the alumni association board to "explore the possibility of aligning more directly," prompting an external review that led to a unanimous vote by the board "to come in under the advancement umbrella."
As with the emphasis on alumni outreach and engagement that featured in Making History and Power of Penn, one goal of Boston College's campaign was to double the number of alumni volunteers, "which we did," Husson said. "I don't believe that you can have fundraising success without strong alumni engagement, and I don't think you need to be in a campaign to have goals that speak to that."
In the runup to his October start date, Husson spent time meeting with Penn's deans and center directors via Zoom. "I've learned a lot from those conversations," he said. He expected his early focus to be "working with those leaders to really understand what are the priorities that they have … and how development and alumni relations can best advance those priorities," he said. "And I should also say that one of the reasons I am hopeful that I'll be able to come in and hit the ground running is that I've been incredibly impressed with the development and alumni relations team that's here. This is a high-quality group of outstanding professionals—people who have served the institution with distinction for so many years—and I'm eager to come in and be part of their team."
The other two recent appointees are new to their positions but not to Penn.
In June, Kathleen Shields Anderson was named vice president of public safety. She had been serving in the position since January on an interim basis following the retirement of Maureen Rush. Previously, she had spent a decade at Penn as executive director of operations and Rush's chief of staff.
In August, Senior Executive Vice President Craig R. Carnaroli W'85 announced the appointment of Mark F. Dingfield as vice president for finance and treasurer for the University, effective October 17. Dingfield has worked at Penn since 2017, serving as the associate provost for finance and planning. —JP