It's About the Music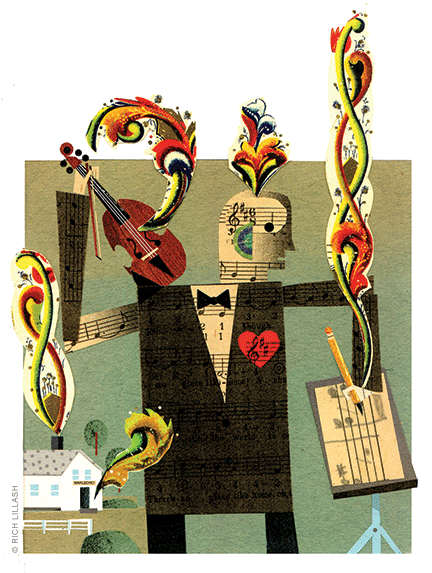 For Philip Maneval G'83, chamber music isn't just an exalted art form. It's a guide for living.
---
"I've always thought of chamber music as a microcosm of life," says the 57-year-old Maneval. "By learning it, one absorbs lessons that are applicable to all areas of life—about sharing, about compromise, about listening carefully to each other, about the whole being greater than the sum of its parts, about working together and trusting one another toward a larger goal."
Defined as classical or "art" music for a small group of instruments, chamber music rejects the soloist mindset, the big ego. It demands players who see themselves as equal partners and who, when they disagree about how to interpret a musical composition, will talk it through until they reach a consensus. It functions as governments should—but rarely do.
Maneval has composed 60 works, mostly of chamber music—quite an output considering that the bulk of his time is spent working for two nationally recognized chamber-music organizations.
Two months ago, Rowan University honored him with a concert devoted to his compositions. All were written in the last four years and reflect the composer's artistic goal: "a balance between heart and mind." Longtime characteristics of his music were obvious: its energy, its elegant and precise sense of form, its contemporary sense of melody, its complexity and demands on both player and listener.
"There aren't many composers I'd schlep out to hear in the middle of nowhere on a cold, rainy night," says Richard Wernick, the Pulitzer Prize-winning composer and Magnin Professor Emeritus of Music at Penn, with whom Maneval studied while working toward his master's degree. "With Philip, the marvel is that he has never taken the easy way out. He hasn't sold out for a little bit of money or a little bit of fame. He hasn't written music that needs only one rehearsal, that audiences will immediately respond to because it is accessible. He sticks to his own principles as to what music should be.
"Beethoven knew that," Wernick adds. "He said his late quartets were not for then, but for later."
Maneval recognized early on what he wanted to do in life. At age 6, with no training whatsoever, he attempted to write a horn concerto in the style of Mozart. "I thought, if he could write four of them, how difficult could it be?" he says.
He eventually abandoned that effort, but kept on composing. Once, as a teenager playing assistant principal French horn in the Bergen County Youth Orchestra in New Jersey, the conductor spotted him scribbling on manuscript paper.
"What are you doing?" he demanded. Certain that he would be punished, Maneval replied, "Well, I compose a bit." The conductor looked at the boy's work, and promptly scheduled it for the orchestra's next concert. The New York Times gave it a nice review, reports Maneval—quite a coup for a kid of 16.
It was only as an undergraduate at Oberlin Conservatory of Music that Maneval began the formal study of composition. It was there that he also developed an interest in arts management. Accepted at Penn for his graduate work, Maneval studied with three of the finest composers of the time: Wernick, the late George Rochberg G'49, and George Crumb Hon'09, the Walter Annenberg Professor Emeritus in the Humanities. He also became manager of the student orchestra.
After receiving his master's degree, he set out looking for a job. Composing wasn't going to earn him a living, and on a fulltime basis it could make for a lonely life.
Maneval's chance came when he was taken on by Anthony P. Checchia, a highly regarded Philadelphia-based impresario, to help at the Marlboro School of Music and Festival in Vermont. Marlboro is a highly selective summer chamber-music retreat where gifted young artists study side-by-side with some of the finest players in their field for seven weeks. Concerts are given on some weekends but repertoire is decided upon at the last minute, so the audience has to go on faith that they will enjoy it. Rarely are they disappointed.
"The idea of working at Marlboro was so compelling," Maneval says. "It's got this amazing combination of qualities—a nurturing, fun-loving, close-knit family atmosphere, coupled with this rather fanatical devotion to the highest standards in music, and I found that to be an irresistible combination."
Located on the modest campus of Marlboro College, a small liberal-arts college, Marlboro Music was founded in 1951 by a group of musicians, among them the German-born pianist Rudolf Serkin, who remained Marlboro's guiding spirit throughout his life—and after. His philosophy was uncompromising: the great composers were deities and the musicians mere servants of their music. But in other aspects of life Serkin showed a childlike delight and playfulness. He began the Marlboro custom, still practiced today, of tossing wadded-up paper napkins across the communal dinner table onto startled participants.
The utopian goals at Marlboro contrast with an informal lifestyle in simple quarters, abundant meals in a communal dining room that was once a cow barn, and a remote setting where cellphones often don't work. Caution, a sign at the entrance warns: Musicians at Play.
Marlboro's current music director is the Japanese-born pianist Mitsuko Uchida, whose elfin appearance belies her immense power at the keyboard. Uchida rehearses with the young musicians and provides encouragement and guidance. She is also like a den mother, hanging out with them every morning in the coffee shop to swap stories and share in their lives.
Maneval quickly became an integral part of the administration, working his way up to manager, with duties that run the gamut from managing the staff to overseeing construction projects. He's been at Marlboro every summer since 1982.
In 1986 Checchia and Maneval decided to take on a new challenge. For several years Checchia had been sending groups of young Marlboro musicians on tour around the country, with four concerts annually in Philadelphia. But the city needed a stronger chamber-music presence. The plan was to add a few more concerts, featuring both well-known and up-and-coming ensembles.
It was a risky undertaking. But the newly named Philadelphia Chamber Music Society (PCMS) received the necessary startup funding, and it had seven sold-out concerts in its first year. The budget was balanced, and has been ever year since.
The number of concerts has climbed steadily, with string, vocal, and piano recitals added. The 2013-14 season featured 65 performances and 48 educational events, including master classes and seminars. This makes PCMS the largest organization of its kind in the nation. David Patrick Stearns, The Philadelphia Inquirer'smusic critic, writes: "Without a single concession, the scale and quality of the series are unlike anything else in the country."
PCMS's ticket prices are held rigorously to an affordable level; $24 is currently the top price. Among the audience of 27,000 this past season were 2,300 subscribers, many of whom schedule their concert-going lives around the performances and develop friendships there.
As executive director of PCMS, working with a staff of only nine, Maneval is responsible for virtually every aspect of its functioning. Every weekday, after a few hours of composing, he sets out for the Philadelphia office from the Swarthmore home he shares with his wife, Wendy Cherner Maneval C'80, senior counsel and privacy officer for Christiana Care Health System in Delaware.
Days at PCMS often stretch into nights. On concert evenings Maneval generally stays through the performance and takes the musicians to dinner, arriving home at around 1 a.m. But he's not complaining. "I don't have free time," he says, "and I don't miss it."
Tony Checchia has worked closely with Maneval for more than three decades, observing his growth as a composer and administrator.
"I'm Philip's biggest fan," he says. "He gets more done in a shorter period of time than anyone I have ever met. His capacity and commitment are enormous.
"And he's selfless. It's never about him. It's about the music."
—Diana Burgwyn