Brand New Voices from the Past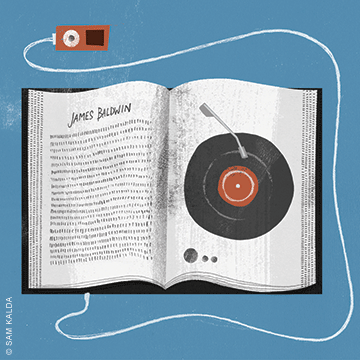 "We were readers," says Harry Schwartz GCP'60, remembering the years immediately after his graduation from Penn, when he and his wife, the writer Lynne Sharon Schwartz, were living in Boston and discovering the work of James Baldwin, John Updike, Philip Roth, and other rising stars of the mid-20th-century literary world.
They got to wondering what their favorite authors sounded like, which was not an easy discovery in those days before the Internet era, when author readings in bookstores and other public venues were much less common. Together with Harry's classmate and colleague Howard Kahn GCP'60, they decided to find out—by arranging to record the authors themselves. And, assuming that others would feel the same way they did, to sell those recordings in book and record stores (remember them?).
"We were saying, 'It'd be really nice to hear their own voices reading their works,'" Schwartz reminisces. "It was a 'Let's put on a show' kind of thing."
The result was Calliope Author Readings, which produced and distributed a series of 7-inch LPs that offered short stories or novel excerpts read by the above authors as well as William Styron, James Jones, Bernard Malamud, and Nelson Algren during its roughly two-and-a-half-year life in the early 1960s.
Its first life, that is. Last year the Schwartzes (Kahn passed away in the 1970s) revived the label, making the recordings available for the first time in 50 years as individual downloads or collected on two CDs.
At the time of Calliope's first go-round, none of them knew anything about the record industry or the mechanics of recording. Actually, when it came to "spoken word records," there wasn't much of a recording industry to know about. "They were in their infancy," Schwartz says. The main player was Caedmon, "which had this relatively big success with Dylan Thomas's A Child's Christmas in Wales."
They wanted to do something different. "We thought, 'We don't want them reading whole things, but maybe people would like to hear 15 or 20 minutes of them reading a representative piece of their writing," he says.
When they learned that James Baldwin would be giving a talk at MIT, they decided to approach him about being recorded. Baldwin, intrigued, told them to get in touch with his agent. They drew up a contract and found a recording engineer and studio, and when Baldwin returned to the area a few weeks later, he recorded excerpts from Giovanni's Room and Another Country. He also suggested they contact Styron, who in turn suggested Jones, who suggested Roth, and so on. "There was a chain," Schwartz says. "One led to another. And they were really enthusiastic about it."
Others were less so. Marianne Moore and Carson McCullers both declined, as did J.D. Salinger.
"We wrote several times to Salinger, and he politely refused every time," recalls Schwartz. Norman Mailer was willing, but wanted "an outrageous amount of money." Fearing that Mailer would brag to his fellow authors and create "unpleasant tensions among them and with us," Calliope decided to pass.
As Schwartz recalls, they paid their authors $50 for the reading, and a $100 advance against royalties. "It wasn't a lot—but at that time it seemed like a lot." To save money, they glued the record sleeves themselves, about 15,000 of them.
"Our small walk-up apartment was filled with jackets, and we would invite friends over for gluing parties and have pots of glue out," Schwartz says. "We still have some of the originals, and after 50 years, they still hold."
The eight LPs they released "did reasonably well," Schwartz says. "We sold an average of 1,500 each." They also got stellar reviews in "now defunct magazines and newspapers," he adds. The poet John Ciardi, for example, writing in The Saturday Review, called the readings "superb."
But they didn't have money to invest in the company, and they did have other careers. Schwartz and Kahn were both urban planners (though Kahn did parlay his Calliope experience into a brief stint at Columbia Records before returning to the profession). Lynne Sharon Schwartz became a well-known novelist (she was a Kelly Writers House Fellow in 2008).
Distribution was also a real challenge. "It was a literary item that we wanted to have in record stores," says Schwartz, "and it was a recorded item that we wanted to put in bookstores. So the market was a little unclear."
Over the years they'd play the records for friends, and finally one suggested they rerelease them. They offered their recording of James Jones reading from From Here to Eternity to the publishers of a planned unexpurgated audiobook, only to be turned down.
"They said, 'We love it, but the question of the rights is probably too complicated, and we really can't take it,'" Schwartz says. "So after that we said, 'Well, we'll try it ourselves.'"
Unfortunately, the company files and most of their stock had been stored in the basement of a furniture store (owned by Lynne's father) in New York's Chinatown section, and the building had been demolished to build a high-rise condo while the couple was away. They did have copies of the recordings, but no contracts. They eventually tracked one down in the Library of Congress—"in Box 42 of [Bernard] Malamud's papers"—and used that to work with the authors' estates and agents to create new contracts that covered "downloads and things that didn't exist 50 years ago."
The recordings were reengineered and converted to digital files. Online technology has made distribution a lot easier than when Schwartz was schlepping the records to stores with a display case that Kahn had designed. Besides ordering CDs or downloads through the website (calliopeauthorreadings.com), buyers can go to Amazon, Audible, and other online retailers, and can access the recordings through library online services. Calliope has also set up bookstore distribution through a major wholesaler.
Even with the explosion of titles on audiobooks, the Calliope readings still offer something different. "We think we have something historical and rare," Schwartz says. "These are the only available recordings of people like Baldwin or [Roth], Styron, reading from their works, the only ones they ever did."
As with their first incarnation, the recordings have garnered some impressive media attention in places like The New York Times and Boston Globe;NPR reporter Susan Stamberg even paired Calliope's readings by the young Roth (from his 1962 novel, Letting Go) and Updike ("Lifeguard," from Pigeon Feathers) with more recent snippets from the NPR archives.
Having built the company infrastructure and made new contacts in the industry, Schwartz says they'd be interested in pursuing other archival recordings—assuming the rights can be worked out—or developing new content.
"We want that niche of writers reading selections," he says. "We're not going to ask them to read a whole book. You can get 75 minutes of voice on a CD. So we could have two or three [authors] on a CD and still have a substantial thing.
"We're kind of reentering the business now after a 50-year gap," he adds. "Wow. This has changed."—J.P.