Inspiration Rock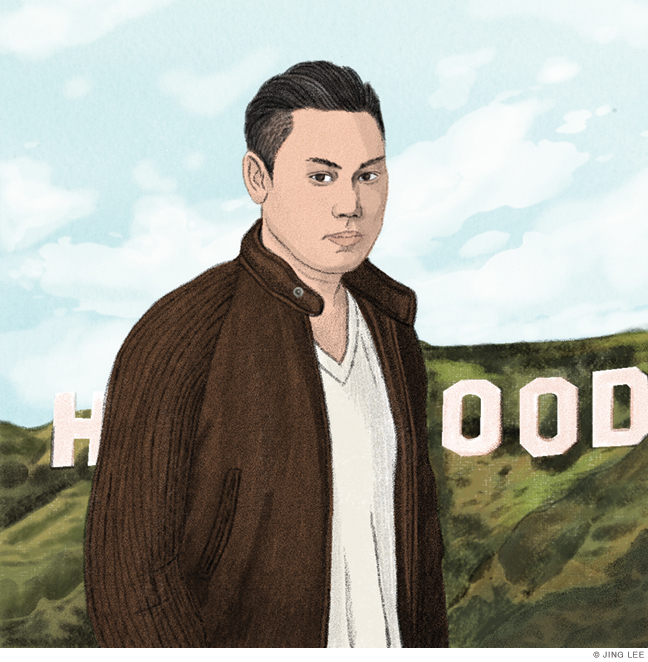 Asian American filmmaker Jon Chu on finding his way in Hollywood.
---
Speaking at the Stephen A. Levin Family Dean's Forum at the Penn Museum in March, filmmaker Jon M. Chu compared getting his first big break—in which Steven Spielberg happened to see a short film Chu made and became a mentor—to winning the lottery. "But the problem with winning the lottery is you don't know how to do it again," he said. "You don't know who you are." Complicating things further for him psychologically, the film that became his industry "calling card" was made after he had shelved a more personal project that dealt with anti-Asian prejudice because he found watching it too cringe-inducing.
Chu is best known for 2018's popular and groundbreaking Crazy Rich Asians—the first major Hollywood movie with an all-Asian cast in a quarter century—and the film adaptation of Lin Manuel Miranda's pre-Hamilton musical In the Heights, released last year. But before then he was a working director for more than a decade, with multiple entries in the Step Up dance-musical franchise, a pair of documentaries on Justin Bieber, and several other films.
For much of that time he felt like an impostor—"scared I was going to be found out," he said.
He felt compelled to find a project that only he could direct, one that engaged with his own culture and identity—something he had avoided up until then, not wanting to be seen as "the Asian director" but one "like Zemeckis, and Spielberg, and Lucas."
That ambition was achieved with Crazy Rich Asians, but Chu also recalled an earlier moment of acceptance and solidarity that happened on the set of 2013's GI Joe: Retaliation, starring Dwayne "The Rock" Johnson, the pro wrestler turned actor who is of Samoan and Black Canadian descent:
"When you get poisoned in that way—of thinking you don't belong there and that everyone is looking at you and you suddenly stick out—then the next time you see another Asian person in the room with you … I remember thinking, 'Don't mess this up, dude. I got us in here, don't mess this up.' Which is so wrong! And after Crazy Rich Asians, I remember my whole perspective shifting, because I saw myself in everybody [that was there], I saw I wasn't alone in this aggressive defensive state. Suddenly I saw someone come in, and I was like, 'Bro, I got you. I know what you're feeling right now and don't worry.'
"And speaking of mentorship, it happens that probably the biggest influence was when I was on set with the Rock for GI Joe, the first day of shooting on this big action movie. He came over to me and put his arm around me and said, 'You know what? You look like my cousin. Can you believe it, that you, who look like my cousin, are directing this movie, and I, who look like me, am the star of this movie? Let's kick some ass.'
"I just remember how powerful that is. I haven't forgotten it. That feeling of someone's there that can see you, that's very powerful." —JP