Hoops Honors and History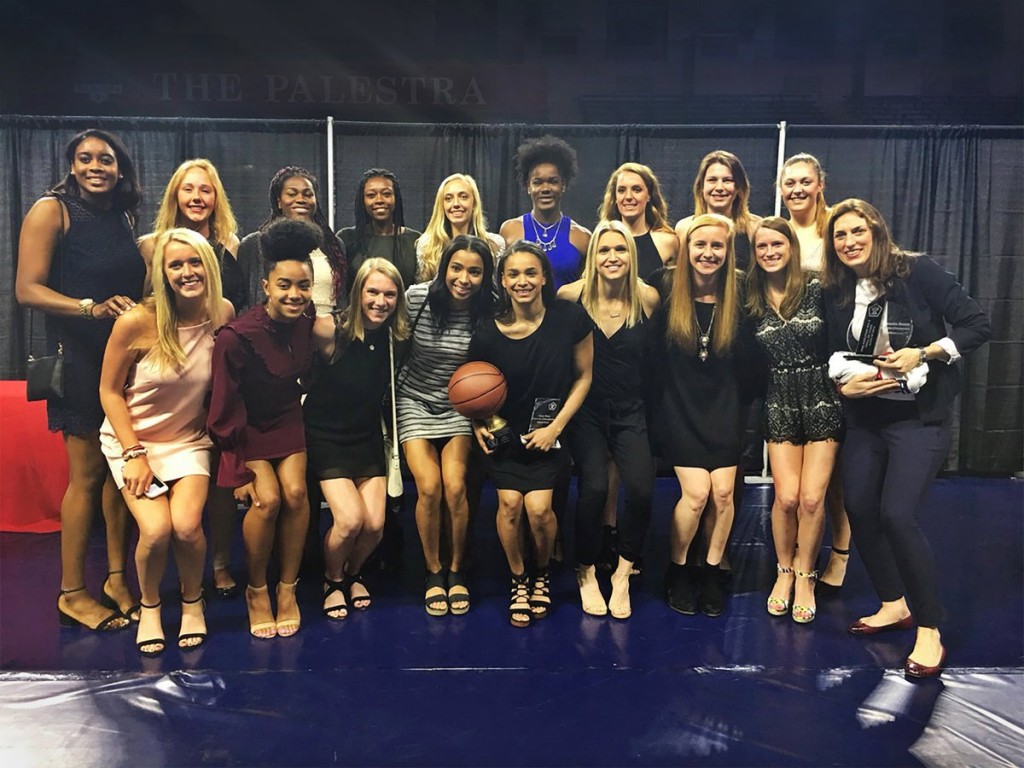 There's certainly no time like the present for the Penn women's basketball team, which is in the midst of something of a glory age. But for Mike McLaughlin, it's just as important to remember the program's past.
That's why Monday's Big 5 banquet was particularly exciting for the Penn head coach as former player Natasha Rezek C'96 was inducted into the Big 5 Hall of Fame on the same night the 2017-18 team was honored for winning a share of this season's city series title — all in their home gym.
"We try to embrace the history as much as we can," McLaughlin said from the Palestra stands, just before the ceremony began. "I want to charge forward, but I also want to reflect back."
Getting a chance to reflect with Rezek was a nice opportunity for McLaughlin, who's gotten to know some players from before his tenure began — particularly those from Penn's 2001 and 2004 Ivy League championship teams — but fewer from the 1990s and earlier.
He said that Rezek, who lives in the Chicago area with her husband and four children, hadn't been back to Penn in a long time but does follow the program and "maybe this will be something to bring her back for a game."
During her induction speech, Rezek a three-time All Big 5 selection who led the Ivy League in scoring (19.7 ppg) and rebounding (12.7 rpg) as a senior — spoke of what it meant for her to return to the gym where she once starred.
"This is a huge reconnection point for me and my time in Philadelphia," said Rezek (pictured below). "I'll cherish this moment, this award, forever."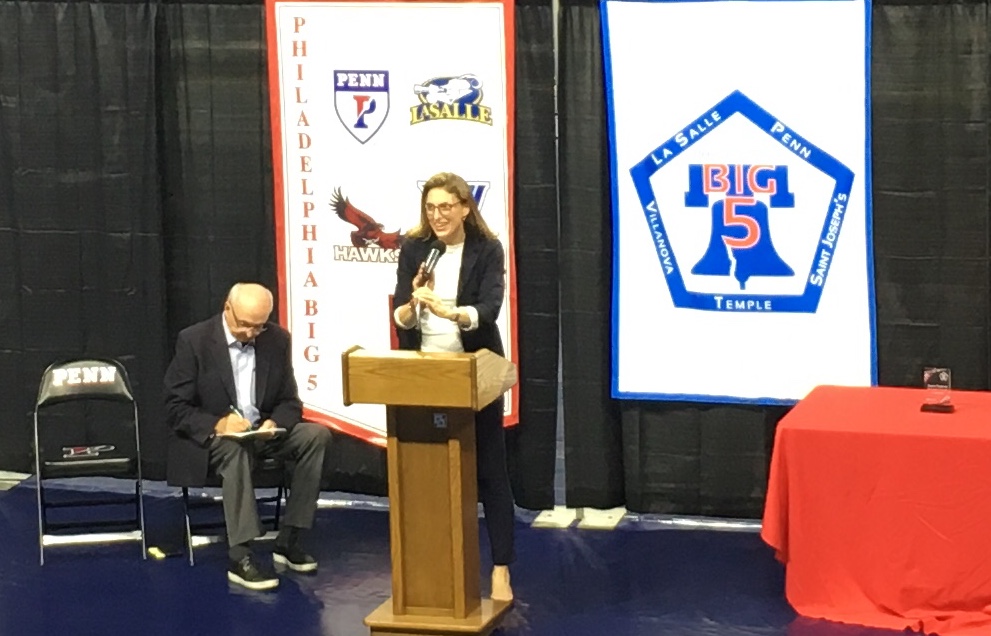 Things have certainly changed around the Penn women's basketball program since Rezek's playing days, and she wouldn't have recognized a part of the Palestra halls which are now adorned with three new plaques commemorating the team's 2014, 2016 and 2017 Ivy League championship teams. Those were all unveiled last week, right before the team's banquet in which they bid farewell to the four senior stalwarts who led the Quakers to the '16 and '17 titles: Michelle Nwokedi, Anna Ross, Lauren Whitlatch and Beth Brzozowski.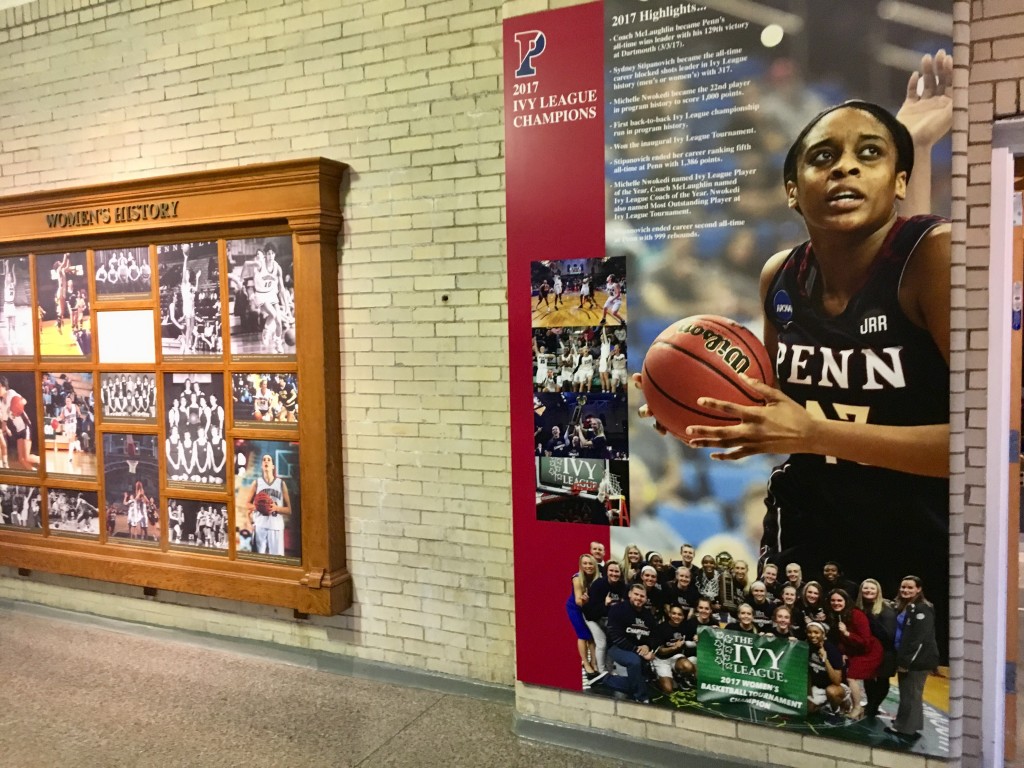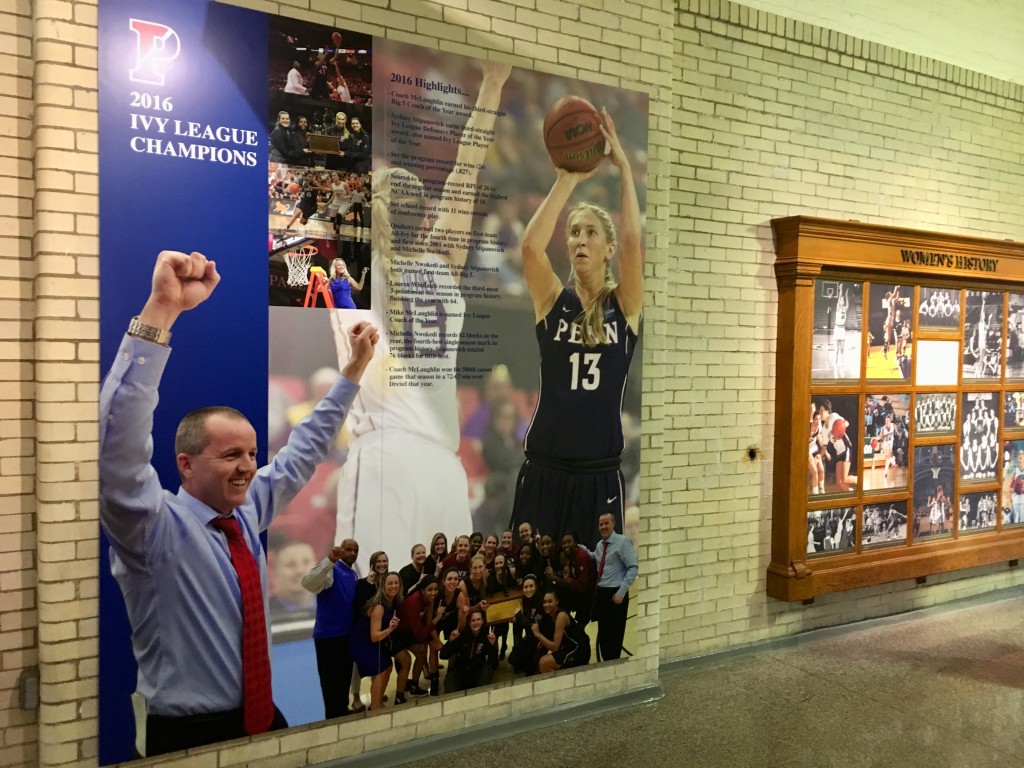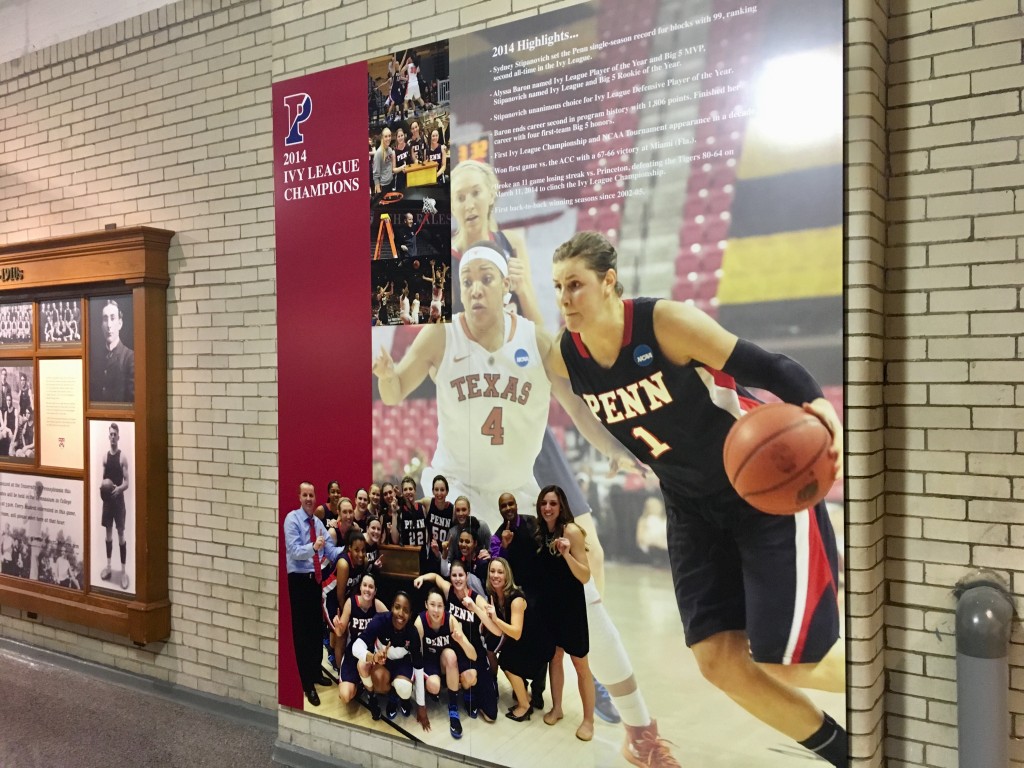 "Their impact is going to be felt," McLaughlin said. "They won 89 games, two Ivy titles, two Big 5 championships — what they accomplished is amazing. It's never been done in the history of the women's side. And the way they are — so mature, so engaging, everything you would want as seniors. Watching them speak at the banquet was a pretty special night."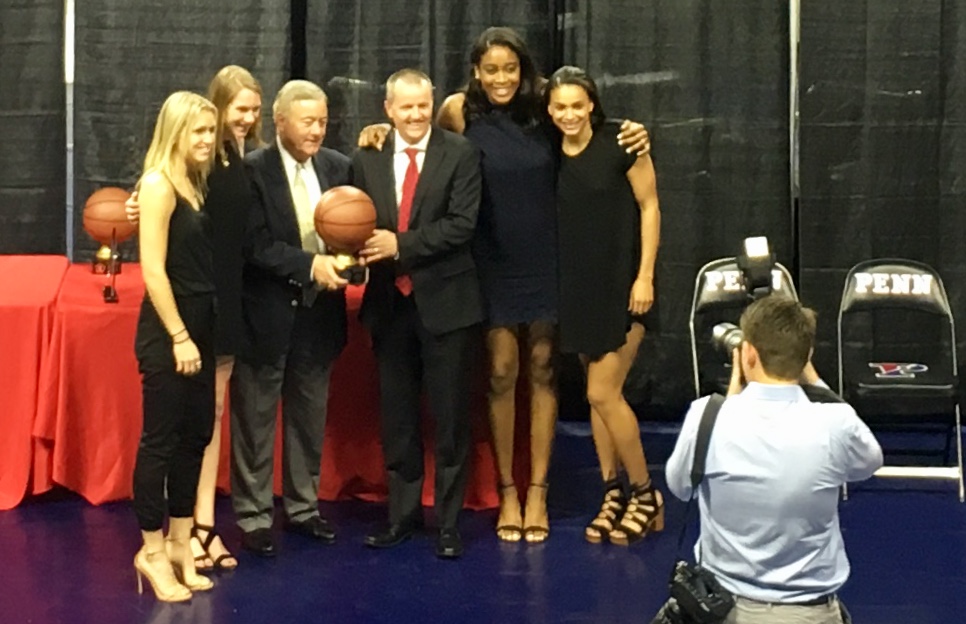 All four (pictured above) will likely stop playing basketball with a couple of them already lining up in jobs in New York after graduating in May. Nwokedi and Ross, in particular, could have possibly pursued opportunities to play professionally but why do that when winning championships at the Palestra was the absolute pinnacle?
"I think they're all ready for the next step," McLaughlin said.
And what better way to prepare for that than to be honored both as a team and individually as Nwokedi earned a spot on the all-Big 5 first team and Ross on the second team along with freshman Eleah Parker (who was also named the Big 5 Rookie of the Year).
Long an afterthought in the Big 5, where they didn't even win a game from 2004 to 2011, the Quakers are now riding high in their home city and beyond — thanks in large part to possibly the greatest class in program history.
"This all right now is a good way to go out for these seniors," said McLaughlin, who expects them all to return to the Palestra as fans for decades to come. "Big 5 champs, in here at the Palestra — I think it's a terrific ending to a fabulous journey for all four of them."
— Dave Zeitlin C'03