Homecourt Advantage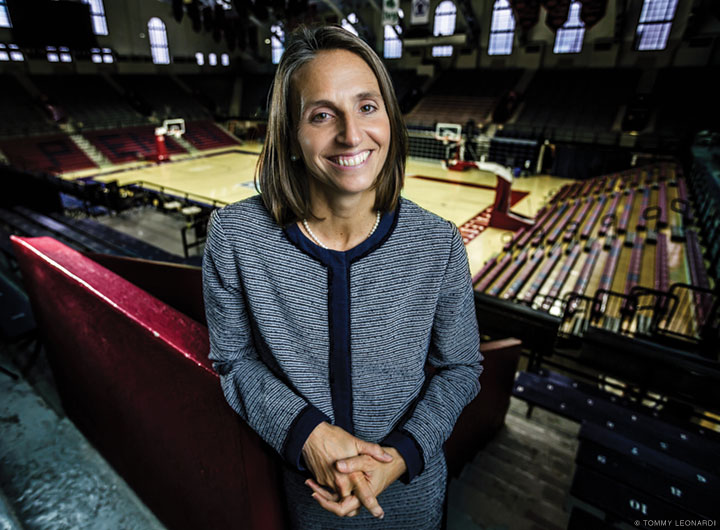 Taking lessons from her "past life" at her alma mater, new athletic director Alanna Shanahan looks ahead.
---
Twenty-five years after she graduated and five years after leaving a job in Penn's athletic department, Alanna Shanahan C'96 GEd'99 GrEd'15 returned to her alma mater, taking over for M. Grace Calhoun as the T. Gibbs Kane, Jr. W'69 Director of Athletics and Recreation in July.
Shanahan—who played lacrosse for the Quakers and began her career as an assistant and interim head lacrosse coach—had most recently worked at Johns Hopkins University after serving as Penn's deputy athletic director for several years.
Gazette associate editor Dave Zeitlin C'03 sat down with Shanahan to discuss the return of Ivy League sports after an 18-month hiatus, the state of Penn's oldest and newest facilities, the football team's worst Ivy League season since 1981, enhanced mental health programming for athletes, and more. The interview has been edited for space and clarity.
---
What's it like for you being back at Penn and seeing teams compete this fall after such a long absence?
The timing was perfect on so many levels. Obviously, I'm very excited about being back where I consider home, both personally and professionally. And to come back at a time that we actually could be out on the fields, on the courts, in the pools, training and competing, there's been a lot of enthusiasm and joy.
How hard was it for you to leave Penn in the first place? And what did you learn about yourself running the show at Johns Hopkins?
It was definitely hard because this place just has always meant so much to me. But at the same time, I felt that it was a moment in my life where I was ready to lead. I feel very lucky to have had the five years at Hopkins. It was wonderful to lead an athletic department for the first time and put into practice everything I had learned in my 20 years at Penn. And then transitioning from the athletics director to the vice provost for student affairs was interesting, something I had not predicted. But I learned a lot and I have a much deeper appreciation for higher ed leadership, and the tough decisions institutional leaders need to make, particularly in crisis. I think I come back to Penn in an infinitely better place as far as thoughtfulness and depth of understanding.
Looking at Penn Athletics now, how would you compare it to when you were an athlete here?
We've come a long way. As much as I loved my experience personally—and it was life-changing—we had some challenges and some deficiencies at that point in our women's programs. It was wonderful to be a part of that growth and adjustment during my prior stint here. And it's wonderful to come back and feel like we're providing men and women comparable experiences.
Speaking of the women's programs, what has it meant to see the team you played for become a perennial contender on the national stage? And what can other programs do at Penn to rise to that same level?
I often laugh with [women's lacrosse head coach] Karin Corbett about the fact that, you know, if I wasn't so bad, she never would've had this opportunity. As much as I will always treasure my coaching experience, it definitely wasn't my long-term calling. And to be a part of bringing Karin to Penn and seeing the success that she has had over time, it's amazing. I think it does prove that anything is possible here. It's not as if Karin started with a wealth of resources. She really did have to scrape and crawl in many respects.
I've loved to see what's happened with women's basketball. In many ways, that's very comparable as far as them being at the top of the league, always clawing for that championship, always looking to advance to the NCAA tournament. It makes my heart sing to see us have success across many women's programs.
What will the recent $241 million raised as part of the Power of Penn campaign do for the department?
As we think about some of our women's programs, they really do need financial bolstering for the long haul. In my past life at Penn, I was always concerned about the boathouse and the indoor track, feeling like those two projects were necessities. But I wasn't convinced we could move them forward. So, it was so much fun to come back and see the boathouse basically under construction. And to be part of the planning process for finalizing the indoor track project, it's awesome. I would not have had a boatload of optimism around those two pieces when I left.
What other capital projects are you most excited about?
We'll do some work on our baseball stadium, which will be more enhancement and renovation. We have to keep an eye on this building [Weightman Hall] just because of its age. We're consistently looking at the pool, from the perspective of not just our varsity programs but our recreational swimmers. And there's clearly an arms race happening out there. Our lacrosse programs have had a lot of success, but you're seeing lacrosse-specific buildings pop up in our conference. So, I'm sure there'll be a few more things we'll explore.
The Palestra and Franklin Field are of course two of the best jewels in college sports. But what kind of maintenance goes into keeping both in good condition? It seems like the new windows at the Palestra have been well received.
The iconic facilities are always an interesting challenge because you love them to death, but they clearly require a significant financial investment when you need to do anything meaningful. The refurbishing of the concrete that was deteriorating in Franklin Field, and the scaling of the stands, we're excited to have that project come to completion.
I think that the new windows at the Palestra are a significant upgrade. Aesthetically they make the building look a lot nicer and a lot more up to date. We've made some ventilation improvements. We still, I think, aspire one day to incorporate air conditioning. We're not quite there yet. But I think we've made some general airflow improvements.
The track at Franklin Field was recently renamed [Rogers-O'Hern Lyons Oval/Track] following a large gift. And under your predecessor, the Palestra court's naming rights were sold [and renamed Macquarie Court at the Palestra]. Is there a fine line between preserving tradition at those venues and bringing in new sources of revenue?
I think that there's always that delicate balance. There's no question the financial resources are critical to help elevate the experience our student-athletes are having. But I think we have to do it in a way that's tasteful. You won't see a lot of neon light. You won't see a lot of over-the-top signage. But stuff that's classily done and thoughtfully done, you've got to think about what that type of investment can mean for athletes.
The football team just wrapped up a tough season. Perhaps it might be unfair to judge too harshly given the pandemic challenges, but what kind of pressure does that put on head coach Ray Priore?
This was a tough season for all of us. We appreciate that there was nuance with some of our peers having the benefit of more students taking gap years, which allowed them to have more veteran teams compared to ours. But I think we'll all be the first to admit we have work to do. And I think that's why it's important for Ray and me to spend some time together brainstorming. I personally feel that we need to make some changes. We need to at least plot a course that gives us confidence that we're headed in the right direction.
I'm sure you're quite happy with the direction of track and field under Steve Dolan. But naming him director of Penn Relays too, isn't that a lot to handle on top of his coaching duties?
It would be unfair if I said it wasn't. I actually recruited Steve to Penn when we hired him as the director of cross country and track and field. And even at that point, we had talked about what his relationship with the Relays could be. For a long time, we had a lot of work to do in track and field and cross country and he really did need to be solely focused on that space. But I do think there's a lot of synergy. I think that one complements the other. And Steve, he's a remarkable talent. I think he can do both jobs incredibly well. The key is supporting him appropriately and bolstering the track staff and bolstering the Relays staff around him so that we can continue to have success on both sides.
The basketball team has made waves early in the season with players sitting during the national anthem to protest racial inequality. What kind of feedback have you heard, and what is the athletic department's stance on the issue?
Not surprisingly, we are going to find individuals who are incredibly supportive, and you're going find individuals who find this horrific. It's not an easy landscape to navigate. But I give our athletes and our coaching staff a lot of credit. This is something that they take incredibly seriously. They feel like our country has more work to do, and for them, this is the moment to remind everybody of that fact.
I think what's wonderful about this program is they're not just about having these visible signature moments. They are about actually doing the work. And this group is very invested in how to create change. So, I feel like from a department perspective, we need to support our student-athletes in exploring who they are and exploring some of the challenges not only of our nation, but of the world. I think we could learn a lot from them.
I know some athletes took the lead on creating a Penn Athletics Racial Justice Task Force and that [Penn basketball captain] Jelani Williams has talked about the need for more minority coaches throughout the Ivy League and at Penn. Will that be a priority for you when you make new hires?
Yeah, there's no question. Just prior to my arrival, we were part of a pilot around a diversity hiring initiative. And we're now at the point where every posting, every search, will be handled with that kind of mindset first and foremost. There were multiple goals coming out of that task force. Hiring not just coaches, but also more diverse senior administrators, is a priority.
With athletes now being able to profit from their name, image, and likeness (NIL), and college sports feeling more and more like big business, where do you see the Ivy League fitting into this shifting landscape?
To date, our step into the NIL landscape has been relatively modest. But a relatively high percentage of our athletes are engaged. I think at last count we had probably close to 300 of our 1,100 athletes engaged in some way. But it's a lot of, you know, stand behind this product and get a T-shirt, or stand behind that product and get a discount code for purchasing of some other additional product. I consider that modest.
Do I think it has the potential to grow with time? I do. When you have student-athletes who have a signature brand, and we can connect them in a meaningful way with a product that is aligned with their brand, I think there are opportunities. But I think this is also something that we're not necessarily rushing into. This is a place where I'm comfortable if we can explore and understand where we can find success and see a little bit of what's happening in the world around us, because I think you see examples of good and bad in the space. And obviously I want to make sure we stay focused on the good.
Men's basketball head coach Steve Donahue has talked about basketball games at the Palestra being kind of a gateway to a vibrant campus. Is there a way for you to boost student attendance moving forward?
I think this is a challenge on many college campuses, particularly college campuses that look like ours. But, you know, I also came through in a time where we had students that would sleep in the Palestra for the privilege of buying season tickets. So I know it can happen. I think a lot of that is creating a tradition of sustainable success. Another challenge is there are so many healthy and appropriate distractions for Penn students today that they're not always looking to spend their time with us. I think the more athletes can connect to non-athletes on this campus, I have always felt that that's the golden ticket. Students want to support one another. But if athletes are only friends with athletes, that doesn't foster the community being engaged in what we do.
What are some of your other biggest priorities over the next few years?
In January we plan to onboard a mental health practitioner that's embedded in athletics and will exclusively support our 1,100 student-athletes. There are some other schools and centers across campus that have had success with this model. So, we're excited to provide that service to our student-athletes.
The other piece that is on the radar, but still in an exploratory stage, is student-athlete nutrition and fueling. When I would ask our captains, 'Tell me, you're the athletic director, where would you make investments?' the two areas that were most repeatedly mentioned were mental health and this concept of a fueling station. Their lives are quite busy. They're always running. There's the challenge of efficiency in getting a meal that provides the appropriate balance around nutrition. Can the athletic department be helpful in that space? We'll never create the athlete dining halls that you see in the SEC. But can we be helpful with sort of a grab-and-go mentality that helps them with their dietary needs and nutritional components? I want to study and explore that a bit more.
We saw with Grace Calhoun leaving for Brown that there seems to be a special draw working at your alma mater. Do you feel the same way?
I do. For me, there is no doubt in my mind that this really is the only job I would have left Hopkins for. I don't know if part of that is because I am a first-generation college student. But when I think about this place in the context of how it changed my life, I will always be wired to want to be in service of it in some way or another.