Gridiron Nostalgia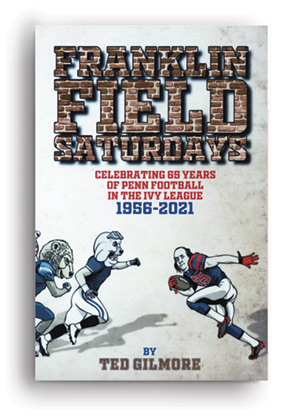 It was a particularly difficult season for the Penn football team, which won only one game in the Ivy League for the first time since 1981. But fans, alumni, and former players who craved better days could have wandered over to the main entrance of Franklin Field during the Quakers' Homecoming loss to Cornell on November 6. That's where Ted Gilmore W'70 was selling his new book, Franklin Field Saturdays: Celebrating 65 Years of Penn Football in the Ivy League (1956–2021).
A retired insurance executive, Gilmore has been attending Penn football games since he was an 8-year-old in 1957, stuffing his basement with old newspaper clippings and programs that would provide much of the source material for his first venture into book-writing. Coming to Franklin Field "got to be a tradition," Gilmore says, so "when the pandemic came and I couldn't go, that was another reason to write the book. There was this giant hole. I didn't know what to do with myself on Saturdays."
To craft narratives on the Quakers' most memorable games since Ivy League play began, Gilmore combined the material he already had (in his basement and his brain) with archival information from the Daily Pennsylvanian and Penn Athletics, as well as his own interviews with former players. The book includes some anecdotes fans might not recall (like the time the PBS television broadcast cut away from the end of a 1985 Penn–Princeton game to show an episode of Doctor Who) and offers a personal touch, with one page devoted to a 7-year-old's contemporaneous description of Penn's famous win over Harvard in 1982, dubbed the "Miracle on 33rd Street." That 7-year-old is his son, Brian Gilmore C'97.
The book is available on Amazon, and Gilmore says he'll likely donate some of the proceeds to the Penn football program. —DZ