Haute Kicks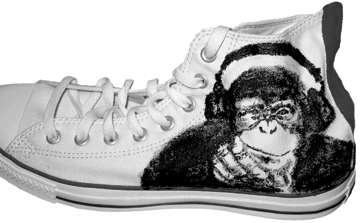 Canvases come in all sizes, but for Andrew White W'08, the very best come in size 10. That's the size shoe he wears, and the canvas he started using several years ago. White had just finished his freshman year at Penn and was searching for an artistic outlet; he found one creating intricate paintings on the sides, tops, and backs of his own sneakers.
"I spent a lot of time that summer coming up with designs, testing out shoes, and trying to figure out methods," he recalls. "When I got back to school, I'd walk around everywhere with my painted shoes. It kind of caught on that I was the sneaker guy, and I started doing custom orders."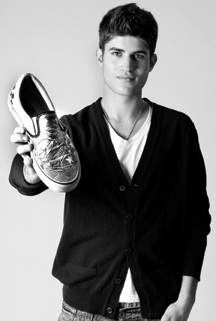 Naturally, the Wharton senior employed his business savvy, founding LastLaffDesigns.com and charging an average of $100-$150 per pair of painted shoes. He also assembled an impressive resume. His shoes have been featured in First Among Equals (FAE), a Lower East Side streetwear boutique; in Topstitch, a women's boutique in downtown Philly; and even right on campus in Penn's annual fashion show.
The budding designer put down his paintbrush to speak to Gazette freelancer Molly Petrilla C'06 about his business, his future, and the interesting story behind Last Laff's name.
How did you decide to paint shoes rather than, say, T-shirts?
I was trying to think of something that would be different than what other people have been doing out there. Shoes have an emotional appeal to a lot of people, whereas something like a T-shirt, for example, is just something you throw on when you're going to the gym.
Where did the name Last Laff come from?
The name spawned from a personal vendetta I had with someone who thought it would be funny to mock me painting shoes, specifically because I had this one flower design. He wrote me a so-called apology email that said at the end, 'If [your design company] turns out to be really successful, I guess you'll have the last laugh.'
What materials do you use?
I mix acrylic paint with a fabric medium, and I use canvas shoes like Converse or Vans. Then I just paint the design on freehand, which can take anywhere from two to five hours.
What are some of your favorites of the shoes you've done?
I just did a girl's Uggs last week, and I think they're one of the coolest things I've done. They have this big black-and-white image on the side of a monkey listening to music on his headphones. I do all kinds of things, though. For my grandma one time I took a picture of myself and my sister, and in an Andy Warhol-style image I did a picture of my sister's face on one shoe and my face on the other.
Have you always been interested in fashion?
I've always had a love for design. In high school I would read car magazines obsessively, but I never knew anything about the engines or the specifications. I realized that I loved car magazines because I loved the designs. I stopped reading car magazines once I picked up fashion magazines, and now I'm actually designing clothes as well as painting sneakers.
Have those been in boutiques, too?
Not yet, but I've done the Penn Fashion Club's spring show since I was a sophomore. I actually just submitted some designs for this year's show. I went through all the runway shows over the last few seasons and then put my own twist on [those designs].
So should we look for you on Project Runway after graduation?
Well, I'm going to be working at Deutsche Bank next year as a global-markets analyst, which is not exactly fashion. I do have a business side, so I'm exploring that for now. But I also really have a strong interest in fashion, so I'll follow the road where it takes me.