Goodbye to All That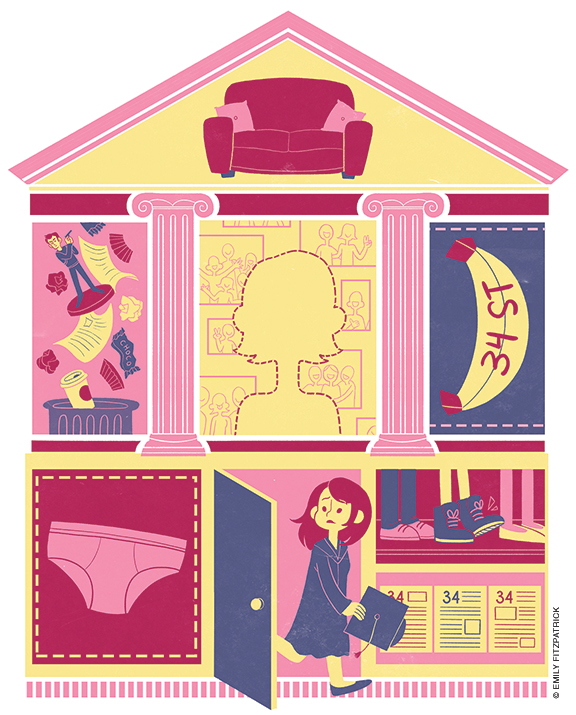 "This time in four months, I could be anywhere in the world—except here."
BY DANI BLUM
---
Fizz burbles in my hair, the sound crackling. The bottle of Andre weighs down my hand. My eyes are full of liquid, and my mouth sours and pops. I can't remember where my coat is. "Welcome to the DP!"someone shouts. I'm sopped: coat soaked in rain, hair dunked in champagne, crying so hard my mascara dribbles into my mouth and tastes like tar.
The morning after—the morning after I spend 17 straight hours electing the next board of The Daily Pennsylvanian, the morning after I dump champagne on a row of other people's heads, the morning after I am no longer In Charge of the campus magazine—I trudge to the office.
I start in the basement: the skunk stench and the hum from the bakery next door. The tiles are streaked with dirt and dust and grease. The silver sign near the stairway says, in curling letters, The Daily Pennsylvanian. There's a door marked Warehouse in the back of the hallway.
The office is warm. Uncomfortably so. Hot and dry and rank, like morning breath, a heat that blankets you the second you open the door and cracks your skin as the hours go by. Sweat clings to the wall. The office has its own climate, like a separate universe.
How do I say goodbye to a place as central to myself as the shape of my nose? How do I forgo that crucial snippet of introduction: "My name's Dani, I go to Penn, I'm the managing editor of 34th Street—"
We came to the DP because we were bored. Or because we needed to fill space on our resumes. We came because we found a crumpled flyer advertising an info session shoved beneath our freshman doors, or because the girl we had just met down the hall was thinking about joining, or because (for a brief, glorious moment during my freshman year) there was free pizza ("DPizza") on production nights. We came because we had been the editors-in-chief of our high school newspapers (practically everyone at Penn, I learned early on, was the editor-in-chief of their high school paper)—or because we'd heard the rumor that, if you talked to the right people, there were lukewarm cans of PBR tucked somewhere in the labyrinthine office space.
I came to the DP because I didn't know where else to go. I needed a place at Penn, and I had the vague idea that this office—with its clumps of hair caught in the carpet, its smell of sweat and its pizza grease–streaked desks—would be my home for the next four years. And it has been. More than the two dorms I've lived in on campus, more than the nook on tree-lined Pine Street I pay rent for each month, these decrepit, pastel-painted walls of "the Pink Palace" have been home for me. I wouldn't have it any other way.
Everyone in the office leaves pieces of themselves: balls of hair fester in corners, shreds of noodles slowly desiccate atop desks. Fingernail crusts and blood spots speckle the bathroom floor. There is only one women's bathroom for a 300-person organization; I kick the walls while waiting in line, watching my boot scuff streaks onto the beer stains.
I start with the desk: I have to clean it now. The crinkled resumes, coffee sleeves, Milky Way wrappers, Post-Its. The Jack Bauer action figure, the box of weeks-old Munchkins. The crumbs of citrus-flavored Therapy Dough, the synthetic face mask of Edgar Allan Poe.
All into the trash, or recycling. The next managing editor won't have any use for it, or me.
I spent my entire college career build ing up to this office: to the sense of ownership I feel when I walk in. The liberty to leave my umbrella or half-eaten box of takeout under the desk. The ability to take a nap on the grimy red couch without anyone questioning my authority to do so.
The day after I hauled my cardboard boxes into English House, I received an email saying I'd been chosen to be a DP columnist. I danced around my dorm room—giddy, but also plotting a strategy to rise through the ranks of the office. The stories I wrote, the pieces I signed up for, the articles I organized and edited and babysat until 2 a.m. to get the right headline: these were all part of a carefully devised plan. Now, I'm done with the position I worked so hard to call mine. And I don't know what I'm doing next.
I've run out of time in this office, but more pressingly, I'm running out of time at Penn. I don't know what I'm doing after graduation. I've applied to jobs in New York, Beijing, Cambodia, Denmark, Chicago. This time in four months, I could be anywhere in the world—except here.
We are perpetually nostalgic. The DP is designed that way.
The 34th Street office used to be wallpapered with the covers of past issues. Yellowed, wrinkling, sagging from the walls. Skimming through their headlines was like walking through pieces of Penn: investigations into leaves of absence, administrational responses to student deaths. Windows into the Orthodox Jewish community, LGBT students in Greek life, Republicans on college campuses. An entire issue dedicated to McDonald's. An alcohol-themed issue, with the words printed bold on the cover: "Do You Really Want to Know What You Did Last Night?"
Between the covers lay the faces, and accumulated junk, of the exec boards who came before me. There was a gilded sombrero next to the design computers. A pair of moth-eaten yellow underwear was thumbtacked to the wall; nobody, not even the alumni who float into the office during Homecoming or reunion weekends, could tell me who it belonged to. There were photos I wasn't supposed to recognize, inside jokes I wasn't really supposed to get. A print out of the words "34 ST" on a banana. In one photograph, a staff member from years ago glowed in the light of the Pottruck sauna; in another, an exec board piled on top of each other, cradling each other's heads and grinning. This time last year, my staff and I would sit beneath "Happy Birthday!" streamers without knowing whose birthday it was; we edited and giggled and sang along to Hamilton and shared popcorn and published stories while ignoring the assortment of unknown postcards on the walls—a close–up photo of a baby whale, an advertisement for Hamlet.
There was a ruby-red couch we flopped on when we needed comfort. It's where we sat, crisscross-apple-sauce, the day after the 2016 election, trying to figure out what to do next. It's where five us crammed together after a student suicide last spring, talking so that we didn't have to handle silence. It's where I lay down the night after my grandmother passed away, sprawling with my laptop as I tried to figure out a witty headline for that week's cover story.
My co-editor had turned to me, told me I could go home.
I shook my head. There was nowhere else I wanted to be.
Over the summer, Street changed rooms within the DP building. Moved into the back corner of the DP, where the old accounting department had been. Now, our office has some blank spaces: a wall where the next exec board, and the next after that, will hang their magazine covers.
The thought of everything I'd known about the magazine shifting—literally, physically—used to terrify me. Now, it's just a reality I'll have to accustom myself to.
On a strip of ceramic wall, near the stairs, someone scrawled the words "Leave And Never Return." It sat there for years. A few months ago, someone took a Sharpie and added "… Why?"
I've already started plotting what I'll leave behind. My initials etched into the wood bookcase, perhaps, or a beaming photo of my exec board. The reality, though, is that no matter how many trinkets of myself I tape up around this space, it's not mine anymore. There's a new managing editor claiming this desk, somebody else's Insomnia Cookies crumbs and Ben & Jerry's wrappers piled on the floor.
---
Dani Blum is a senior English major and the former managing editor of 34th Street.