The New Santeros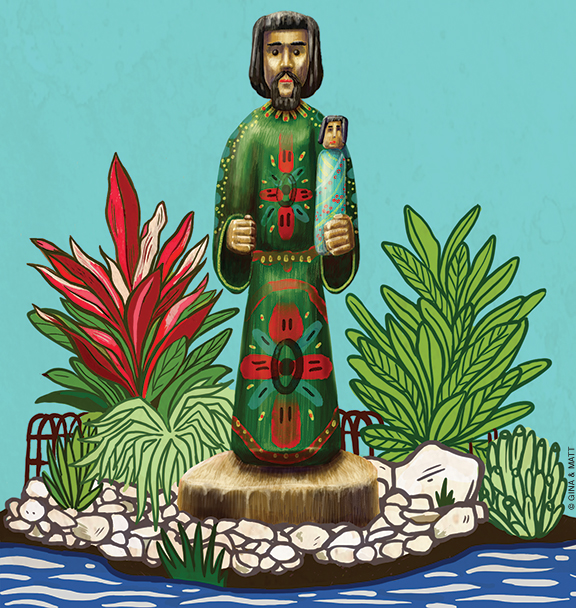 "Hurricane Maria has brought to life the stories of resilience and strength we carry within us."
BY SYRA ORTIZ-BLANES
---
Puerto Rico practices a different kind of Catholicism since the hurricane. Time isn't measured Before or After Christ. It's Before Maria—and unclear what comes after. Salvation hasn't come for those with no roofs or electricity or water. And yet, Puerto Ricans pray to the same saints and light their candles—the ones that keep our world lit up at night, to make sure the sky doesn't swallow the island in the vast darkness of the Atlantic.
My great-grandmother survived the 1918 tsunami in Mayagüez, a catastrophe that has at this point become part-seismic and part-folklore. The San Fermin Earthquake hit at 10:14 a.m. on the 11th of October, when she was a five-year-old taking school lessons. Her mother, my tatarabuela, ran like a madwoman to retrieve her at the elementary school, where the stairs had collapsed. The roads were inaccessible by car. So she went on foot.
After the first shocks, the sea pulled back into itself, as if swallowed by the sand. As fishermen ran to pick up the fish and lobsters left behind, the ocean came back in full force, sweeping along with it everything and everyone in its way. The scene could be witnessed from my tatarabuela's home in coastal Barrio Guanajibo, in front of the beach in Mayagüez. But she had placed a rosary on a tree in their garden, and so they felt a little safer. The home did not flood, despite its proximity to the water. This was attributed to the prayer beads.
My other tatarabuela, on the other side of town, did not know how to stop the massive 20-foot tides of a 7.5-magnitude earthquake, so she placed a San Antonio figure in the front garden and waited. The waters reached the Calle Mendez Vigo, the road where my family lived in the heart of Mayagüez. But the turbulent waves receded as soon as they reached the statue that was sitting peacefully in the yard. The house was supposedly not inundated because of the passionate and furious devotion that existed within its walls.
Mayagüezanos used garbage trucks to remove the fallen towers from the destroyed cathedral. Mayagüez was devastated. It shook for more than nine months, as smaller quakes continued intermittently. But eventually, the western municipality built itself back up. Determining who would inherit the statue from my tatarabuela became a point of contention, in view of its apparent magical abilities to stop tidal waves. It currently sits in my victorious uncle Toñito's home.
I have heard stories like these my whole life. I carry them with me everywhere I go. My mother strung a thin gold chain around my neck the day I was born. It is full of medals I have received over the years. Each tells something different. A Virgen de Covadonga has the date of my baptism, 17-8-98, inscribed on the back. Another was my teething toy when I was two, and so it looks like a wrinkly gold raisin rather than the scallop of Saint James. This chain is my makeshift, mobile sanctuary. It has sometimes seemed unclear whether my family can trust me to walk the earth without a repertoire of divinities pressed against my chest.
These are the powers that have gotten us by since long before I entered the picture. But our supernatural inclinations do not stand alone. They coexist with a resilience and power that can only be possessed by people who have lived for centuries at the mercy of earthquakes and tsunamis and cyclones. Hurricane Maria resonates in our collective memory because forces of nature beyond comprehension have rendered our homeland unrecognizable before.
Almost 100 years after San Fermín, we are left in utter devastation and without electricity, infrastructure, or water. In some cases, without houses or loved ones. We are left alone and ravaged, surrounded by the sea and buried in debris; in other words, with no one to hear us unless they choose to.
Over and over again, we have rebuilt our land, like the artisans who carved our saints from the limbs of native trees for centuries. Santeros made them for remote areas of the island where there were no churches. It didn't matter that there weren't any padres;we made our own makeshift altars atop the mountains with the wooden santos.
Santeros painted new outfits on the icons occasionally, since they were used for different ceremonies. Some could have as many as eight or 10 layers of paint, each costume laid thickly on top of another. Each statue served multiple functions. In some cases, they were conduits for miracles. If someone had a broken leg, for example, they would hang a silver limb onto the saint they had prayed to for accelerated healing.
My grandfather collects these saints because they are a unique Puerto Rican art form. Hundreds of little, colorful faces greet me every time I open a cupboard, bookcase, or closet in my grandparents' home. The devotion of their makers overflows from these wooden icons. The faith that drove the santeros to carve these figures lives on today in their finely wrought details.
These saints demonstrate our ability to take fallen, broken wood and turn it into something else. Something delicate, intentional, and beautiful. As a nation, we must do what the santeros who came long before us have done: unearth the saints that we need, and use the fallen trees to recreate ourselves.
Maria's widespread destruction is our newest origin myth, but the biblical storm has provided us with more than just folktales or mysticism. It has brought to life the stories of resilience and strength we carry within us. My tatarabuela ran on foot in the middle of a tsunami to save her daughter. It is this love and bravery that lifts me.
We prop up the centenarian ceiba trees when they fall. With machetes, we clear the tangled masses of greenery, trash, and telephone wires spreading all over the roads. We kayak through flooded neighborhoods filled with sewage waters to rescue trapped residents in their houses. We look for the hidden rural communities where FEMA has not arrived. We cross turbulent rivers on foot to get our communities food.
We pray to our saints because they are the only ones who listen. They are forces we cannot see but that sustain our hopes. But I also have full faith in the new santeros, in the forces made of flesh and blood who are carving their lives out of Maria's remnants every day.
---
Syra Ortiz-Blanes C'17 is a Puerto Rican freelance journalist and poet.