Golf Instructor, Grandfather, President
Most kids, when they're learning to golf, start with putting and chipping. Not David Eisenhower.
---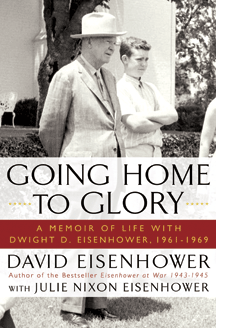 "You have to remember that I would go out with my favorite golf instructor, my grandfather," he says—a reference to the Supreme Commander of Allied forces in Europe in World War II and 34th President of the United States, Dwight D. Eisenhower. "So every time I was in a foursome, it would be with one famous person or another and at least 50 people from the press looking at us. Even at 11 or 12, I had to be good off the tee."
David Eisenhower directs the Institute for Public Service at the Annenberg School for Communication, and is the author of Eisenhower at War, 1943-45, which was a finalist for the Pulitzer Prize in history in 1987.
In his new book, Going Home to Glory: A Memoir of Life with Dwight D. Eisenhower, 1961-1969 (Simon and Schuster, 2010), written with his wife, Julie Nixon Eisenhower, he offers unique insights into his grandfather's post-presidential life—and into an era when political foes could still be privately friendly (or at least cordial) to each other.
During Eisenhower's presidency, young David would visit his grandparents regularly at the White House and the presidential retreat in Maryland (which Eisenhower named Camp David for him). "I took swimming lessons in the pool [at the White House] and came over a lot of weekends," he recalls. "Then, like other grandchildren, when my parents took a long trip, they parked us there."
After his eight years in office ended in 1961, President Eisenhower moved pretty much full time to his farm in Gettysburg, Pennsylvania. His son John, a former army officer, White House aide, and military historian, followed, installing his family—David and his mother and sisters—in a house on a corner of the farm. David, who was 12 at the time of the move, learned to love small-town life. "It was such a different place [from Washington], but actually not so different from where my grandfather grew up," in Abilene, Kansas, he says.
Eisenhower had bought the Gettysburg farm as a retreat from the hectic demands of the military and politics. Young David worked in the barns and grounds, where the family eventually had riding horses for his sisters and managed a herd of Angus cattle as a side business.
Going Home to Glory focuses on Eisenhower's final eight years in retirement. As the book progresses, David achieves a deepening understanding of politics, golf, celebrity, and, eventually, the anguish of old age. At first, the former president is happy just to come to David's Little League games, play a lot of golf and bridge, and keep up with the news of the new Kennedy administration. As time goes on, though, David notices a change. Eisenhower does not like hearing that the legacy of his own administration is becoming less positive than he had hoped and is frustrated that President Kennedy and his officials are not seeking his counsel as often as he would like.
On the other hand, even though the country started going through difficult times during his grandfather's last decade—bitterly dividing over civil rights and the war in Vietnam—it was still a less contentious political time than the present day, Eisenhower contends.
"What is ending here is a period of American life characterized by tremendous optimism," he says. "But even though Eisenhower and Kennedy are rivals, they come together and disagree face to face. One of the things that struck me when doing the manuscript was the cordiality between the two, and then also with [President Lyndon] Johnson and Eisenhower … It is certainly a different time now."
David Eisenhower actually began what would become Going Home to Glory on a cross-country trip he and Julie took in 1977, intending to visit and interview friends and associates of his grandfather before they died. At the time, he was not an academic—he had served in the military, gotten a law degree, and even covered the Phillies for a summer (1973) for the old Philadelphia Bulletin—but he and Julie, who were then living in San Clemente, California, had gotten book contracts and were looking for projects to do. But he put the manuscript aside to work on Eisenhower At War and by the time that was published, he had joined the faculty at Annenberg. He returned to the memoir only recently.
As depicted in the book, the elder Eisenhower isn't quite a curmudgeon, nor a saint. He seems to his grandson to have an obsessive need to be in company, whether with his family, old associates, or new friends. Almost daily, he is on the golf course in a foursome. He has dinners with someone or other and often insists on a bridge game afterward, but is critical of players who don't reach his standards. He has a painting studio, but almost always does his paintings near the kitchen or drawing room so he can be part of whatever conversation or activity is going on.
Regarding the men who succeeded Eisenhower in the White House, David observes that his grandfather had more of a personal liking for Johnson, while thinking him not quite equipped to be president, and the opposite opinion of Kennedy—not so crazy about him personally, but feeling that he had the swagger and insight to be a leader, particularly in his handling of the Cuban Missile Crisis.
As the 1960s progress, David sees his grandfather upset over inner-city riots and the protests against the Vietnam War on college campuses. He is sympathetic to the plight of those struggling for civil rights, but feels that Martin Luther King's methods of peaceful protest and negotiation are far more productive than angry rioting. He asks David, by now a student at Phillips Exeter Academy and then Amherst College, why young people are so angry at their political and military leaders—an attitude he hadn't encountered during World War II or as president.
During his last long illness, David reports, the thing that most satisfies his grandfather is winning a national poll as the most respected person in America, perhaps most particularly because of the national and international tensions that came after his presidency.
On the personal side, though a doting grandfather, the elder Eisenhower nonetheless is not shy about giving his grandson a piece of his mind. For example, he wanted him to go to the Valley Forge Military Academy, something David—who went to prep school at Exeter instead—feared. And when David and Julie announced their desire to get married during college, Eisenhower, who himself married at 26, and despite liking Julie, tried to insist that they wait until they were "established."
At Annenberg, Eisenhower teaches an annual course called "Communication and the Presidency" that builds on his fascination with the executive office in the middle of the 20th century. Supported by grants, students visit presidential libraries to do research.
He and Julie Nixon Eisenhower are part of an informal network of presidential offspring, loosely organized by Lynda Johnson Robb ("one of the great women of all time," he says). "It is a small fraternity, but one with shared history that few others can understand."
Since most of the group's members sit on the boards of their fathers' or grandfathers' libraries, they have communicated and often met over the years. Eisenhower actually once had Margaret Hoover—the great-granddaughter of Herbert Hoover and now a conservative TV commentator—as a student.
Now that his and Julie's children have grown, he says, they plan to do more writing projects, though they will probably be more formal and historical than Going Home to Glory.
Still, "I had been waiting a long time to publish this," Eisenhower adds. "And it feels good to bring back those remembrances."
—Robert Strauss