From Harrison House to Cathouse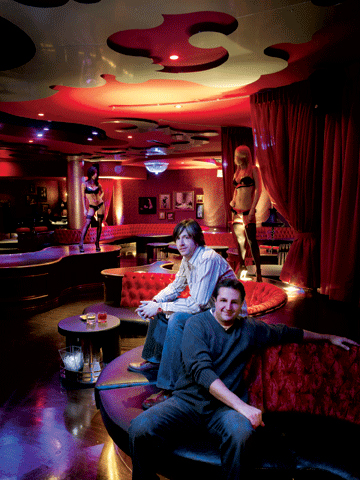 Class of '94 | For Doug Leferovich C'94 and Seth Yudof EAS'94, who recently opened Cathouse—a sumptuous, bordello-like restaurant and nightclub in the Luxor Hotel in Las Vegas—the magic began at Penn. Specifically, Harrison House, also known as High Rise South, where they both lived.
"I think we first really clicked because we each had a love for art forms outside of what we came to Penn to study," recalls Leferovich. "Seth was an incredible guitar player, and I was a semi-professional magician. I remember joking many late nights about how cool it would be if he played lead guitar in a group like Van Halen and if I traveled the world doing magic like David Copperfield."
During their senior year, they were hired as magic consultants for a Penn production of the musical Barnum, and were given 10 minutes to perform at the end of intermission.
"Though we look back now and laugh at how simple and straight-out-of-a-magic-catalog our act was, it was the first time we performed on stage together, and the feedback from friends and actors in the show was amazing," says Leferovich.
Yudof's engineering background enabled him to design everything from "small hand props to large-scale illusions," says Leferovich, whose Penn studies were mainly in communications, marketing, and advertising. "You can have the greatest product in the world, and if people don't know about it or you don't know how to market it correctly, then you can be out of business very quickly. I took principles that I learned in the classroom and applied them to real-world settings."
One night they attended a Janet Jackson concert at the Spectrum, where they were dazzled by a "big costume-party" number called "Escapade," replete with huge masks. Later, as the two young performers talked about names for their act, which utilized masks as props, they came up with Masquerade.
Starting with a short, vaudeville-like routine, performed to music without any spoken dialogue, they gradually expanded it to a 75-minute show featuring nine dancers, 85 costumes, and 13 "major illusions." Soon they added mime—"Believe it or not, we actually each took two semesters of mime at Penn," says Leferovich—as well as dance, juggling, and physical comedy.
Masquerade Productions came about "partly by accident and partly by necessity," says Yudof. "When we launched our 'Manhattan Magic' show in Atlantic City, we knew that we were creating a show to star in, but it never dawned on us that we were suddenly 'producers.'"
Among the concepts they developed was a magic variety show called "The Gamesters" ["Alumni Profiles," Nov|Dec 1999], which they pitched to the then-president and COO of New York-New York casino, Felix Rappaport C'73. Though Rappaport passed on that one, he says he "loved their passion, persistence, creativity, humor, and intellect"; the fact that they were Penn grads didn't hurt.
They kept experimenting, and over the years have produced everything from variety shows to musical tribute shows, and have brokered deals for Broadway touring productions like Hairspray and The Producers.
"I think that the one specific talent that we rely on regularly is really an entrepreneurial ability to be a jack-of-all-trades," says Yudof.
They also kept in touch with Rappaport, whose team had moved to the Luxor.
"When I heard the news that Felix had moved," says Leferovich, "I told Seth, 'Before the dust settles, we need to pitch Felix our Gamester show again, because he is such an entertainment-minded president.' Not too long after that we made a pitch, and Felix presented us with a challenge: There was no room at the two theaters on property for our Gamesters' show, but he asked if we could produce an exciting, outlandish show in their nightclub, RA."
They came up with "Exotique," a "three-hour erotic carnival/show." Though it closed after only two months, that experience established them as capable Las Vegas producers and led to their producing a string of shows in Atlantic City, Las Vegas, and other casino markets.
When they got a call from a Luxor executive who wanted to discuss ideas for new nightlife ventures, they met him in a space that had been a restaurant, recalls Leferovich. "He asked us what we would do with the space, if we had control of it. Without missing a beat, Seth went into a rough pitch, based on a concept he had for a show for Atlantic City. We talked for 20 minutes, bouncing ideas around, and when asked what would we call the place, Seth said, 'CatHouse.' It was perfect. Luxor was in the process of getting rid of everything Egyptian and wanted something sexy and edgy that pushed the envelope, and Seth's name said it all."
The executive loved the idea, but there was a catch, says Yudof: "He then told us that they were looking for someone to come in with at least $8 million to build out the space. Doug told him, 'We're about $8 million short.'"
Undaunted, they put together an "all-star team of Vegas producers, nightclub operators, a celebrity chef (Kerry Simon) and some internationally known investors," in Yudof's words. They came back to the Luxor and struck a deal with Rappaport and his team. Two years later, they had themselves a Cathouse.
Yudof describes Cathouse as a "modern interpretation of a 19th-century European bordello," with some twists.
In recent years Las Vegas has "really been returning to its Sin City roots," says Leferovich. But despite the name, "CatHouse is no brothel!" emphasizes Yudof. "People do occasionally ask about that, but it would surprise you to find out how heavily regulated the nightlife and entertainment industries are in Las Vegas. One of our biggest challenges was to create this sexy environment that would be appealing to women as much as it is to men. We call it a 'classy sexy' rather than a 'trashy sexy.'"
The public reaction has been "incredible" says Leferovich. "The reason we modeled CatHouse after a vintage European bordello was because, in their day, the brothels of Paris were beautiful, opulent venues that were frequented by the social elite and celebrities, much like the nightclubs of today. We were looking to recreate that amazing environment, while still pushing the limits a bit for Las Vegas."
—S.H.