From Bloomers to HBO Fellow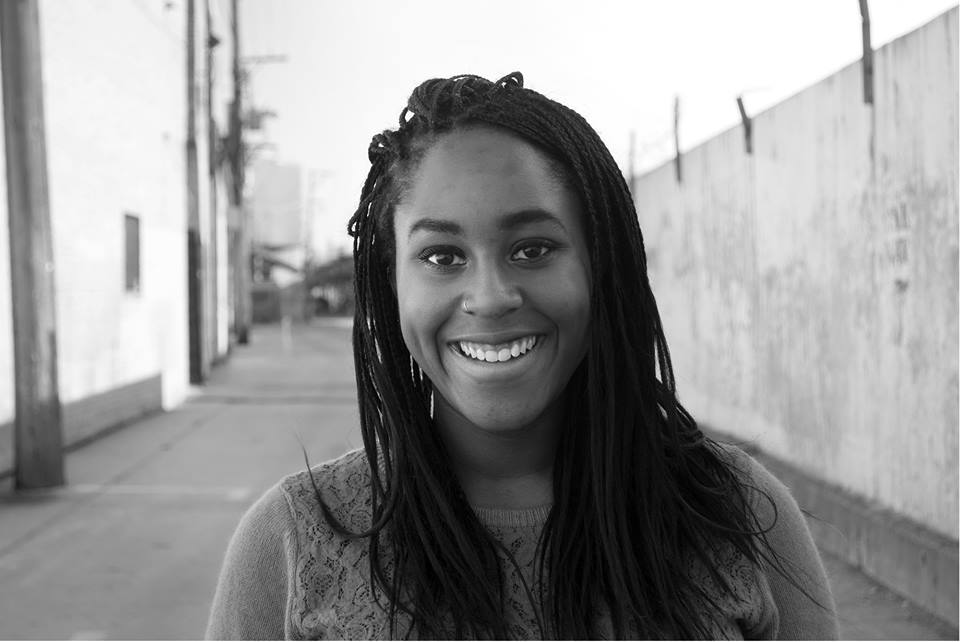 Yolanda Carney C'12 used to get laughs by reciting Simpsons jokes on the playground. Now she writes her own material—and some of it just landed her a fellowship with HBO.
Last month Carney was one of nine writers selected for the inaugural HBOAccess Writers Fellowship Program. Two thousand people applied.
"Right after the announcement, I felt pretty overwhelmed," she says. "Going from nobody to having managers and agents hitting you up on Twitter and Facebook—it's pretty crazy."
HBO unveiled the new fellowship program in March and allowed only a week for completed applications. Carney sent off a 30-page pilot script and was shocked to learn that she'd made it to the top 20 in May. It was good timing: "I was sitting on my bed and had just quit my job," she says. "I really didn't know what I was going to do next."
Now she's at the beginning of an eight-month writing window. The fellowship includes individual mentorship and group master classes at the HBO campus—a week of industry workshops on character and plot development, how to get an agent, and even legal protection for writers.
Carney says she's creating "a comedy with a bittersweet edge" that's "very much HBO." At the end of the fellowship, her words will go in front of industry execs at a reading with professional actors.
"I think the ultimate goal is to introduce new voices to the community," she says. "No one knows what's going to come out of this because we're the inaugural class."
Living in Chicago and working off-stage for the iO Theater, Carney says her work may never have reached Hollywood without the fellowship. She wrote her first play in high school—a satirical skit about some teachers—and Bloomers made her their head writer at the end of her freshman year.
"That was what I did at Penn," she adds. "Everything else was secondary to Bloomers and working on those shows." Her output there included these three sketches:
[youtube height="HEIGHT" width="WIDTH"]http://www.youtube.com/watch?v=-NkdPjW91t0[/youtube]
[youtube height="HEIGHT" width="WIDTH"]http://www.youtube.com/watch?v=–V3V6LJ81o[/youtube]
[youtube height="HEIGHT" width="WIDTH"]http://www.youtube.com/watch?v=J8ruKweZMbI[/youtube]
Carney headed for Chicago six months after graduation, in part because she'd landed an internship with The Onion, in part because "I knew I needed to be out here for comedy and to do improv."
But it wasn't an easy transition. She was used to being funny at Penn, but in Chicago, surrounded by aspiring comedians and halfway through the iO Theater's improv training program, it was impossible to identify as The Funny One.
Help came from another Bloomers alum—and now SNL cast member—Vanessa Bayer C'04. Carney had met the actress during her senior year, when Bayer talked with her about moving to Chicago.
Six months into living in the Windy City, Carney called her up. "She was so encouraging and told me something that stuck with me: "You don't have to be the funniest person there, and if you're not the best improviser, it doesn't matter. It doesn't mean you're not going to succeed."
Carney finished out the iO training but didn't make a house team. She seems okay with that, especially in light of the HBO award.
It's easy to imagine this as a stressful time—her name is out there, industry honchos will soon see her work performed—but Carney says she's focused on writing and storytelling rather than all the hoopla.
"You have to tell yourself it's not a big deal, it's just a script," she says. "This is what I've always done. It doesn't matter if it's HBO or a basement in Philly, it's a story, and I know how to write stories."
—Molly Petrilla C'06