Former Quaker Football Star Still Tough as Concrete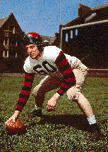 IT was November 1945. Chuck Bednarik Ed'49 had just come out of the Army Air Corps at age 20 and enrolled at Penn at the urging of his high school football coach. Having flown 30 missions on a B-24 over Germany, the solidly built, 6'3'' center and linebacker was now going to transfer his "killer instinct" to the Quakers' football field.
    "When I went out to the first practice, I saw all of these kids. I thought, 'My God, that is the University of Pennsylvania football team?'" But as the war-toughened student soon learned, those "kids" knew how to play the game.
    Bednarik—a 1969 inductee into the National Football Hall of Fame—had the opportunity in May to reminisce about his pigskin days when he was voted the best Philly college football player and best Philadelphia Eagle in 100 years of local sports by readers of the Philadelphia Daily News. "That's a big honor," Bednarik said in a telephone interview from his Coopersburg, Pa., home. "I couldn't have picked a better school as far as football was concerned or as far as an education was concerned," he said of Penn. The Mungermen, as the players were then known under George Munger Ed'33, head coach from 1938 to 1953, were nationally ranked during Bednarik's college football career (climbing to number 7 in 1947) and played to home-game crowds that topped 75,000. Bednarik was recognized twice, in 1947 and 1948, with All-America honors. He took third place in Heisman Trophy voting in 1948 and seventh place in 1947.
    After graduation he went on to play both offense and defense for the Eagles from 1949 to 1962, while working part-time for a concrete company. A sports columnist observed that "he is as tough as the concrete he sells"— a comment soon followed by a 10-page spread in Sports Illustrated with the headline, "Concrete Charlie." The moniker stuck. Bednarik still loves the formidable nickname and was delighted when a horse named after him placed first at a recent race in Philadelphia Park.
    He refuses, however, to watch the post-touchdown chest-pounding of professional football today. "These guys are all millionaires," Bednarik scoffs. "They're half-assed, one-way players today. When I was at Penn, everyone played both [offense and defense]."
    College football still earns his allegiance. Living just 12 miles from the Lehigh University football stadium in his hometown of Bethlehem, Bednarik makes a point of attending every home game there. He goes to at least one Penn game a season and continues to root for the Quakers from afar.
    These days Concrete Charlie prefers to compete in the no-contact sport of golf, playing in numerous celebrity-fundraising tournaments throughout the country. And the biggest endurance test for this former "60-minute man" is the five hours it takes to cut and trim his two-acre lawn. "I can't wait for my 12-year-old grandson to be old enough to take over," he admits.