Events
Argentina
On August 21, join the Penn-Wharton Club of Argentina for a fireside chat with Marcos Galperin W'94, founder of MercadoLibre, the biggest e-commerce company in Latin America. For more details and to register, please visit www.pennwhartonclubargentina.org or email rsvp.pennwharton@gmail.com.
Bucks County
The Penn Club of Bucks County is pleased to invite all alumni to our always-popular First September event on Wednesday, September 12, at La Stalla in Newtown, Pennsylvania. Whether you're new to the area or have been living here for a while, all are invited to join our engaging alumni community. For more information, please visit www.alumni.upenn.edu/pennbuckscounty .
Cleveland
Join fellow alumni, current students, family members, and the incoming class of 2022 for the Penn Club of Cleveland's annual Summer Mixer on Sunday, August 12. For more information and to register, please visit www.alumni.upenn.edu/cleveland .
Hartford
Please join us for our annual First September meeting on September 12 at the historic Thistle Lawn Bowling Club, located in Elizabeth Park in West Hartford, Connecticut. Our meeting will focus on new initiatives and new directions for our club. The Thistle Lawn Bowling Club was established in 1913, and it is one of the oldest lawn bowling clubs in the country. Food and drinks will be provided, and lessons will be offered to all fellow Quakers. This will be a fun event! Please arrive at 6 p.m., and dress in casual attire. Contact Andy Bassock C'90 at abassock@yahoo.com to RSVP and get additional details.
Metro New Jersey
Please join us and participate in our many varied activities. There is something of interest for everyone. Visit www.pennclubmetronj.com or contact club President Caroline Huie WG'93 at cyu_huie@yahoo.com to learn the latest information on our activities, on our club, and to register for events.
PennNYC
Please join PennNYC on July 17 for an interactive workshop led by Jim Arnoff C'72. The Anatomy of a Powerful Negotiation will take place at 6:30 p.m. at BNP Paribas (787 7th Ave) and will teach you the skills to take control of your negotiating, how to maximize results, and much more. For more information on this and many other events, or to get involved with the club, visit www.penn.nyc or email club
President Jason Shapiro WG'09 at president@penn.nyc.
Philadelphia
The Penn Alumni Club of Philadelphia invites all area alumni to join our annual First September Open House, taking place at Sweeten Alumni House on September 25. This annual, free event is a terrific opportunity to meet local alumni and find out more about what the club is planning in the coming year. For more information and to register, as well to see a complete list of upcoming events, please visit our
website at www.pennclubphilly.com.
Seattle
Join us as we send off our local members of the Class of 2022, who will be moving from the Northwest to the Northeast in the fall. Celebrate their achievement with Penn alumni, friends, and families on July 15. Then, on August 3, the Seattle Summer is here! Join the Penn Club of Seattle at Golden Gardens for our annual beach bonfire. For more information, please visit www.pennclubofseattle.com or send an email to pennclubseattle@gmail.com.
Utah
Join fellow alumni, current students, family members, and the incoming class of 2022 for the Penn Club of Utah's annual Student Send-Off and summer party on Saturday, August 18, from 2 to 4 p.m. in Park City. Please visit the Penn Club of Utah's website for more event details at www.alumni.upenn.edu/utah.
Westchester and Rockland Counties
Please join us at the end of August for a pre-release private screening of I Think We Are Alone Now, a new movie by Hollywood producer Fred Berger C'03. The screening will be followed by a Q&A reception with Fred and Penn Cinema Studies Professor Peter Decherney Hon'08. Look for additional details on our website, www.pennclubwestrock.org, as the date approaches. Sign up, join, or opt-in for notifications from our active Penn Community; follow us on Facebook
@pennclubwestrock; or send us an email at communications@pennclubwestrock.org.
---
And the Nominees Are …
Penn Alumni has nominated three candidates to fill three alumni trustee positions for five–year terms starting January 1, 2019.
Brett H. Barth W'93 cofounded BBR Partners in 2000 and is a managing partner, comanaging the firm and overseeing BBR's investment approach and implementation. BBR is a multifamily office, currently serving more than 135 clients with over $14 billion in assets under management. He has extensive experience vetting investment opportunities across the asset class spectrum and through a range of market environments, working with both traditional and alternative investment managers. Brett is also a member of BBR's Executive Committee and Investment Committee. Prior to founding BBR, Brett was in the Equities Division of Goldman Sachs. Previously, he served in Goldman's Equity Capital Markets Groups in New York and Hong Kong. He began his career in Goldman Sachs' Corporate Finance Department.
Brett is an active alumnus of the University. He is a member of the Board of Overseers of the Graduate School of Education and previously served as both the chair of the Penn Fund Executive Board and as the inaugural chair of the Undergraduate Financial Aid Leadership Council. Brett has also been the cochair of his class Reunion Gift Committee for his 10th, 15 th, 20th, and 25th reunions. Brett graduated summa cum laude with concentrations in finance and accounting from the Wharton School in 1993.
He is a member of both the Board and Executive Committee of the UJA-Federation of New York, where he chairs the Jewish Communal Network Department and serves on the endowment's Investment Committee. Brett was awarded the Alan C. Greenberg Young Leadership Award by UJA-Federation of New York, Wall Street & Financial Services Division.
Brett and his wife, Natalie, live in New York City with their twin sons, Benjamin and Brian.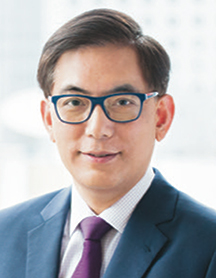 George Hongchoy WG'91 is the CEO of Link Asset Management Limited, the manager of Hong Kong listed Link Real Estate Investment Trust. George began his career with Arthur Young (now EY) in New Zealand and has since moved into senior management positions in financial consulting, investment banking, and real estate investment. He was previously managing director of investment banking at JP Morgan, N.M. Rothschild & Sons, and DBS Asia Capital Limited.
George is chairman of the Supervisory Committee of the Tracker Fund of Hong Kong, a governor of the World Economic Forum's Infrastructure and Urban Development Community, a global trustee of the Urban Land Institute, and an advisor of Our Hong Kong Foundation Limited. He was named the Country Winner of Hong Kong/Macau Region in the EY Entrepreneur of the Year 2017 China Award and Business Person of the Year by DHL/SCMP Hong Kong Business Awards in 2015.
George holds a bachelor of commerce degree from University of Canterbury and an MBA degree from the Wharton School. Currently he is chairman of Asia Campaign Leadership Committee. Previously George was a member of Wharton Asia Executive Board from January 2002 to June 2018. He was president of the Penn Club of Hong Kong and the Wharton Club of Hong Kong. He was chairman of the Organizing Committee of the Wharton Global Forum in Hong Kong in 1996 and 2017. He also contributed to the establishment of Penn Wharton China Center in Beijing.
George and his wife, Dannie, live in Hong Kong. They have two children, Natalie W'18 and Adrian C'21.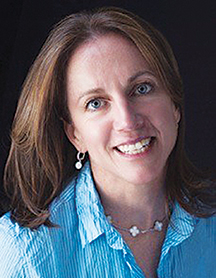 Catherine "Kate" O'Hern Lyons C'86 retired from Merrill Lynch, in New York City, as a managing director in fixed income trading, where she spent almost 15 years. Prior to working at Merrill Lynch, Kate worked at Bankers Trust Company in structured finance.
While at Penn, Kate was a member of the Women's Cross Country and Track & Field teams—she was inducted into Penn's Athletic Hall of Fame in 2008. Kate has been actively involved as a volunteer at Penn since graduation, and she has been the chair of the men's and women's cross country/track & field alumni boards for the past 10 years. Kate serves on Penn's Athletics' board of overseers and is also one of the Athletic cochairs for the Power of Penn Campaign. In addition to her involvement with Penn Athletics, Kate has been a member of the Trustees Council of Penn Women since 2004, where she is currently the treasurer.
Kate received an MBA from Duke University's Fuqua School of Business, where she was on the school's board of visitors.
Kate and her husband, Bob, live in Connecticut and have three daughters.
Alumni may file other nominations until August 31, 2018; these nominations must be accompanied by a petition signed by no fewer than 1,500 degree-holding alumni. For alumni trustee nominations and any additional details write to Trina L. Middleton, Director of Penn Alumni Board Services, E. Craig Sweeten Alumni House, 3533 Locust Walk, Philadelphia, PA 19104-6226, or email her at trinalm@upenn.edu.