Documenting the War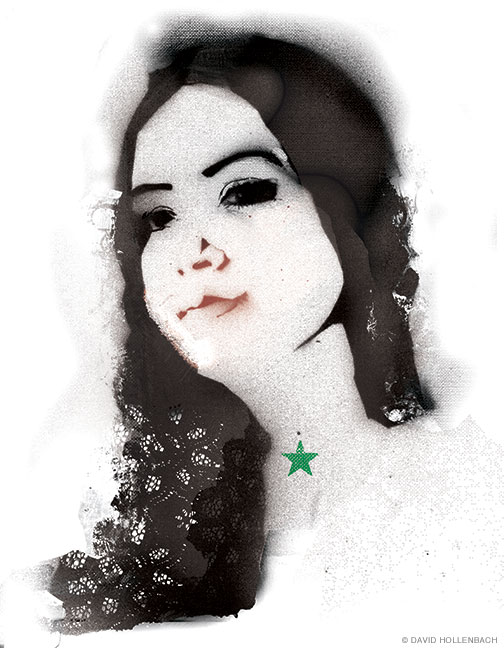 A Syrian journalist recounts the dangers of reporting from her home country.
---
"I didn't plan to be a war correspondent. It just so happened that war came to my homeland and made me a war correspondent," Syrian journalist Zaina Erhaim said during a late October visit to campus. She was invited as part of Penn's Writer at Risk residency program, jointly sponsored by Perry World House, Kelly Writers House, and the Annenberg School for Communication's Center for Media at Risk. Throughout her weeklong stay at Penn, Erhaim gave a series of talks, recorded a podcast, met with students, and screened her films about Syrian life during the country's civil war.
Growing up in Idlib—the Syrian city where ISIS leader Abu Bakr al-Baghdadi was killed just days after her visit to Penn—Erhaim was taught to believe "there is only one party and only one man who knows what's best for all of us." (Syrian President Bashar al-Assad's family and his Arab Socialist Ba'ath Party have controlled the country's politics since before she was born.) It wasn't until she was in her 20s and had already graduated from college in Damascus that she "started getting myself out of the box."
Despite heavy restrictions on internet access, she stumbled across an opposition website while working for the media outlet Syria-News, which kept its servers in the US. The site included articles by a well-known Syrian human rights activist about government corruption and political prisoners. "I didn't even know we had any [political prisoners]!" Erhaim said.
She went on to pursue a master's degree in journalism from City, University of London. But in 2011, war broke out at home. She traveled back to Syria, against her family's wishes, to use her newfound journalistic skills to help the people of her country. "Because I am a feminist," she said, "I could bring that element [of women's and families' perspectives] to the stories."
She has worked for the BBC, Alhayat, Orient TV, and other local media outlets; written pieces for The Economist and The Guardian; created a series of documentaries about Syrian life; and trained more than 100 media activists on journalism basics in Syria. She warns them they could be risking their lives by reporting independently and objectively, and "no story is worth your life."
She has seen her colleagues arrested and beaten; she has had her passport confiscated. "The first time I was interrogated by the military security forces was when I wrote a blog—it wasn't even a journalistic piece—about fear," she recalled. "It was very general, and it was just speaking about how we were raised to be afraid of anyone and everyone since we were kids." That led to her being interrogated for 10 days and placed on the security forces' watchlist.
Erhaim now lives in exile in London, where she works as a communications manager for the Institute for War and Peace Reporting. "I can't and I won't be objective when I'm speaking about war criminals or human rights violations," she said. "Being biased towards human rights is not being biased. Praising or giving the dictators and criminals space to keep speaking is far more harmful than giving that space to the victims."
Plans were in motion for Erhaim to visit Penn in 2018, but she was unable to obtain a visa due to the US travel ban against people from several predominately Muslim countries. Later, the US State Department granted her an exception.
The purpose of the Writer at Risk program "is to provide a platform, an audience, and an academic resource to writers who are at the front lines of protecting free speech and the independence of the media," said LaShawn Jefferson, deputy director of Perry World House. "Zaina is doing just that." —NP