Four Years Later, Rates of Sexual Misconduct Mostly Unchanged
---
Results of a 2019 Association of American Universities' (AAU) Campus Climate Survey showed no significant changes in incidents of sexual assault and sexual misconduct on Penn's campus since the previous AAU survey in 2015 ["Gazetteer," Nov|Dec 2015].
According to the survey, pulled from 10,306 students (42.8 percent of Penn's total enrollment—a significantly higher participation rate than four years ago), 25.9 percent of female undergraduates experienced nonconsensual or unwanted sexual contact, either by physical force, or the inability to consent or stop what was happening. That figure is slightly down from 27.2 percent in 2015.
Among male undergraduates, reports of unwanted sexual contact in the same category rose from 5.5 percent to 7.3 percent. Among transgender, genderqueer, and nonbinary undergrads, it increased from 19 percent to 21.5 percent. And among graduate students, it rose from 6.5 percent to 7.5 percent for women and 2.1 percent to 2.7 percent for men.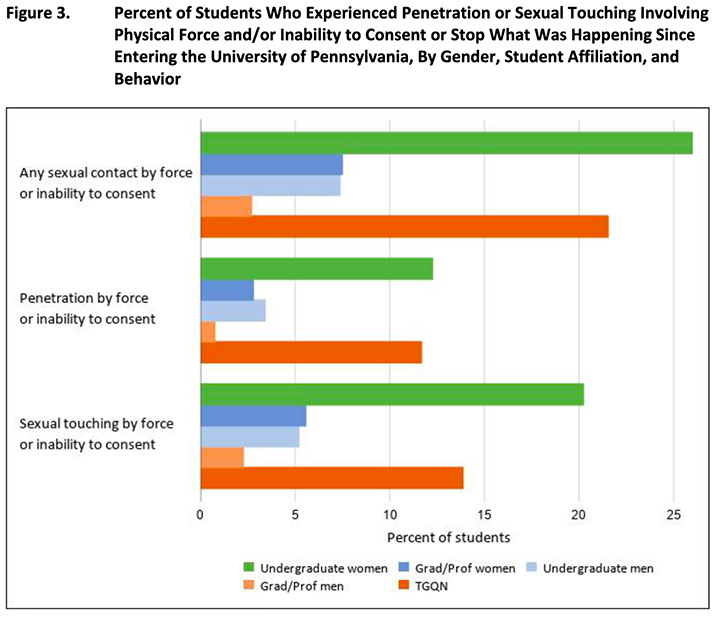 Compared with the other 32 colleges and universities that participated in the survey, Penn's results lie almost exactly at the median. "But there is no comfort in that," Penn President Amy Gutmann and Provost Wendell Pritchett Gr'97 wrote in an email to the Penn community, calling the numbers "disturbing."
Though Penn has increasingly made efforts to combat sexual assault on campus, which included the creation of a Task Force on a Safe and Responsible Campus Community in 2017, students criticized the University for the lack of change in the data at a University Council meeting in October. Pritchett responded with new initiatives the administration will take on, including expanding the Penn Violence Prevention staff and creating focus groups to analyze the survey.
According to the Daily Pennsylvanian, student representatives from the Penn Association for Gender Equity (PAGE), Penn Wellness, and Consent Collaborative made more demands to the administration of "things that should have been done already," including mandatory assault prevention and consent training for freshmen during New Student Orientation.
—Sam Kesler C'20