A Matter of Life and Breath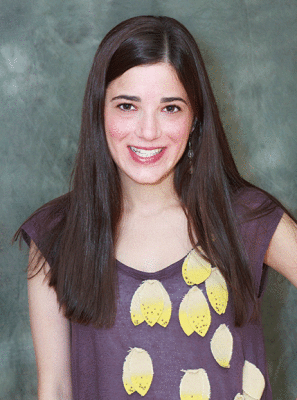 Class of '07 | Emily Kramer-Golinkoff C'07 G'13 stood at the podium, waiting for the applause to end. A large crowd of friends and family and supporters listened intently as the extraordinary young woman with the big heart and troubled lungs began to speak.
She spoke first about the remarkable threads of normalcy that her parents had woven into her life from an early age: how her mother, Liza, had transformed the once-odious "treatment time"—which involved pounding on her chest for 45 minutes to loosen the mucus in her lungs—into a wildly popular game for her and her friends. How, as a 7th-grader in the Philadelphia suburbs, her parents arranged for her to take the class trip to Dorney Park—despite a serious lung infection that had her "shooting up antibiotics in the middle of an amusement park, with a central IV line lodged in my arm and a disturbing amount of needles and medicine stashed in my bag."
The sharp humor could not mask the gravity of her message. Emily has a rare strain of cystic fibrosis (CF), a genetic disease that causes thick mucus to build up in the lungs, digestive tract, and other parts of the body. It is a cruel, methodical killer that preys on young people so relentlessly that few make it to middle age. In the United States, the average CF patient lives to age 37. Two months ago, Emily turned 29.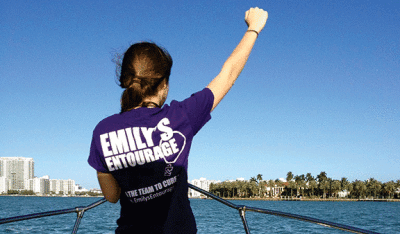 A little over two years ago, her brother Coby and sister Julia helped launch Emily's Entourage (emilysentourage.org), a nonprofit organization that has so far raised well over $600,000. And on a cold night this past December, a couple hundred members of the extended Entourage gathered at the magically cavernous Material Culture in Philadelphia's East Falls neighborhood to show their love and support. (They raised $69,000 in that one evening.) The goal is to help fund more research—for Emily and for other CF patients.
Her remarkable ability to focus on the positive was evident in both her remarks and her achievements so far. Being able to develop an identity not defined by CF is a "privilege I don't take lightly, because it's one that not everyone with CF gets," she told the audience. That balanced approach to life, she added, as well as her "willingness to sometimes take crazy measures" to sustain both mind and body, is a big reason she could stand there "with a brand new master's degree in bioethics and a brand new job in the Penn Social Media and Health Innovation Lab, as the proud co-founder of Emily's Entourage, and—most importantly—as a daughter, a best friend, a big sister to three."
But, she added: "I'm teetering on the verge of end-stage CF, where the only treatment option is lung transplant, and even that brings a whole new set of complications and short survival rate. I'm paddling as hard as I can, bailing out water as fast as I can, but despite my best efforts, my boat is sinking, and I need a lifesaver. Hope for that lifesaver lies in research."
The conduit for that research is Penn's Diamond Lab, headed by Scott Diamond, the Arthur E. Humphrey Professor and Chair of Chemical and Biomolecular Engineering and the founding director of the Penn Center for Molecular Discovery. Last year the lab created Emily's cell line, to be distributed to labs worldwide in hopes of spurring drug research and trials for Emily. Diamond notes that Penn will process material-transfer agreements for the cell line as fast as possible when requests come in.
Denis Hadjiliadis, Emily's physician and the Paul F. Herron Associate Professor and director of the Adult Cystic Fibrosis Program at Penn, says that the work of Diamond and other researchers does offer real hope for Emily and others, since it "gives opportunities for patients with rare mutations to stay in the game and find solutions for their mutations."
In 2011 Kalydeco, a drug that targets a faulty CF gene and its protein product, was approved by the FDA. But Emily is among neither the 4 percent of the CF population with the genetic mutation in question nor among the 90 percent that may also benefit from as-yet-undiscovered variations on Kalydeco's theme. Her mutation, one unique to Ashkenazi Jews, is found in just 6 percent of the total CF population. Though Hadjiliadis acknowledges that it's frustrating to have a drug like Kalydeco that will not help those with Emily's strain, the fact that it has proven to be effective for some is encouraging.
"I have confidence that the vast majority of mutations will be covered by the efforts of the Cystic Fibrosis Foundation and the [pharmaceutical] companies," he says. "The main worry about Emily is that she has a rare mutation, and I want to make sure she does not get 'left behind' after they find meds for more than 90 percent of patients."
Despite the 30 pills, four insulin shots, and three-to-four hours of breathing treatments each day, Emily's CF is progressing. But having treated her for nine years and been her primary CF doctor for seven, Hadjiliadis has had plenty of opportunities to observe her inner strength, resilience, and grit.
Not only has she "not slowed down," he says; she has "become more busy in the setting of advancing disease. She works full time, does fundraising, and never skips a therapy. One time when she was coughing up blood and I advised her to skip therapies to let things heal, she told me she has never done that. Emily makes no excuses! Other people in her boat might feel sorry for themselves and have valid reasons for not doing things; she is the exact opposite: setbacks make her more determined. In addition, she is very bright and can use this to take care of herself. It has been a privilege to be Emily's physician—and all I hope is that we find treatments that help her stay well and remain productive, with a full life ahead of her."
Three months have passed since that December night when speaker after speaker—several of them Penn alumni, including her father, Michael Golinkoff WG'96—urged the crowd to dig deep into their hearts and pockets and spread the word. One was her friend Scott Reich C'05 L'08, who told the crowd that in this "race against the clock, it's a time to rededicate ourselves, to bring this to the next level, to raise more money and awareness—to get more people into the fold. Because that's what it means to be a part of a community—that when one of us suffers, all of us suffer; and when one of us lifts somebody else up, we all get lifted up."
Not surprisingly, Emily finds it a lot easier to talk about CF in a clinical, problem-solving way than to talk about watching her friends struggle and suffer and die. But she makes it clear how much her family and friends mean to her.
"I am really, really close to my whole family," she says. "There are so many different ways you can luck out or not luck out in life. Yes, I got two defective genes, but there are so many other ways where I was incredibly fortunate, and I try to never lose sight of that big picture. I'm indescribably grateful for my family. And friends.
"I think one thing that CF imparts is that living with any kind of serious illness gives you a different sense of the future—it's not guaranteed," she adds. "Some people have five- or 10-year plans. I really try to focus on the here and now." —S.H.