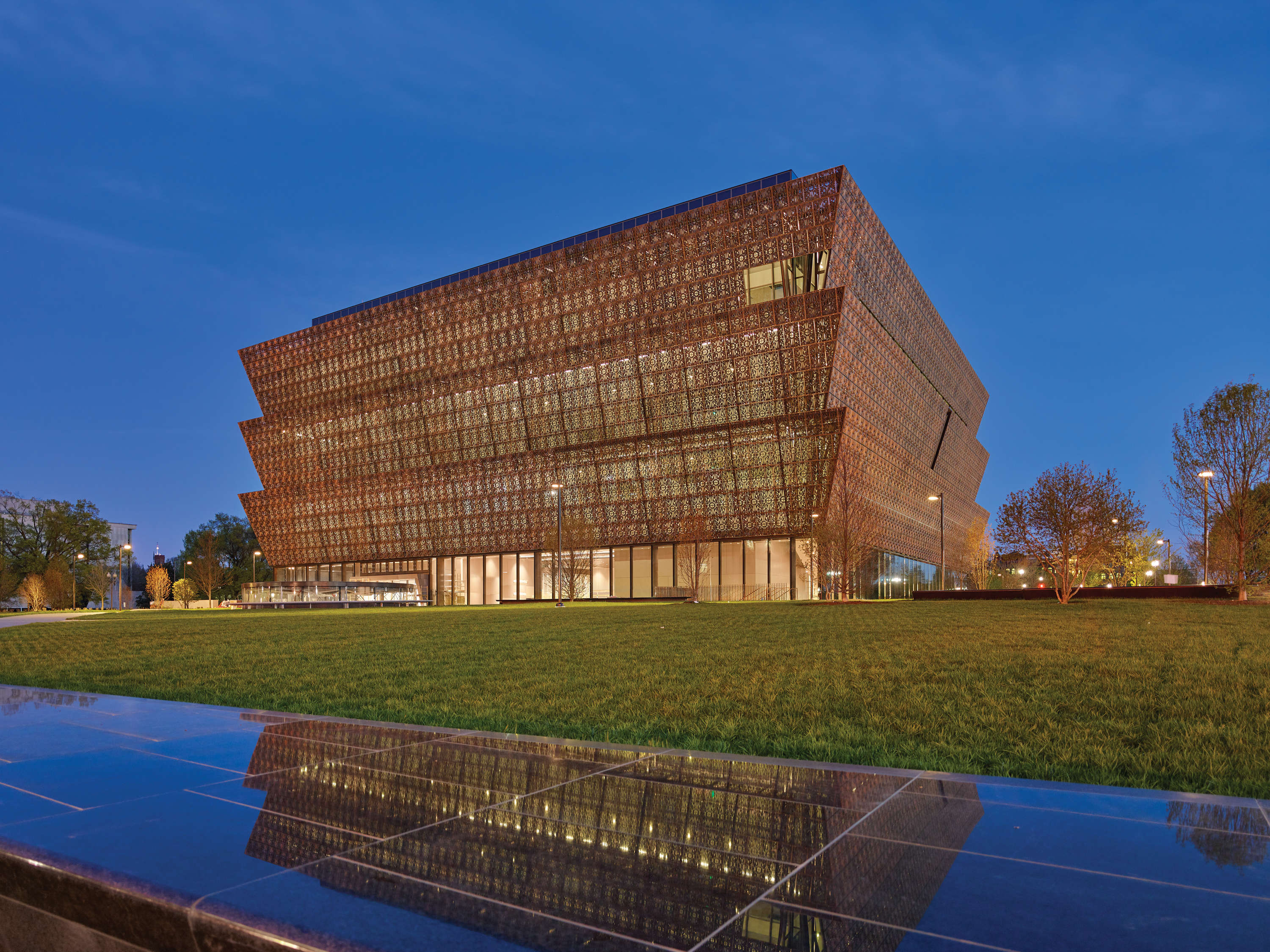 By Lorene Cary | We're halfway through the dedication of the National Museum of African American History and Culture by the time the violins swell and Patti LaBelle's voice pours through Sam Cooke's 1964 hope-ballad "A Change Is Gonna Come." People were once sold on this site as slaves. Other people marched here for jobs and freedom; I watched them on our black-and-white TV when I was seven. Now, on a September morning in 2016, on America's front lawn, more than 10,000 of us gather to stand where they stood and hallow the ground.
So far, it's been a glorious morning, Very Black, as one woman's coated black-on-black T-shirt text proclaims, and full of reunion. Fatimah Loren Muhammad C'06, a young woman who took my class more than 10 years ago, calls me from across the lawn. I can see, just barely, the girl she was in the woman she's become: a psychotherapist and director of Equal Justice USA, where, the website says, she'll bring together "diverse stories … of crime survivors to advocate for a trauma-informed justice system … [that] promotes the restorative work of healing communities." We talk over the music on Freedom Stage, curated by the Smithsonian's Folklife division and running three stages all weekend: a fife and drum band, ring shouts, blues, folk, New Orleans Preservation Hall jazz, rhythm and blues, soul, spoken word, gospel, storytelling, cumbia, banjo music, a drum circle, and, on Saturday night, Living Colour, Public Enemy, and The Roots.
We pass through another security check, happily. Friendly officers hand me the folding-seat/walking-stick I bought from the golf section of a sports store. A man is telling a foreign TV journalist why he's not disappointed that the first black president hasn't brought more racial healing. Uphill we come upon about 20 young men in royal blue shirts saying Amos P. Godby High School Young Gentleman's Day Club. They've traveled here by bus from Tallahassee, Florida. "Gentlemen's Day" at Godby exposes the entire school to "gentlemen," including lawyers, businessmen, pastors, even a former NFL player, for life lessons and encouragement. Mentor and math teacher Tyneal Haywood Sr. organizes it, they say, and helps them learn "qualities that gentlemen need to have," such as "how to look for scholarships, how to tie ties, perform community service," and even throw fundraisers, as they've done the past year to pay for this trip and be part of history.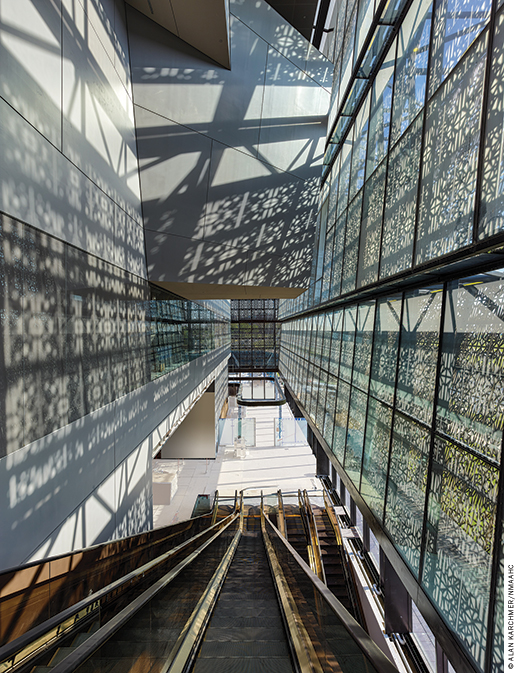 British-Ghanaian architect David Adjaye 's creation seems inevitable. Already the museum building has taken on its mission, as Adjaye told The New York Times, "to make the silhouette of the building the beginning of the narrative." We look across 15th Street toward the striking inverted pyramid with its Yoruban three tiers covered in lacy bronzed aluminum: the biggest Holy-Ghost church-lady hat ever. It looks toward the sky and changes color under the passing clouds, like ancestor worship. It's regal and humble, national and neighborly, as serious and as happy as the sacraments that mark death and life. We'll listen to John Lewis, who kept at Congress for 15 years to approve the museum; President George W. Bush, who signed the bill for it in 2003; and President Obama, who blesses it today. And others: celebrities, elected officials, and the museum's brilliant founding director, Lonnie Bunch, who has managed to curate a cloud of witnesses.
But for now, halfway through the dedication, people are singing with LaBelle, eyes closed. In my notes, I've started two stand-alone lists: sayings on t-shirts (like "Scared Negroes Will Get You Killed!") and moments when I want to cry. Baby Bryan,whom I've met along the way, just about the age of my youngest granddaughter, has convinced his father to perch him on my folding-seat/walking-stick. It's bantam-weight aluminum, lime green, and the young father must squat behind it to balance his son. Once enthroned, Bryan motions with tiny imperial charm for me to bring him his stroller so that he can reach the handles.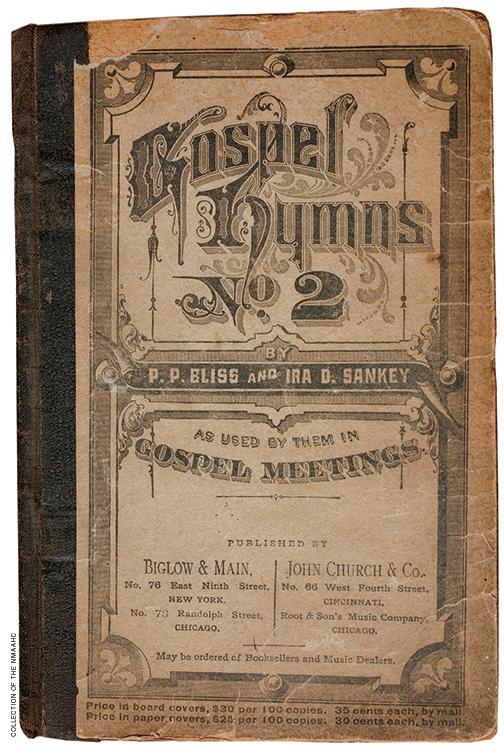 My companion for the day is Samir Meghelli C'04, a Smithsonian Institution curator, husband of Mirenda Watkins Meghelli C'03, whom I came to love during her years work-studying with me. Samir and Mirenda have already been to the museum for a gala for donors who've contributed nearly 37,000 objects. When I tell him I'm writing a play about Harriet Tubman, he says that her hymnal and shawl are exhibited inside, donated by historian Charles Blockson, whose own collection at Temple University includes more than 500,000 items from the black diaspora.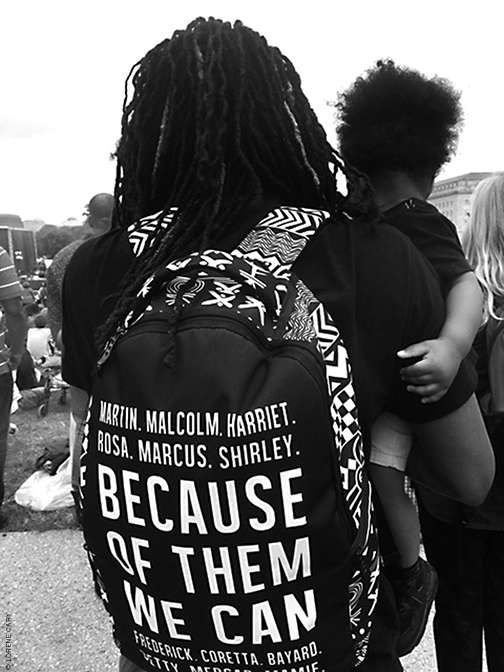 Samir talks about his and Mirenda's new child, also 11 months old, and for a moment, Bryan's father, assuming that Samir is my son, thinks that his child is my grandchild. We laugh together, three healthy free generations. If I had a computer brain I would calculate, like middle schoolers calculate how many hours they've slept, how many hours in my life I have strained against black stigma or self-hatred or American unknowing disrespect or by-mistake assumptions of less-than, even just sorry. Oh, sorry. Didn't mean it. Sorry-sorry. In this moment, none if it holds me down. Little Bryan is driving his stroller, and I am buoyed up, by our laughter. Later, after we check photos—the body painting of a young woman and an artist's carrying around his four-foot high portrait of neon-locked George Clinton—Samir and I realize that we've each taken photos of Bryan's father's backpack that says in large type: BECAUSE OF THEM WE CAN, surrounded by single names: Malcolm, Harriet, Marcus, Shirley, Bayard, Coretta, as if we know them like family.
And we do. Or we know someone who's nearly connected, like Sonia Sanchez, Philadelphia's first Poet Laureate and one of my teachers of creative writing at Penn. From the Fannie Lou Hamer stage, she tells the audience what she tells her students: that herstory and history cannot be contained in a building, but in action: what we do now for justice. Her poetry dances through the hands of the American Sign Language interpreter. When she mentions Martin Luther King, as others have throughout the dedication, I think about how his life's work, and this history inspired people as far as Poland and South Africa.
Back in Fisher-Bennett Hall, I re-read the Capstone proposal of my student-poet, Syra Ortiz-Blanes C'17, with Sanchez in mind. Sanchez has been our model to connect Ortiz-Blanes' poetry and academic work to her campus-wide installation with a group of friends of posters against rape culture. Sanchez and the Black Arts Movement have provided a guide through arts and activism, how they inform each other and the world.
Because black lives matter, we build a national monument to understanding how anyone could ever say otherwise, with what tenacious glory the human spirit can respond, and how culture records and codes that insistent life. The dedication ends, therefore, like church, with the ringing of a " Freedom Bell" from First Baptist Church in Williamsburg, Virginia. The cord passes through the hands of the daughter of a former slave and her descendants and the first black President and First Lady.
By late afternoon I am glad not to have a timed pass into the museum. Like the babies lying sideways in their strollers, I am way too overstimulated to take in any more. I've reserved tickets in November for my birthday, though. They tell me that at sunset, the museum's bronze work glows.
---
Lorene Cary C'78 G'78, senior lecturer in Penn's English Department, is a fiction writer, memoirist, and arts and education advocate in Philadelphia.