Crafting Modernity, Crossing Cultures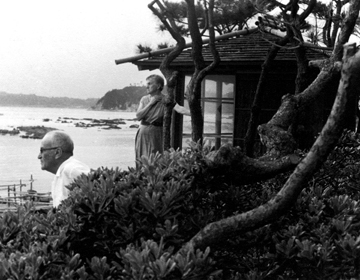 The late Antonin and Noémi Raymond—pictured at their studio in Hayama, Japan, circa 1965—are considered among the most influential architecture-and-design teams in the modern era. Their work is the subject of a first-ever retrospective exhibition by the Architectural Archives at the School of Design's Meyerson Galleries—Crafting a Modern World: the Architecture and Design of Antonin and Noémi Raymond—which runs through September 24. The exhibition was organized in conjunction with the University Art Museum, University of California-Santa Barbara, and will travel to California and Japan.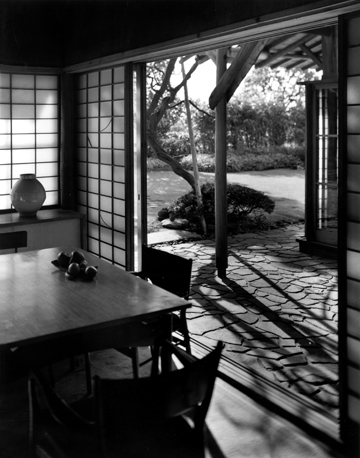 The Raymonds were "important participants in the cross fertilization of modern architecture between three continents," notes William Whitaker, collections manager of the Architectural Archives, in his essay for the exhibition. Their work drew from "their European backgrounds, their extraordinary 40-year interaction with Japanese culture, and the years in which they lived and worked in New Hope, Pennsylvania," he adds.
The Raymonds apprenticed with Frank Lloyd Wright, who introduced them to Japan in 1920, and their subsequent buildings and designs "explored and prefigured the West's changing appreciation of Japan's aesthetic traditions during the 20th century—a process that can be described as a shift from the decorative to the abstract, from Japonisme to 'Zen,'" writes Whitaker. Among the structures they designed was the Tokyo residence of Akaboshi Tetsuma (below), who graduated from the Wharton School in 1909. They also collaborated with George Nakashima, the Japanese-American woodworker and craftsman, and Junzo Yoshimura, who designed the Japanese House and Garden in Philadelphia's Fairmount Park.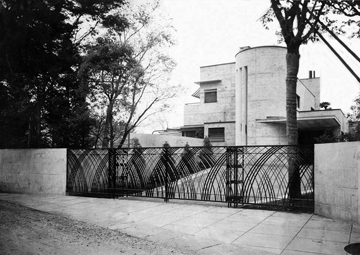 "Dissatisfied with the dehumanizing effects of industrialization that they saw in much of the architecture of their day, the Raymonds sought to reinvest architecture with 'an atmosphere of calm and serenity, life and joy,'" writes Whitaker. Yet it was also "pragmatic, built out of the humble materials of wood and concrete." 
—S.H.