Keeping Big Band Jazz Alive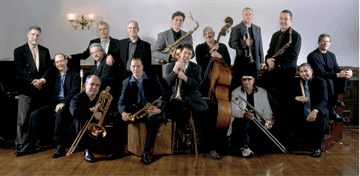 Class of '78 | Rarely does Emily Tabin W'78 get to sit back and enjoy the swinging sounds of the Westchester Jazz Orchestra. She's the co-founder and executive director of the tuneful ensemble, and during performances her modus operandi is to be in several places at once.
Tabin's predilection toward perpetual motion was apparent when the not-for-profit WJO performed not too long ago at the Irvington Town Hall Theater, about an hour north of New York City. Attired in an elegant black blouse and dress pants, Tabin stood in the lobby of the theater and greeted the audience members as they arrived for the show. As her husband, Stewart Tabin W'78, manned the box office, Emily marched backstage to make sure the musicians were all ready.
After the house lights dimmed, she strode confidently on to the stage and introduced the evening's master of ceremonies: Paul Shaffer, the buoyant band leader of The Late Show with David Letterman.
"I think it's great that these folks have brought world-class jazz to Westchester," Shaffer told the audience of about 300 people. "This is proof that you don't have to drive into Manhattan to hear a great big band."
By the time the orchestra's artistic director, tenor saxophonist Joey Berkley, counted off the first tune, a Count Basie standard called "Kid From Red Bank," Emily was already standing in the back of the balcony gauging the sound.
"I get to hear these amazing musicians rehearse, and sometimes I can sit and listen during the show for a minute or two," she said, backstage again after checking in with the sound engineer. "When the band is playing, though, I'm still at work, and my time to relax only comes after the show is over."
Stewart Tabin, on the other hand, was sitting in the back of the hall by the third song of the WJO's first set, his box-office duties relegated to making sure the tardiest late-comers were quietly ushered in.
"I feel very proud of my wife," he said, arms folded across a blue blazer. "With Joey's help, she has built an organization from the ground up that's making a cultural mark. Few people are able to turn their passions into a fulfilling career, but Emily has. To hear these fabulous musicians play and know that my wife is a part of it all is a real thrill for me."
Tabin, Tabin … If classmates and contemporaries of the Tabins have difficulty matching their names to any memories, here's why: After Emily Tucker and Stewart Rabinowitz were married in 1980 (the couple, she a Hill House resident and he a resident of Speakman in the Quad, met at their freshman-orientation picnic and dated throughout their years at Penn), they decided to commemorate the union by creatively combining their last names. Both received law degrees at New York University, but left the legal field in the mid-1980s—Stewart to pursue a career in money management (he presently picks apart contracts for Mason Capital, Inc., a Manhattan hedge fund), and Emily to raise the couple's three children at home in Chappaqua, New York.
Music has always been a passion for the Tabins. Growing up in the Bronx, Stewart was already digging his father's extensive record collection, which included all the swing and bebop luminaries, while Emily studied piano assiduously during her youth in White Plains, New York. At Penn, music was a dominant part of their life outside of classes.
"We went to concerts whenever we could, to hear all kinds of music," says Stewart, noting among their Philly-era highlights a Spring Fling performance by Bonnie Raitt, Little Feat's smoking show in Irvine Auditorium, and a visit by tenor-sax titan Sonny Rollins to St. Mary's Church.
The impetus for starting a jazz orchestra, however, came later. Although Emily kept busy with various community projects—becoming president of the local PTA and helping to spearhead fundraising efforts for the Jacob Burns Film Center in Pleasantville—she missed playing an instrument. Ten years ago she took up the flute, and then the alto sax under Joey Berkley's guidance. Before long she was playing the saxophone with the Manhattanville Community Student Big Band, and when she approached Berkley about forming a group with older amateur musicians like herself, the suggestion morphed into launching a jazz ensemble made up from the many jazz pros living and working in the county.
"Of course," says Emily, "my first reaction was, 'This is a band that I will not be able to play in,' but then I realized how great the idea was, and I was really excited to sign on."
After filing the necessary paperwork for incorporation and not-for-profit status, Emily sought her husband's expertise in various business matters. Once they'd settled on the personnel for the band, rehearsals ensued and she began investigating suitable venues around the county for a fledgling jazz orchestra, all the while seeking contributions and grants to allay costs.
Few aesthetic experiences in popular music compare to the joys of a jazz orchestra. Whether in hard-swinging form or graceful glide, a well-oiled ensemble will lift its audience high and away from temporal concerns, its power to inculcate images of jitterbug frenzy still strong more than half a century after the music's heyday. But big bands are notoriously difficult to keep intact because the personalities involved often create artistic differences, not to mention scheduling problems, while the burdens of payroll and promotional costs loom continuously.
Emily, though, modestly credits any success to the orchestra's members. "Everyone feels his musicianship is appreciated and matched by that of the other musicians in the band—it's that simple," she says.
Marvin Stamm, a WJO trumpeter who has worked in famed big bands led by Stan Kenton and Woody Herman, politely demurs:
"Without the organizational efforts that Emily puts into the business end, not to mention the fundraising, this band wouldn't exist. She makes sure that the halls are ready when we come to rehearse, sees to the printing of the programs and posters, manages the publicity, schedules all of the educational workshops, and generally handles everything on the business end."
She also insists that they are "treated with respect from the business side—financially or otherwise," Stamm points out. "This is important because so many artists—most, in fact—are not treated in this way."
Stewart also "very quietly offers a great deal of behind-the-scenes help," Stamm notes. "He is extremely supportive of Emily's efforts in so many ways, even going so far as to help 'tear down the stage' after each performance. Yet he takes no credit for any effort he expends on behalf of the band."
"Each concert we present finds more people in attendance, so we seem to be gaining momentum as a cultural organization in the county," says Emily. "Five years from now I hope the WJO is widely recognized as a first-class jazz orchestra, and in 25 years I hope to be sitting in the sax section with my horn."
—Thomas Staudter C'81