Closing the Education Gap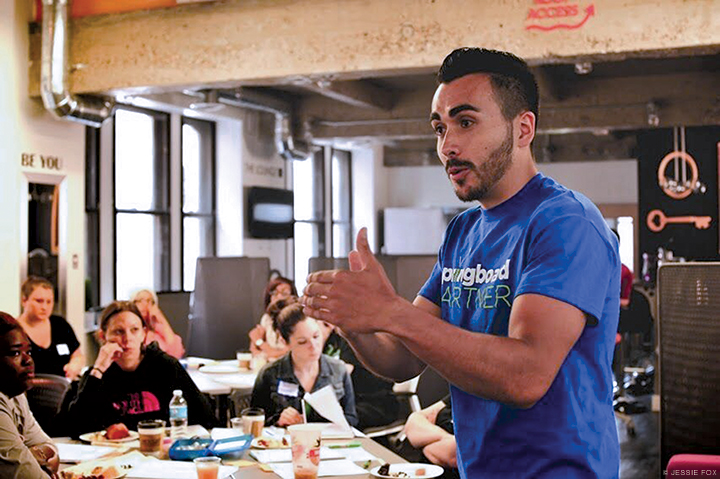 Think of an orange, suggests Alejandro Gac-Artigas GEd'11. Now, cut a one-fourth wedge from that orange, but don't eat it. Instead, think of it as the time a child spends at school. Now, look at the remainder of the orange. That represents the time a child is not in school.
"Children spend 75 percent of their waking hours outside of the classroom, yet our nation does shockingly little to capture educational value from this time for low-income kids," says Gac-Artigas, founder and CEO of Springboard Collaborative, which operates a summer reading program for students and their parents. "Our system treats their families as liabilities, rather than assets. Their classroom experience is a small wedge of that orange, and for some reason our national education conversation is fixated on squeezing more and more juice from that wedge."
After graduating from Harvard with honors in 2009, Gac-Artigas enrolled in Teach for America, which partners with Penn's Graduate School of Education.
"I knew I wanted to devote myself to education," he says. "Rather than jumping to solutions, though, I wanted to better understand the challenges. What better way to do so than to teach first grade in North Philadelphia?"
By his second year on the job, he had come to an unsettling conclusion.
"It took my students until November 28—83 days into the school year—for their reading levels to catch up to where they had been before the summer," he says. "I dug into the research and saw that across low-income communities, children experience a three-month regression in reading skills every summer. These compound annually, to the point that two-thirds of the achievement gap we see in high school is attributable to summer learning loss in elementary school.
"What the research couldn't answer, though, is why are these losses unique to low-income communities? Kids in the suburbs have every bit as long a summer break as my students, but they don't regress." The difference, he eventually concluded, is that summer learning loss is "symptomatic of a deeper problem: low-income parents have been left out of the process of educating their kids."
Gac-Artigas founded Springboard Collaborative to tackle America's literacy problem at its root. Its primary offering is an intensive, five-week summer program that combines daily reading instruction for pre-K through third grade, weekly workshops that train parents to teach reading at home, and an incentive structure with rewards for families, such as books and tablets, in proportion to children's reading progress.
"Our 2011 pilot helped 42 kids not only avoid summer learning loss but make three months of reading progress," he says. "Though our school never had more than a few parents show up at report-card conferences, 94 percent of families attended every weekly training workshop. Two years after I first encountered the problem, it finally felt solvable." A single summer intervention, he found, "closed the grade-level performance gap of the participating students by an average of more than 50 percent."
Today, Springboard Collaborative enrolls more than 2,500 students in Philadelphia; Camden, New Jersey; and Oakland, California.
For Gac-Artigas, his GSE experience was invaluable on several levels.
"The practice-focused coursework helped me to become more effective as a teacher," he explains, while the theory-based coursework "helped me nuance my understandings of the school system and my role as an educator-turned-entrepreneur."
The broader Penn network has also given him "access to tremendous resources," he adds. "I incubated Springboard in the earliest start-up days through Wharton's Venture Initiation Program (VIP), which gave us invaluable advisory services as well as access to a community of entrepreneurs and even office space." Springboard benefited further from the Law School's Entrepreneurship Legal Clinic (ELC), through which Penn Law students offer pro bono services under the mentorship of Professor Praveen Kosuri. "Through our initial engagement with the ELC, Springboard received its 501c3 [nonprofit] status," Gac-Artigas notes. "In a subsequent semester, the ELC supported Springboard in establishing a contract with the School District of Philadelphia that has grown threefold."
The program has garnered attention: in 2014, Forbes named him one of its "30 under 30" worth watching. Now, at the ripe old age of 27, Gac-Artigas views himself more as an entrepreneur who works in education than an educator who dabbles in entrepreneurship. "Isn't starting and growing an organization to solve a problem the definition of entrepreneurship?" he asks.
While in middle school, Gac-Artigas wrote a memoir reflecting on his struggles adjusting to life in America.
"It became a springboard for me to start conversations about race, class, and bullying in numerous school communities across the county, state, and, eventually, the country," he explains. "In the process, I became as passionate about the right of others to education as I had been about education being personally valuable."
Education "runs in my blood," he adds. "My family immigrated to the US so that my sister and I could have access to better educational opportunities. One of the first lessons they taught us was that education will enable us to realize our dreams."
Born in the Netherlands—after his Chilean father, the writer Gustavo Gac-Artigas, was imprisoned, tortured, and finally exiled for writing a play critical of the Pinochet regime in 1973—his parents "wanted my sister and me to have better access to education, so they moved to Georgia," he says. Georgia, however, "didn't exactly assemble the welcoming committee for us."
That experience taught him a powerful lesson, he notes. "If you don't define your own dreams, people are going to set expectations for you because of the way you look and the language you speak. And you might not like those expectations. My parents always told us that education was the only way to define our own dreams."
After Penn, Gac-Artigas turned down a lucrative offer to work for McKinsey & Company, the global management and consulting firm (where he had done a summer internship in 2010), in order to launch Springboard. A chance encounter led to an unusual funding source.
"I was at an education event, and my ears perked up when Jenn Walters [G'07] introduced herself as the executive director of the M. Night Shyamalan Foundation," he says, referring to the well-known filmmaker's nonprofit organization. "After pestering her with emails, Jenn finally agreed to meet with me to learn more about Springboard. A week later, I was in front of Night and his wife on the set of a movie. Shortly thereafter, they made the first major investment in Springboard. It gave me enough momentum to turn Springboard into the national organization it has become." (Springboard has also received funding from the Philadelphia School District and the William Penn Foundation.)
Danielle Wolfe G'13 GEd'13, executive director of the Shyamalan Foundation, says it tries to "identify and invest in leaders who have the ingenuity and determination to make dramatic change in their communities, and Alejandro is a shining example."
"We've seen remarkable return on our investment in Alejandro's vision," Wolfe adds. "Thousands of low-income students are now making impressive gains in reading when they otherwise would regress, and those gains mean the achievement gap will close for good."
—Jon Caroulis