Livin' La Vida Deportiva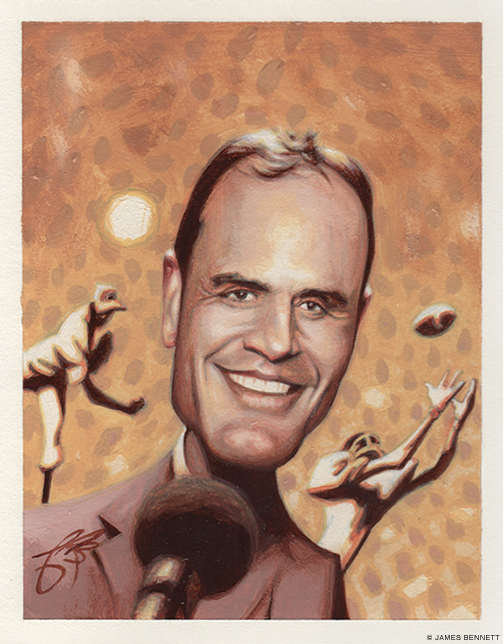 Clemson Smith Muñiz C'79 loves one of his jobs—broadcasting New York Jets football games in Spanish, where he shares the microphone with Oscar Benitez C'09. He gets great satisfaction from his work as head of Smith Muñiz Productions—which, through the conduit of more than 20 contractors, provides Spanish translations and play-by-play action for sports events across the United States. But he's most proud of La Vida Baseball, a website he launched in March 2017 to tell the stories of Latino baseball players.
He started lavidabaseball.com "because we need to have a voice in conversations about the game," Smith Muñiz says from his office in Chicago. "Baseball has been a part of Latin American culture since the sport's beginning. Thirty percent of Major League players are Latino, and their stories have never been given their proper due.
"Do you know Mel Amada was the first Mexican in the Major Leagues?" he asks. "He played for the Boston Red Sox in 1933. Everyone thinks Mexico is just soccer, but baseball has been played in Latin America since the 1880s. Until now, we haven't had a site in English that's stressed the importance of the history of the game from a Latin point of view."
The website, created through a partnership with the National Baseball Hall of Fame in Cooperstown, New York, currently has four employees and uses content from about a dozen freelancers.
"Telling these stories—it's my passion, my enthusiasm, my energy," Smith Muñiz says.
He cites two formative influences. One was his father, who taught him the importance of giving back to the community. The other was The Daily Pennsylvanian.
His first assignment as a freshman was to write a piece about intramural sports.
"When the editor read my story, he said, 'Not bad, but where's the quotes?'" Smith Muñiz recalls. "I just looked at him and said, 'What are quotes?'" He chuckles. "And that was my start in journalism."
After Penn and an internship at the DC Gazette in Washington, he landed a job at the Hartford Courant, covering education. When his editor transferred to the sports department, he asked Smith Muñiz to cover the New York Yankees. That led to a sports reporting job with the New York Daily News. Soon he was working as the US sports correspondent for El País, the largest newspaper in Spain.
"In college, I dreamed of being a foreign correspondent and wearing a trench coat and winning Pulitzers," Smith Muñiz says with a laugh. "Well, I fulfilled my dream of being a foreign correspondent—except I was a correspondent here for a foreign newspaper and wore my trench coat in my front room."
His beat now encompassed the NBA Finals, Super Bowls, and Triple Crown races. At the 1992 NBA All-Star game, he covered the return of Magic Johnson, who had retired after being diagnosed HIV-positive the previous year.
Then there was the 1992 Summer Olympics in Barcelona.
"Spain was trying to leave the Franco era behind and become a modern country," he says. "Some people were nervous about the possibility of a coup d'etat. Covering the Dream Team was intense."
Near the end of the 400-meter semi-final heat, British runner Derek Redmond tore a hamstring, and his father hurried out of the stands and onto the track to help him limp across the finish line.
"I watched that and thought, 'Oh, my God,'" Smith Muñiz recalls. "I forget what I wrote, but I'll never forget that moment. That wouldn't happen today; security would never let the father go down on the field."
The following year Smith Muñiz formed SMartSports and began carving out a unique media niche for the Hispanic audience. Even though New York was the second-largest Latino market in the country, none of the city's sports teams were broadcasting games in Spanish.
"I called all the teams, and when I spoke with someone from the Knicks, there was a long pause," he recalls. "Then he asked, 'Do Hispanics like basketball?' I told him basketball was a great sport in the Caribbean."
After getting the Knicks on board, Smith Muñiz then lined up work with the Yankees and Mets. SMartSports morphed into Smith Muñiz Productions, which has since taken on sporting events for the Jets, Major League Baseball, and HBO Sports. Previous clients included Army Sports Properties and Monday Night Football.
"It took us a year and a half of being persistent and annoying and never giving up," Smith Muñiz says. "We weren't the city's first Spanish broadcasters, but I think we were responsible for rekindling, reboosting, and reigniting Spanish-language sports reporting.
"You don't start out thinking you're a pioneer," he adds. "You're just trying to get a job. But I look back now, and I'm proud of what I've done. Everything came together slowly, and I had faith in my skills to make it happen."
La Vida Baseball is his latest project, and he believes the website will not only appeal to bilingual Hispanic baseball fans, but to everyone who loves sports and history. If it's successful, Smith Muñiz says he may create similar websites for football and basketball.
Despite his busy schedule, Smith Muñiz stays connected with his Hispanic roots at Penn. From 2007 to 2014, he was president of the Association of Latino Alumni, and he often returns to campus to speak with students. He also sponsors an undergraduate named scholarship.
Johnny Irizarry, director of La Casa Latina, the Center for Hispanic Excellence, calls Smith Muñiz a mentor to the next generation of Latino businesspeople.
"He knows what really matters to students, especially those who don't have somebody to believe in them," Irizarry says. "He stays committed to people."
And in the end, it all comes back to journalism.
"I love journalism," Smith Muñiz says. "The First Amendment makes everyone a journalist—everyone has the right to write. Journalism is the first draft of history. And history is the study of the past through what we know of the present."
—Benjamin Gleisser