China Center Celebration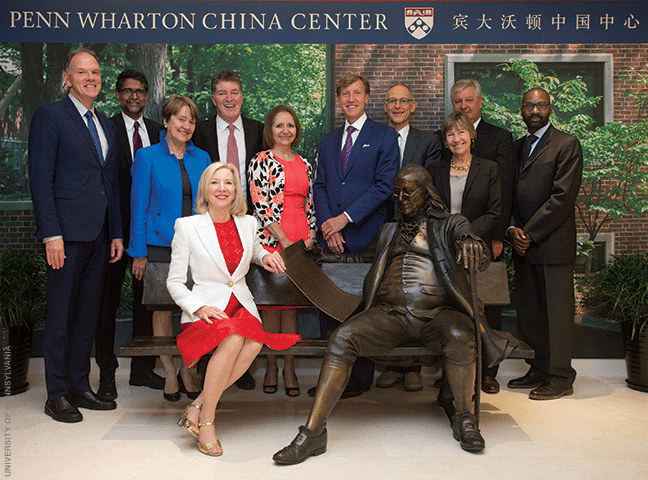 The "Ben on the Bench" statue was a copy, but it was the real Penn President, Amy Gutmann, along with the deans of 10 of the University's 12 schools, who joined other senior administrators, Penn trustees, faculty, staff, students, and alumni in Beijing in September for a week of events marking the dedication and gala celebration of the Penn Wharton China Center (PWCC).
In a sense, the celebration had been going on since last March, when the PWCC officially opened its doors ["Gazetteer," May|June 2015]. During the center's first 100 days, for example, Penn's schools ran a variety of programs at the PWCC—like a presentation on "Addressing Social Needs in the Global Context" by the School of Social Policy and Practice, and a forum on food security that brought faculty from the School of Veterinary Medicine together with Chinese counterparts—emphasizing that its mandate extends beyond the particular Penn school that figures in the facility's title.
Some 10,000 Penn alumni live in Asia, including 4,000 in China and Hong Kong. And Chinese students account for roughly 30 percent of Penn's undergraduate and graduate international students, making them the largest segment of that group. To assist the latest cohort of Chinese students bound for the University, over the summer a first-ever pre-orientation program was offered at the PWCC. Organized by Penn Global's International Student and Scholar Services, the two-day event drew more than 150 participants. It included advice from current Penn students, Chinese alumni, and others, and covered information on everything from visa applications to housing to adjusting culturally and academically as an international student.
The September festivities, in addition to the dedication of PWCC's Ben Franklin sculpture—which proved just as popular a photo op as the Locust Walk original—included an open house, an exhibition on architecture in China created by the School of Design, and several panels and educational forums with Penn and Chinese experts on topics ranging from dentistry to robotics. Also, in honor of the center's launch, the annual David and Lyn Silfen University Forum was moved from Philadelphia to Beijing—and this year's focus was on US-China relations.
In her opening remarks, Gutmann, who served as moderator, cited an early example of "industrial espionage"—the attempt by Western merchants to reverse engineer Chinese porcelain in the 1600s. "Geopolitics and global trade, technology and espionage, wealth, culture, and simply human desire: These remain at the core of international relations to this day, and especially between the United States and China," she continued.
Panelists included retired US Army general and former US Secretary of State Colin Powell; Li Zhaoxing, who served as China's US ambassador from 1998 to 2001 and foreign minister from 2003 to 2007; Zhang Xin, CEO and co-founder of SOHO China Ltd., one of the country's largest commercial real-estate developers; and Howard Marks W'67, co-chairman of Oaktree Capital Management LLC ["Gazetteer," Jul|Aug 2014].
They touched on international finance, technological innovation, and the role of higher education in improving understanding between the US and China. Veteran diplomats Powell and Li engaged in what was described as a "high-spirited discussion of Sino-US relations."
In September Penn also announced the winners of the inaugural Penn China Research and Engagement Fund awards , designed to support Penn faculty working on projects with Chinese partners. In all, 16 initiatives got awards, receiving combined funding of $3.8 million over three years.
The projects encompass all of Penn's schools, as well as the Center for East Asian Studies, the Center for the Study of Contemporary China, and four more centers and institutes. They involve collaborations with 35 institutional partners in China. The funding will allow more than 100 faculty and students to visit China each year.
One project will focus on the impact of prenatal ambient air pollution on fetal and child development in South China. Another will examine US-China relations in light of the international legal system, largely created by the West in the post-World War II era and increasingly challenged by a rising China. Others will study various aspects of linguistic diversity in China, advance dental research and clinical practice, improve the dairy industry, and challenge mental-health stigma in rural areas of the country.
The awards will expand access to Penn's "exceptional intellectual resources" and strengthen collaborations with "Chinese peers to spur innovative broad thinking in seeking real-world solutions on issues that confront all societies," said Gutmann in a statement announcing the awards. "Penn's engagement in China via research, academic and student exchanges, and broad partnerships with Chinese institutions benefits Penn's campus and community and enhances global understanding and discovery by bringing the world to Penn and Penn to the world." —J.P.