Bringing up the Dead
Searching for Marcel Proust, and everything else.
By Joanne Mulcahy
---
We'd entered without a map. The Père Lachaise cemetery loomed so large in my mind that I was sure I would instinctively find my way to the right grave. To be safe, my husband Bob photographed the faded blue sign at a side entrance that identified the dead alphabetically and by number. I thrilled at the thought of passing the tombs of writers I loved, along with luminaries like Edith Piaf, Amedeo Modigliani, and Frédéric Chopin. But I wasn't seeking every famous grave. The object of my pilgrimage was Marcel Proust.
The author of the seven-volume In Search of Lost Time was an unlikely obsession. I'd read parts of the first book, Swann's Way, while I was an undergraduate at Penn. I found it a rough go. But for nearly a decade, I've worked on a biography of the Proust enthusiast and 20th-century American artist Marion Greenwood. She dropped out of high school at 15 to study at the Art Students League in New York. At 18, she was one of Yaddo's early residents. She called the famous Saratoga Springs artists' retreat "my university," and likely encountered talk of Proust at the lively dinner table discussions with other artists and intellectuals. An autodidact, she was unafraid to appear ignorant. "Let's talk about Plato," she'd propose. But it was In Search of Lost Time that prompted her search for self and meaning as an artist. She named numerous cats "Albertine" for one of the novel's love interests.
Later, when Greenwood married the British writer Charles Fenn, letters full of Proustian references sustained their often long-distance marriage. Some conveyed longing to discuss the latest volume, others brimmed with accusations —"You would have driven even Proust mad," or, "You're as faithless as Albertine." The demise of her marriage left Greenwood mired in regret about her lost youth, financial choices, and life path.
I returned to Swann's Way in order to understand Marion Greenwood, but the novel also held up a mirror. When I started at Penn, I'd planned to become a social worker. Instead, literature called. In the 44 years since I graduated, I've become a writer and a teacher. At 65, an irrepressible urge to measure my life surfaced. Had I done anything worthwhile? I didn't need a madeleine to unleash a flood of memory, as the famous sweet had for Proust (though I could now buy one at Starbucks). I arrived at Père Lachaise with existential questions. It seemed fitting that I ask them at Proust's grave.
Biographers are an obsessive lot, following their subject's footsteps, searching for clues amid the evidence: letters in archives, fragments saved, memories others hold. But how do we enter the consciousness of another, especially a dead "other"? At Penn, I spent one long night in the library transfixed by Leon Edel's Writing Lives: Principia Biographica. Edel once compared the biographical process to falling in love. Biographer Richard Holmes calls the search a "haunting." Hilary Mantel reminds us, quoting St. Augustine: "the dead are invisible, they are not absent."
Père Lachaise is the most visited cemetery in the world, named for the Jesuit confessor to Louis XIV. Secrets and stories saturate the place. The October day of our visit was fittingly gray. Oak, ash, and maple trees formed a golden tower of autumn leaves over cobblestone paths. We wandered past gigantic mausoleums with domed tops like small basilicas. Others rested behind rusted iron gates, their curlicue patterns choked by climbing ivy.
Even Bob, who unlike me has a sense of direction, was flummoxed by our failure to find Proust. The fuzzy photo we were using as a guide simply didn't match vine-tangled reality. I initially applauded the French refusal to give special prominence to the famous. But after two hours, I wished Proust's tomb hosted a six-foot neon sign.
I also regretted that I'd chosen to wear stylish ankle boots rather than running shoes. Throughout our stay, I tried to blend into the intimidating Paris fashion scene with a form-fitting jacket, skinny jeans, and scarves—all to no avail. Something always screamed "American." But as we scratched our heads over Proust, I spied a group of women in hiking pants, hauling heavy backpacks. If our own appearance announced "American," they shouted "Northwestern." I've never been so happy to see fellow Oregonians. They had entered at the proper place and received a printed map.
Our guides sought Oscar Wilde's grave but promised to direct us to Proust. We followed them toward a gaggle of tourists surrounding a glass barrier protecting the Wilde mausoleum. Grease from the red lipstick kisses of zealous devotees had nearly destroyed the original tomb's flying angel—a figure based on the British Museum's Assyrian figures. In photos, the hapless angel appears stricken with a terrible case of measles. The cemetery closed the tomb until the Irish government came forward to pay for the glass protected version.
Our Oregon friends outlined the path to Proust and bid goodbye. But gravestones with Arabic writing filled the indicated spot. After multiple attempts, we finally entered a narrow lane where a single rose fluttered atop gleaming black marble: "Marcel Proust, 1871–1922." Fifty-one years seemed an impossibly brief span for the creation of his masterpiece. And where were the hordes that flocked to that literary rock star across the cemetery?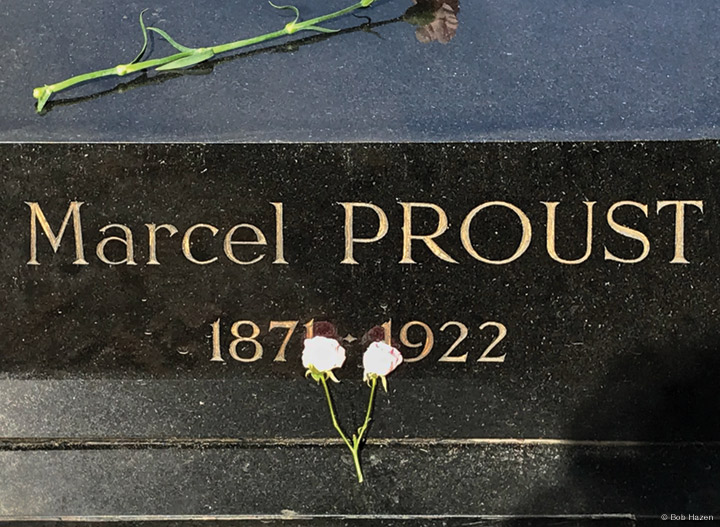 Proust began In Search of Lost Time in 1909, the year Marion Greenwood was born. Numerous editors rejected Swann's Way, so Proust published it at his expense in 1913. In the Shadow of Young Girls in Flower followed in 1919 and won the Prix Goncourt. Proust labored over the final five books for the rest of his life, bedridden with pulmonary illness. He didn't live to witness his work catapulted to its place in the Western literary canon.
At 24, Marion Greenwood rose to fame as the first woman to paint a mural in Mexico. Major awards, commissions, and critical praise for her portraits followed. By the 1940s, she was one of the most celebrated women artists in the US. Then, as abstract expressionism eclipsed realism, the limelight faded. Yet she persevered, creating remarkable work that is little known today.
What does artistic or literary or any sort of reputation mean? Greenwood lamented her fading star and failed marriage. Every impediment sent her back to Proust to wrestle with loss and time's merciless passage. To understand how the past lived inside her, both indelible and elusive. To renew her faith in the struggle to create art. She once told an interviewer that she frequented galleries to see the latest trends, then retreated to her studio to paint portraits. "I'm just myself again. I can't help it."
To discover and be who we truly are: Can we ask anything more of ourselves?
Greenwood died at age 60 from a cerebral hemorrhage. I once visited her grave in Woodstock, New York, turning to her as she had to Proust. Standing before slabs of marble and granite, we beseech the dead. Tell us what matters. Reassure us that the lonely and often thankless work of writing or painting or any passion can sustain us, even if it's not recognized, even if it does not endure.
We go to cemeteries for the same reason we write biographies: to feel the spark that lit another's life, and to learn how to kindle our own.
---
Joanne Mulcahy C'77 Gr'88 is the author of Remedios: The Healing Life of Eva Castellanoz and Writing Abroad: A Guide for Travelers (with Peter Chilson).