Breaking Barriers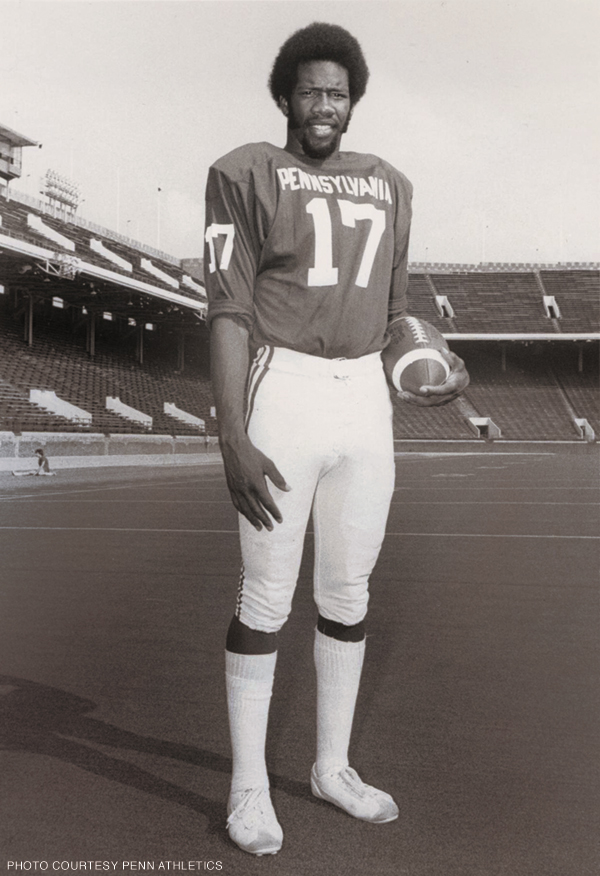 Penn's first Black starting quarterback reminisces about his trailblazing college football career.
---
Marty Vaughn W'75 WG'81 had no idea why he was being summoned to head football coach Harry Gamble's office a day or two before Penn's October 19, 1973 game versus Lehigh. At first, the Quakers' freshly minted starting quarterback thought he might be in trouble. But now, more than 47 years later, the conversation remains vivid.
"They had this quarterback by the name of Kim McQuilken—a big, strapping, prototypical quarterback at the time," Vaughn says of the Lehigh All-American who went on to play in the NFL for several seasons. "And I remember Coach Gamble looked me right in the face and said, 'Listen, we know who the better quarterback is—and Friday night you're gonna show 'em who it is.' I walked out of there thinking, Damn, he thinks I'm better than this guy. I gotta go out there and prove him right."
Gamble's pep talk would prove auspicious as Vaughn outplayed McQuilken in a 27–20 Penn win in the second night game ever played under the lights of Franklin Field. It also reflected a turning point in a sport that had resisted—and would continue resisting—change when it came to its most important position.
As Vaughn notes, McQuilken was exactly the kind of quarterback fans of that era—or any era—would have expected to see. And Vaughn, well, he was not. Just three weeks earlier, in a 16–14 loss to Lafayette, Vaughn became the first Black quarterback to ever start a game at Penn. And the week after that, he participated in the first-ever matchup between two starting Black quarterbacks in more than 100 years of major college football, with Penn defeating Dennis Coleman and Brown, 28–20, in the Quakers' 1973 home opener.
"I didn't really know the significance of that game until much later on," says Vaughn, who learned about it when he read an article commemorating the Ivy League's 50-year anniversary in 2006. "I called up Dennis [Coleman] and asked, 'Did you know that?' He said, 'No I didn't.'"
While it may have been overlooked for decades, Vaughn recently got the opportunity to discuss that game during a Penn Homecoming panel entitled "Race and Athletics: Challenging Deep Rooted Beliefs." The virtual presentation in November also included Jimmy Jones, who helped break the QB color barrier at USC a few years before Vaughn got to Penn, recent Penn track standout Nia Akins Nu'20, and former basketball player Stan Greene C'78, who said the hoops players at Penn in the late 1970s were "inspired by the African American athletes leading the football team and playing an exciting form of football" before them.
These days, exciting Black quarterbacks like Patrick Mahomes, Lamar Jackson, and Deshaun Watson are dominating the NFL and revolutionizing the position. But for a long time, Black quarterbacks remained a rarity even as Black players commonly occupied other positions. "Part of it was ignorance and racism," says Vaughn, who claims that he was encouraged to switch to wide receiver throughout his time playing high school football in McKeesport, Pennsylvania. "Even in my senior year, they kept trying to bring up guys to take my position. My mother always said, 'You have to be twice as good to get an opportunity.'"
Vaughn learned to have thick skin growing up, moving around the country and Europe because his father was in the US Army. Racism was always lurking beneath the surface; sometimes it bubbled up. When he was a kid, he was in the crowd with his parents and brother for Martin Luther King Jr.'s "I Have a Dream" speech. After leaving the March on Washington, they stopped at a roadside store on the way to a funeral in Georgia, only to be turned away by the shopkeeper, who Vaughn recalls telling his father, "You can't bring these little 'n-words' into this store." While retreating to the car, his father grabbed Vaughn's hand so hard that he dislocated one of his fingers.
After the tumult of the 1960s, more African American students were admitted to universities across the country, and when Vaughn arrived at Penn in 1971, he gravitated to his fellow Black classmates. Many sat together in a part of Franklin Field "we called the Black section," Vaughn says. "It was encouraging to look up and see those Black faces in the crowd back then. They were pulling for you—not as you the quarterback or you the running back. They knew us. We ate together. We talked about our families. We shared experiences." Some, Vaughn adds, even looked to him and classmate Adolph "Beep Beep" Bellizeare C'75—a star Black running back who amassed 4,004 all-purpose yards, the second highest total in program history—as role models. (Bellizeare died in 2011 and was remembered by Vaughn and many other old teammates and coaches during halftime of that year's Penn Homecoming game ["Gazetteer," Jan|Feb 2012]. Gamble, who attended that ceremony, died three years later.)
Other teams also crafted defensive game plans to contain Bellizeare's speed, which "provided me with a lot of opportunity to do my thing," Vaughn says. He did his thing to the tune of 1,926 passing yards and 17 touchdowns as a junior in 1973—establishing program records that would last for 20 years. Though he played only two seasons (freshmen weren't eligible to play varsity back then and he wasn't called off the bench as a sophomore) and Quaker quarterbacks of later eras were tasked with more pass-heavy game plans (in keeping with broader trends in football), Vaughn currently ranks sixth all-time at Penn in career touchdowns (29) and 10th in passing yards (3,429). "We became more of a passing team than a lot of teams were in those days," says Don Clune C'74, Vaughn's top receiving target in 1973, who went on to play three seasons in the NFL.
Clune, one of the best wide receivers to ever don the red and blue, adds that Vaughn fit in seamlessly not only as his third quarterback in as many seasons but as the team's leader. "He had great leadership skills," Clune says, as evidenced by the fact that Vaughn was named the team's sole captain the next season in 1974. "He was a nice guy to begin with—wasn't conceited, not a head-in-the-clouds kind of guy. That's why I think he was so well-liked by people."
Clune's one lament is that the players of that decade and the previous one are sometimes overlooked in the 143-year tapestry of Penn football, since the Quakers didn't win any Ivy League championships between 1959 and 1982. With Vaughn, Bellizeare, Clune, and wide receiver Bob Bucola C'75 (whose 86-yard touchdown reception from Vaughn in 1973 is the third longest in program history) leading a high-octane offense, the '73 Quakers made a good run at the title, though. In fact, Vaughn still thinks about one of the team's two league losses that season—a narrow 34–30 Homecoming setback to Harvard in which nearly 40,000 fans at Franklin Field witnessed an offensive explosion from both teams. Yet it was a rare incompletion, in the final minute, that still haunts Vaughn. "Every now and then," he says, "I have nightmares about that."
Most of his time at Penn, though, was a dream. He led the Quakers to winning seasons in '73 and '74, and for more than 45 years has remained close with many of his former teammates and other members of what he says is a tight-knit Class of 1975. A corporate finance executive living just outside of Philadelphia, he sits on the Penn football board and returns to campus to watch games when he can (when he's not hitting the road to watch his daughter Mikayla Vaughn, who plays basketball for Notre Dame and has been to the Final Four twice and won a national championship). And he's offered advice to players like Ryan Glover W'21, who in 2018 was the only regular Black starting quarterback in the Ivy League.
While he may not have known the specific milestone he and longtime friend Dennis Coleman reached in 1973, he was aware that they were two of only a handful of starting Black quarterbacks in all of college football that year. And with every fling of the football, he and his counterpart at Brown both did their best to try to stomp out prejudices, shed stereotypes, and help pave a road forward for those coming behind them. "We knew we were in a unique position," Vaughn says. "We felt like we had a responsibility to represent ourselves, our race, our schools, our school communities with the right kind of presentation—how we carried ourselves, how we handled disappointment, how we dealt with some of the uphill battles we had to climb.
"We tried to do it with class and with grace." —DZ