Box Art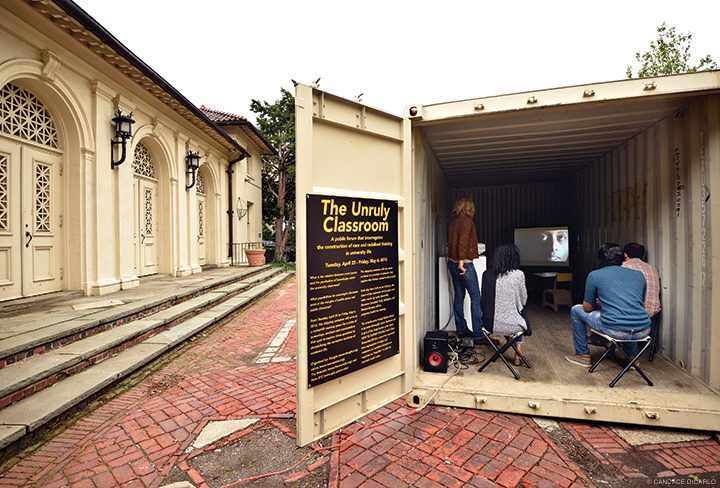 In late April, a shipping container was placed in front of The Rotunda arts-space at 4014 Walnut St. For the next 10 days it served as a classroom, a public forum, and a meeting place that sought to "destabilize where we locate intellectual life."
Titled The Unruly Classroom, the project also featured four film screenings and a public art installation by Kameelah Janan Rasheed, a Brooklyn-based artist and archivist. The project was masterminded by Arjun Shankar Gr'15, a postdoctoral fellow in the School of Social Policy and Practice; writer and artist Chris Vandegrift C'13; and Slought Foundation executive director Aaron Levy C'99 GGS'03 CGS'05, with help from camra (an Annenberg School-based initiative to foster interdisciplinary multimedia collaborations), Slought, the Center for Curiosity (which Shankar co-directs), SP2, and The Rotunda.
"We were especially interested in merging art, activism, and scholarship," Shankar explains. Each one of the films "challenged viewers to think beyond their taken-for-granted notions of race," while the installation "challenged passersby to reflect on their race rhetoric."
It was "fascinating to watch people feel compelled to stop, sit, and learn," he adds. "Some would stay for two minutes and others would watch for over 30."
Stay tuned for similar unruliness this fall.
—S.H.