Bonding and Basketball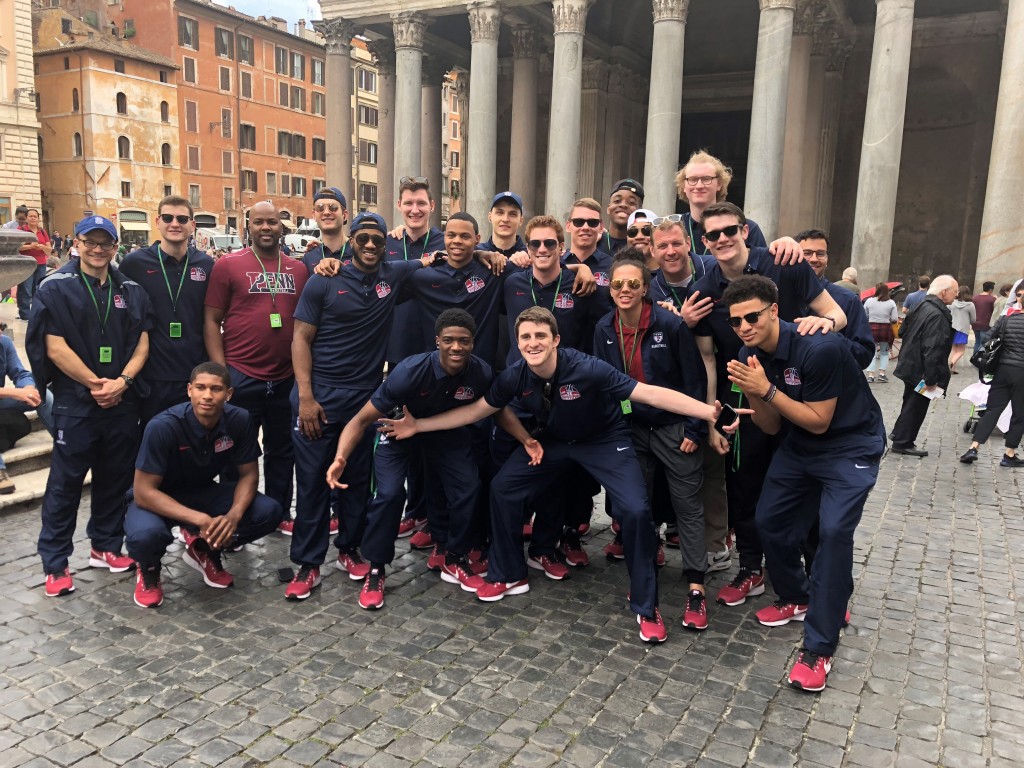 As he sat on a boat speeding through Lake Como before enjoying a delicious Italian meal of pasta and veal, rising Penn senior Max Rothschild couldn't help but think just how fortunate he was that he got to spend more than a week in Italy.
Even better, he got to spend it with his Penn men's basketball teammates on a summer vacation filled with bonding, basketball and brotherhood.
"I was thinking, Wow, this is my last year as a senior and these are the group of guys I've got," Rothschild said. "This is my family and I've got to make the most of it. I'm really glad Coach [Steve Donahue] recruited these guys and that I get the chance to play with some of my brothers."
The players, coaches and other Penn basketball staff members went to Italy from May 14-22, marking the program's second trip to the country in five years. The Quakers also went there ahead of the 2013-14 season, a year before the Penn women's team took a trip to Italy thanks to the generous support of donors.
For this year's trip, the team's rising sohpomores, juniors and seniors (16 players in total) toured Rome, Milan and Lake Como, while playing three exhibition games against Italian competition.
The basketball, though, was mostly secondary.
"I think our team got way closer," Rothschild said. "I think we were a close group before but we even got closer to the coaching staff, to the training staff. When you're there for nine days as one big group, you really get to know some people not in the same way you already know them."
Rothschild, who lived in Germany when he was in 5th grade, had been to Italy before and was one of the group's most seasoned European travelers. Some others, though, had never even been out of the country before, which made the trip even more special.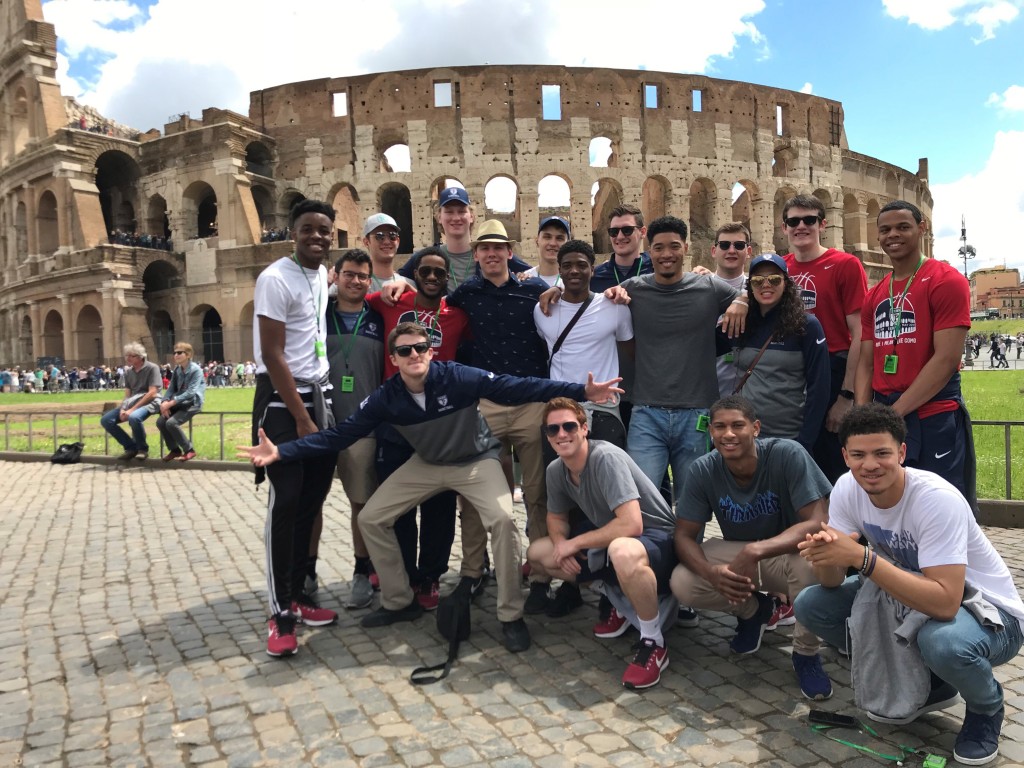 Rothschild said one of everyone's favorite parts was visiting the Colosseum (above) since the regular occupants of the Palestra know a bit about historic arenas themselves. (OK, so the Palestra isn't quite as old.) Another memorable moment for him came when trainer Phil Samko, who Rothschild aptly described as "hard-shelled" and "old fashioned," was allowed to drive the boat on Lake Como.
"He looked like pure bliss," the Penn forward said. "I had never seen that face from him, and I don't think anyone on our team had. It was awesome."
As for the hoops, the Quakers blew a late 14-point lead to lose to U.S. Tiber Roma in the first game before rolling to easy victories over Bernareggio 99 and Novara Borgomanero.
The competition wasn't as good as the team is used to and the style of play was also quite different with Rothschild comparing it to the kind of physical, slowed-down, isolation game you see more in the NBA than in college. But there were some reasons for Penn fans to be excited as Devon Goodman had a thunderous dunk that electrified the small but standing-room only crowd in one game and Jelani Williams, a top recruit who sat out his entire freshman season last year, showcased some of his offensive ability that will certainly come in handy as Penn tries to repeat as Ivy League champs next season.
"Once he gets his wind back and learns the defensive mentality, he's going to be great for us," Rothschild said of Williams, who scored 35 points through the three games.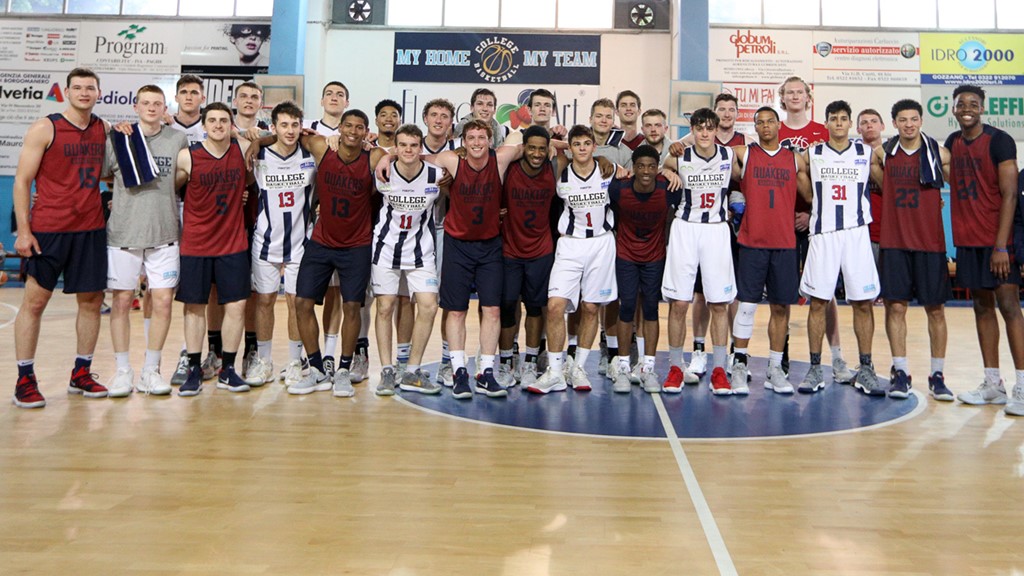 Penn's other rising sophomores, Eddie Scott and Jarrod Simmons, also got to play a good amount in Italy. The only member of that class who didn't play was Mark Jackson because of a stress fracture — but the 7-foot-3 center still got plenty of photo requests throughout the trip because of his height.
For highlights of the games and more on the trip, which also included visits to the Vatican and Sistine Chapel, check out the Penn Basketball Twitter feed as well as Penn sports information director's Mike Mahoney excellent blog posts, which includes, among many other things, a fun tidbit on a young Italian fan telling Penn assistant coach Nat Graham that Goodman was "The G.O.A.T" and a surefire NBA Draft pick.
— Dave Zeitlin C'03