Pictures of Penn, Vol. 3
What have your fellow Quakers been up to? A whole lot! Take a look at these photos submitted throughout the winter and spring months.
Bob Kosian W'71 WG'76 writes, "We held a mini-reunion for our freshman year dormmates—the 'Class of '28 Dorm—Second Floor'—on April 20–22. Attending were Rick Mitchell C'71, Mark Deans C'71, and John Twombly W'71; our dorm counselor, Charley Kurz WG'69, joined us; and Barry Ginsberg C'71 called via Skype. Our other dormmates Craig Carlson C'73, Bob Verderamo C'71, Steve Selcho EE'71, and Pete Feinman C'71 provided us with various email updates about their activities. Steve gets first prize for the best excuse for not attending as he was on a mission in Zimbabwe with his church; Bob wins second, as he was getting inducted into his high school's sports hall of fame; and Craig (my roommate) third for visiting his 95-year-old mom in Duluth, where we both grew up. All pledged to make it to our 50th in 2021. Only three years away! 'Drink a High Ball at Night Fall.' P.S. And we did!" Bob Kosian is president of the Penn Club of South Carolina. He adds, "We have over 350 Penn alums in the greater Charleston area."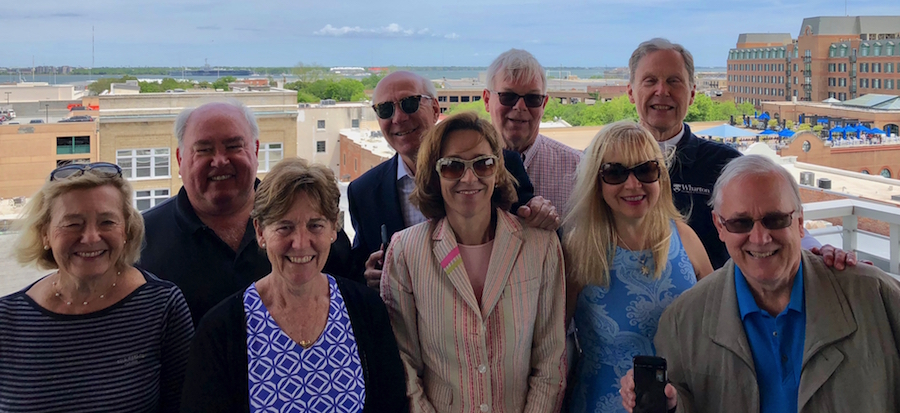 Jennifer Higdon G'92 Gr'94 won a Grammy in January for Best Contemporary Classical Composition for her Viola Concerto; and the CD of her work won another Grammy for Best Classical Compendium. She was also awarded the Michael Ludwig Nemmers Prize in Music Composition from Northwestern University. The $100,000 cash prize also includes a performance by the Chicago Symphony Orchestra.
Jeffrey C. Adler W'84, managing director of Vault Consulting, served as "Professor for a Day" for three Wharton classes for Professor Jehoshua Eliashberg Hon'85 on October 2, 2017. Jeffrey had been a student himself in several of Professor Eliashberg's classes in the '80s. His son, Jacob Adler W'18, studied with Professor Eliashberg, as well.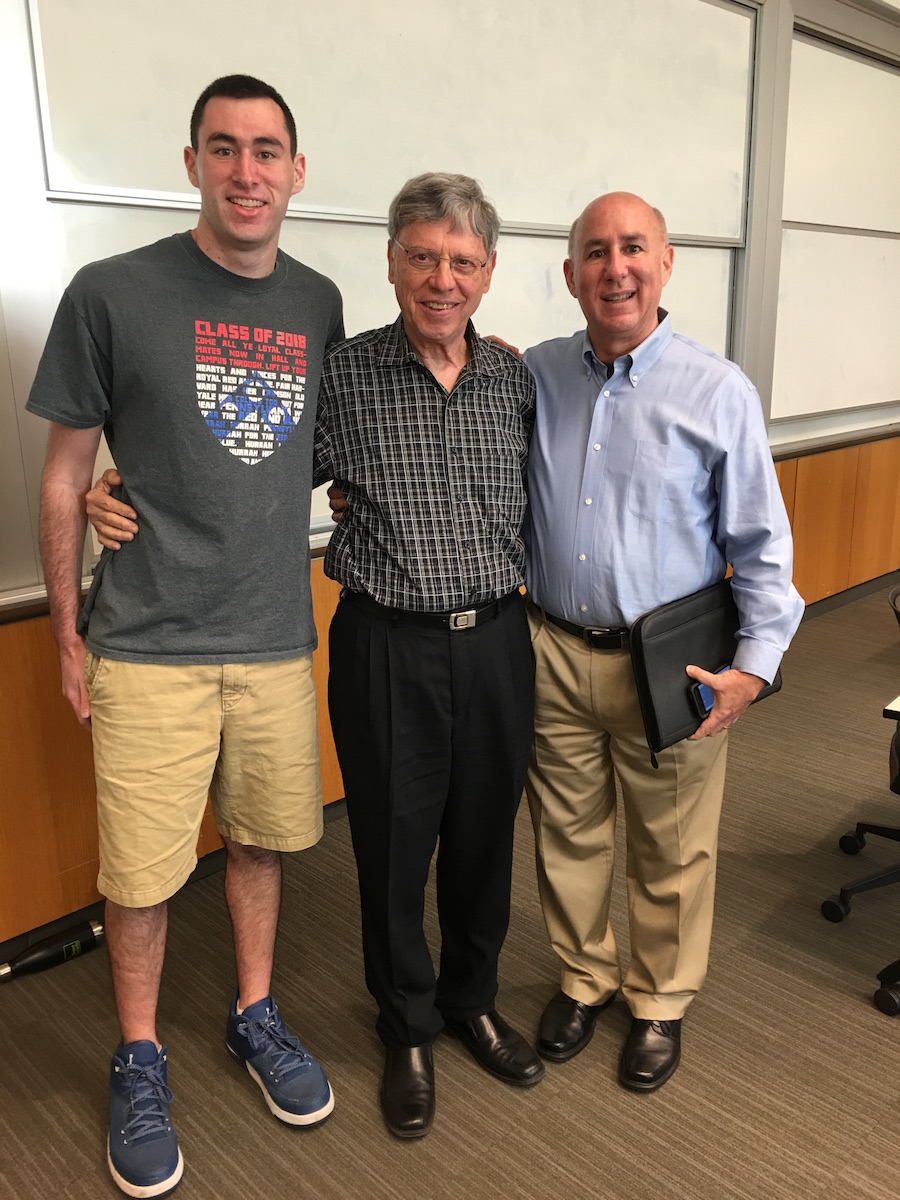 Marcos Christodoulou G'86 WG'86 writes, "I am capping a career in the corporate world with a pivot to the arts. I've been painting and exhibiting for several years and recently earned a master's of fine arts degree at the University of California in Santa Barbara. My work (which can be seen at www.marcos-art.com) tries to make sense of an uneasy world through what I hope is expressively compelling, often provocative imagery. My conceptual and pictorial sources are classical mythology, Hollywood cinema, art history, and images snatched from social media. This new occupation is a shift but also very much a return. Before my graduate work at Penn and a life in business in California, I had studied and practiced architecture in the New York area." This painting is titled Circe (after Almodovar).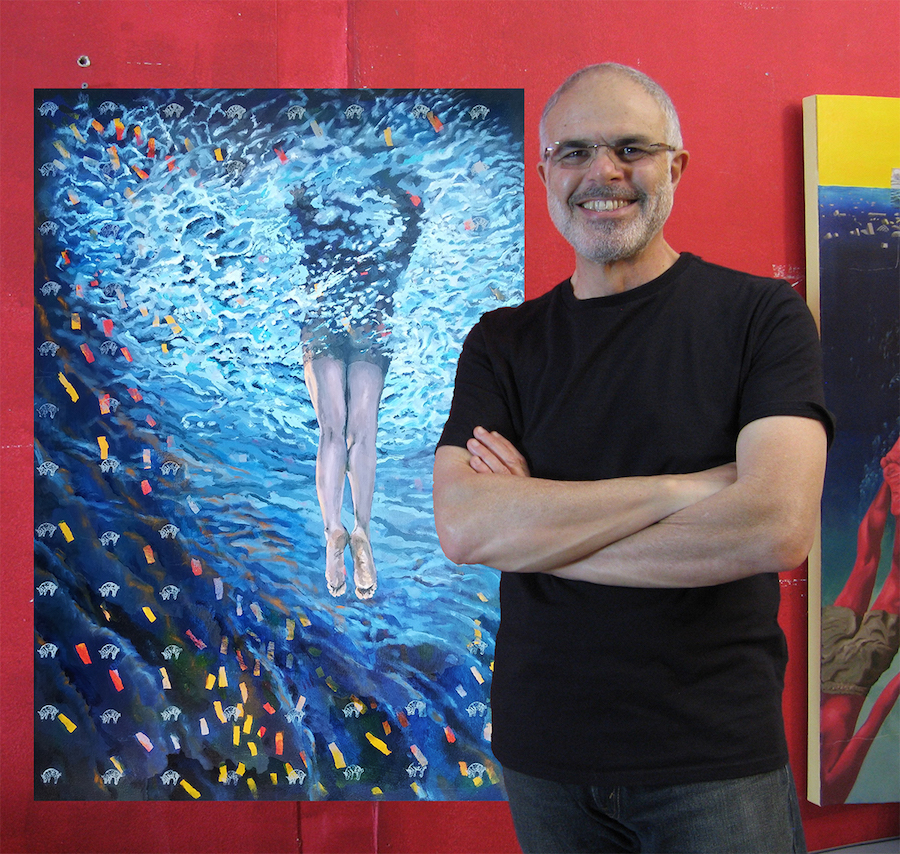 The Penn Alumni Club of Puerto Rico kicked off its Breakfast Speaker Series on June 20 with Dr. Julia Keleher C'96 GEd'98, Puerto Rico's Secretary of Education who was featured in our May/June issue.
Robert Carley C'82 writes, "I created this flag out of baskets and placed it at my local Darien, Connecticut, beach for Memorial Day 2018, and News 12 CT showed it on their broadcast for two days. My friends helped me paint it and set it up. It stands about six feet four inches by 13 feet long. Since 9/11, I have traveled to 47 states taking photos of flag tributes. I became so inspired by what average people created when traditional flags sold out that I decided to turn to my own creativity as well to show patriotism. Over the past several years, I have started building my own flags out of everything from paper clips to egg cartons."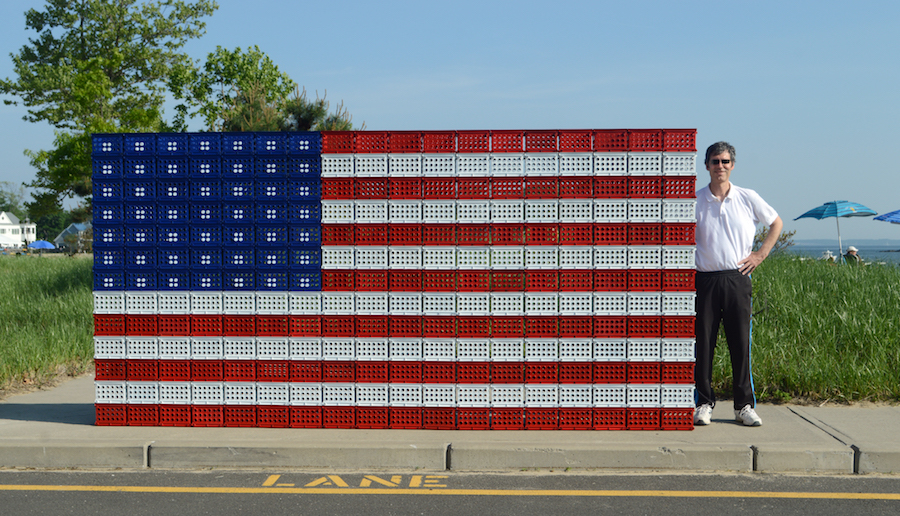 Keep smiling, Quakers! We'll see you soon for another edition of "Pictures of Penn."