Beyond Zap
An exhibition at the ICA explores the many obsessions of 
a comix genius.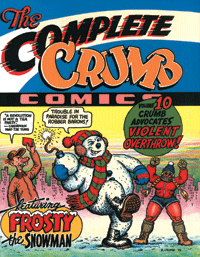 R. Crumb gets you in touch with your inner troublemaker. It might be your inner pervert (half of Crumb's characters, including the one named R. Crumb, are bursting with lust; most of the others are bursting with denial), your inner paranoiac, racist, hustler, muscular Amazon, phony revolutionary, dope fiend, boring drone. It might even be your inner pretentious art critic, who stands to get smacked around by the likes of Mr. Natural, the irascible wise-guy guru who torments the neurotic Flakey Foont.
A life-size (more or less) cutout of Mr. Natural is the first thing you see when you enter R. Crumb's Underground, the retrospective of Crumb's career, which runs through December 7 at the ICA. Virtually all of Crumb's imps of the perverse are on display there, including a contorted statue of Devil Girl and countless Zap Comix strips and covers. So are some of his less "vulgar" obsessions, like blues and jazz musicians and his wife and fellow cartoonist, Aline Kominsky-Crumb.
The exhibition is a homecoming of sorts for Crumb, who was born in Philadelphia in 1943, drew comics with his brother Charles, and published his first comix ("adult"-themed comics) in the local Yarrowstalks. The show was originally organized by the Yerba Buena Center for the Arts in San Francisco, where Crumb hallucinated himself onto the scene in the late 1960s and is still revered, sometimes to his discomfort, as an icon of that era.
These days he and Aline live in the south of France, which might seem an unlikely base camp for someone who has wallowed so gleefully in the ad jingles, slang, music, and myths of American pop culture. Though their recent collaborations offer a gentle counterweight to the raunchy offerings of the Zapera, that shouldn't suggest that Crumb has lost his edge—or his libido, as one recent strip makes clear.
If the litmus test for meaningful art is that it should seem both inevitable and surprising, then Crumb still matters. And the broad range of admirers who have come to check out the exhibition confirms his importance.
"Kids of any age like comics," says Jenelle Porter, the ICA's associate curator, who organized the exhibition (though she admits to being a recent convert to his work). "Crumb is the most famous comic artist, and he has broad appeal. Certainly there are men of a certain age who were already excited about it before they came in the door. They remember it from when they were young in the late '60s and early '70s—but it still looks really fresh."
—S.H.