At Last, Our Prince Has Come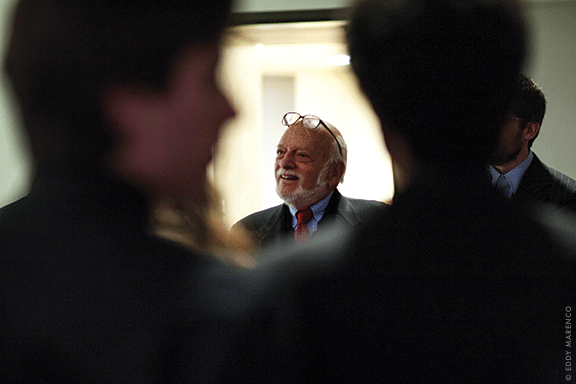 "The truth is, we've been trying to give Hal this award for years," Penn President Amy Gutmann was saying. "But Hal keeps a schedule that is quite demanding."
Hal , of course, is Broadway legend Harold S. Prince C'48 Hon'71. The award is Penn Alumni's Creative Spirit Award, which recognizes a Penn graduate who has "created a lasting impact on his field and has also given back to his alma mater." And while that demanding schedule is still very much a factor for the seemingly ageless 87-year-old Prince, Gutmann was finally able to present the award to him this past April at a ceremony honoring him at the Annenberg Center.
It was only fitting that the evening concluded with an impressive performance by the Penn Players of Prince's LoveMusik. Staged in Annenberg's Harold S. Prince Theater, the production was greatly assisted by Prince, both financially and in artistic support. (Dan Kutner, Prince's assistant, commuted to Penn daily to direct the musical about the relationship between Kurt Weill and Lotte Lenya.) After all, Prince reminded the audience in his acceptance remarks, the first award for directing he ever got was the J. Howard Reber Award for a Penn Players production in 1947, which gave him a satisfaction not too unlike that provided by all the Tonys and other awards he's received over the years.
As for the lengthy gestation time involved in coming to Penn for the Creative Spirit Award, "I wasn't ducking it—I was busy!" he said cheerfully. "And I'm happy to say I'm still busy."
"It's kind of wild," Prince told the Gazette a couple of weeks later. "I'm doing two things, but I like both of them, and they're very different—one is a smallish musical, and one is a huge musical."
The smallish one is The Band's Visit, by composer/lyricist David Yazbek and playwright Itamar Moses, about a traveling police band from Egypt that ends up in a remote town in the Israeli desert; it's scheduled to open at the Atlantic Theatre Company in New York next spring. The "huge musical" is essentially a celebration of Prince's extraordinary career. (He will be narrating the show via a hologram.) Scheduled to open in Japan at the end of October, Prince of Broadway will arrive on Broadway next season; according to promotional material, it will focus on the "circumstances and fortune, both good and bad, that led to Hal Prince creating some of the most enduring and beloved theatre of all time."
Given that Prince has won an astonishing 21 Tony awards (including a Lifetime Achievement Award) and that his resume "reads like a list of the greatest hits of American musical theater of the last 60 years," in Gutmann's words, it's almost impossible to overstate what he has meant to the art form. After listing such hits as The Pajama Game, West Side Story, Fiorello!, Fiddler on the Roof, Cabaret, Follies, A Little Night Music, Sweeney Todd, Evita, and The Phantom of the Opera, as well as revivals of Candide and Show Boat, Gutmann noted that "just a few of these triumphs would have made anyone a legend."
"Happily for Penn, Hal has been as creative in his philanthropy as in his other endeavors," she added. "Nearly four decades ago, he gave the University the gift of a share of the royalties of Cabaret," which helped fund the construction of the Annenberg Center as well as the Penn Players' production of LoveMusik. Having had a brief trial run on Broadway eight years ago ["Arts," Jul|Aug 2007], LoveMusik is challenging on many levels, but in Prince's view the rewards were very evident in the Penn Players' version.
"I thought the Penn Players kids did a wonderful job with that very difficult material," he said. Noting that Kutner, the director, had trimmed "all the stuff that would have been very difficult to do in that venue," Prince added: "Nothing was lost by those excisions. So I thought it really worked well. And the kids were terrific. They're all good, but the kid [Eric Lifland C'16] who played [Bertolt] Brecht was quite extraordinary."
Asked about the most important elements for success in theater, he cited ambition, taste, and luck.
"I think taste is probably the most important thing," he said, "and then of course you've got to be able to generate and create what your taste dictates. But you have to have taste, first of all. And luck—I really so believe in luck. I was in the right place at the right time, and as we say, the rest is 70 years." —S.H.