A New Home For Trauma Care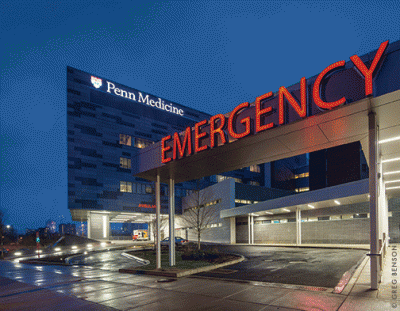 On Wednesday, February 4, as clocks struck what many nurses and doctors had taken to calling "high noon," the University of Pennsylvania Health System (UPHS) flipped the switch on a change rarely undertaken by a major academic medical center. Penn Medicine officially moved its Level I Trauma Center, one of the busiest in the region, three-quarters of a mile to the northwest of its longtime home at the Hospital of the University of Pennsylvania (HUP).
In a carefully planned choreography, ambulances, city police, and medevac helicopter crews retrained their sights on the new Pavilion for Advanced Care (PAC) at Penn Presbyterian Medical Center.
The $144 million facility, which encompasses 178,000 square feet of newly built and renovated space near the intersection of Powelton Avenue and 38th Street, augurs the biggest change for Presbyterian since the hospital came fully under Penn Medicine's umbrella in 1995.
"If you want to affect just about every program, every department, and every person in a hospital," says critical-care surgeon William Schwab, "you build a trauma center."
He should know. Schwab built the original Level I Trauma Center at HUP, and has been chief of the service ever since it opened in 1989. Trauma patients are so diverse—people of all ages suffering injuries that run the gamut from gunshots and motorcycle collisions to burns and blunt-force falls on black ice—that a top-level regional center requires the presence of dozens of medical and surgical specialties. Schwab spearheaded a three-year planning process involving leaders from 37 departments and divisions of Penn Medicine.
Its centerpiece is a five-bay shock-trauma and resuscitation unit named in honor of John Pryor, the beloved HUP trauma surgeon who died in the line of duty in a frontline surgical unit in Mosul, Iraq, in 2008 ["Gazetteer," Mar|Apr 2009]. This spacious area, designed to accommodate the unpredictable surges of patients that typify trauma care, is a major upgrade from what Schwab calls the "closet"-sized facility at HUP. It also provides immediate access to a state-of-the-art CT, MRI, and X-ray imaging suite that represents a big advance in Presbyterian's radiology capacity.
Together with two other critical-resuscitation rooms in the emergency department, the expansion enables the treatment of seven patients at once—a giant leap from HUP's three-bed unit, which has treated upwards of 2,200 patients annually in recent years.
An oversized helipad on the roof, equipped with automatic cleaning and snow-melting technology, connects to a dual-speed elevator capable of delivering patients to the resuscitation bay or operating room in seconds. In marked contrast to the constricted airspace around HUP, it is approachable from a 270-degree window unobstructed by tall buildings, enabling takeoff and landing under a broader range of wind conditions than before.
"Pilots love it," says Schwab, who also serves as physician-in-chief of the six-helicopter PennSTAR air fleet.
The new location is also better situated with regard to ground-traffic patterns. "If you look at the dying trauma patient, the patient who's going to die in a matter of minutes, the vast majority come from West and Southwest Philadelphia, and the fringe counties of Delaware and Montgomery," he notes. Trauma care, it goes without saying, is a race against the clock.
Another advantage was the availability of land. "If we were going to build anything at HUP, we had to build on top, or we had to tear down," Schwab says. "It made it cost-prohibitive."
By the numbers, the PAC has added 16 beds to Presbyterian's emergency department, 16 surgical-prep bays and 16 post-surgical recovery bays to its overhauled surgical suite, and 40 inpatient beds on upper floors individually dedicated to heart/cardiovascular critical care and surgical critical care. A third floor, dedicated to neurological critical care, is under construction. An inpatient physical-therapy gym is also on the way.
Beyond the numbers, Schwab emphasizes the efficiencies expected to arise from the center's design and the hospital's bolstered capacity on the back end.
"We can not only ramp up, we can empty out pretty efficiently," he says. "If you look at patient flow, it's resuscitation, operation, ICU, general nursing care, rehabilitation, outpatient follow-up … We very strategically worked to make sure we linked these things."
HUP should profit from the move, gaining about 45 or 50 beds at a time when the hospital is routinely filled to capacity to meet demand for tertiary care and elective operations.
But victims of car collisions, gun violence, falls, and other misfortunes will be the main beneficiaries.
"Our role in a five-state region—and routinely in three states—is to rescue people," Schwab says. "We see statistically more people that are transferred from other hospitals and other trauma centers than other places. And we were running out of space." —T.P.