A Marriage Primer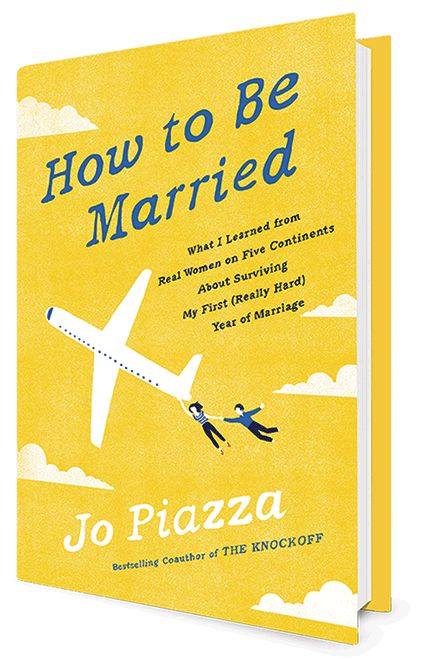 A few weeks after getting engaged, Jo Piazza C'02 started working on How to Be Married (Harmony Books). She wanted to "report out" her own mixed feelings about marriage and her confusion over how to do it right. The result—subtitled What I Learned from Real Women on Five Continents About Surviving My First (Really Hard) Year of Marriage —is part memoir, part sociological study, part travelogue. In addition to the advice she received while traveling to more than a dozen countries, it chronicles her health struggles and the occasional squabble with her new husband, Nick.
Soon after their marriage ceremony beside the Sphinx at the Penn Museum in September 2015, she and Nick began traveling: to a sweat hut in Mexico, a wife-carrying competition in Maine, Parisian lingerie stores, and up the side of Mount Kilimanjaro. In Kenya, she talked with members of a polygamous tribe about their approach to marriage. It's less about sex than about divvying up work and responsibilities. As a tour guide told her: "My wife wanted it. She needed it. She is happy now. She told me, 'Pius, I have too much work to do. Get me a co-wife.' So I did."
The emphasis on community support there—the classic "it takes a village" adage in action—doesn't just apply to raising children, nor does it require additional wives, Piazza says. Surrounding yourself with a strong support network can bolster a marriage, too.
In Paris, on the other hand, she's pummeled with advice to "be your husband's mistress." While it sounded "icky and anti-feminist" at first, she soon realized that it was more about "making sure that both [spouses] feel needed and wanted. It's about behaving the way you did when you were first dating each other."
In Meghalaya, a state in India with matrilineal hill tribes—meaning women are the heads of the family, men move into their wives' homes, and assets go to the youngest daughter—Piazza envisions a utopia. But while couples there value understanding and compromise, the women face other challenges.
"The men have stopped sticking around," a newspaper editor tells her. "They say they feel like they are just breeding bulls with no claim on their own children, and it makes it easier for them to leave."
Piazza concludes that there's no single key to a happy marriage, though there is plenty of advice that can help.
"I started this book believing that somewhere, someone has figured out the secret to the perfect marriage," she writes. "Now I know everyone, no matter how good their relationship, struggles to make it work."
—Molly Petrilla C'06