125 Seasons of Franklin Field Football
When the Penn football team faces Dartmouth on October 4, it will be more than just the Quakers' 2019 home and Ivy League opener. The Friday night game will mark the 125th season of football at Franklin Field.
The venerable stadium is the oldest still operating for football games, and is the site of the country's first scoreboard (1895), two-tiered stadium (1922), football radio broadcast (1922), and football telecast (1939). It also has showcased many incredible games.
To recognize 125 seasons of Franklin Field football, here's a look at one dramatic, important, or otherwise memorable game from every decade:
---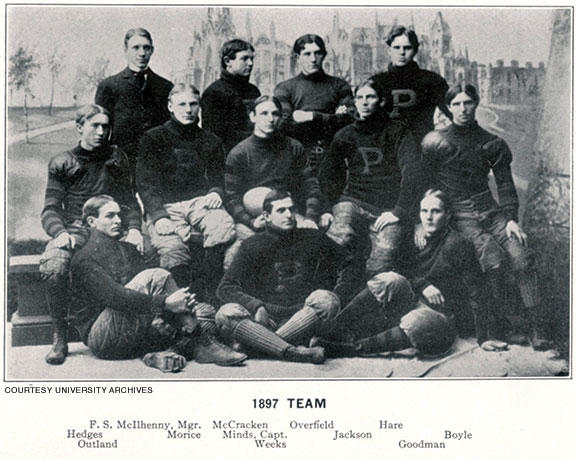 November 25, 1897: The Quakers ended their season with a touchdown (then worth four points) at the final whistle to beat Cornell, 4-0, and finish the season with a perfect 15-0 record. For the next 121 years, no other Division I team equaled the 15-0 mark—until Clemson did it this past January, drawing the 1897 Quakers back into the national news.
November 24, 1904: An absolute juggernaut this decade, the Quakers walloped Cornell, 34-0, to conclude a season in which they only allowed four points—total—over the course of 12 games. They were declared national champions this year, which followed titles in 1894, 1895, and 1897, and preceded ones in 1907, 1908 and 1924.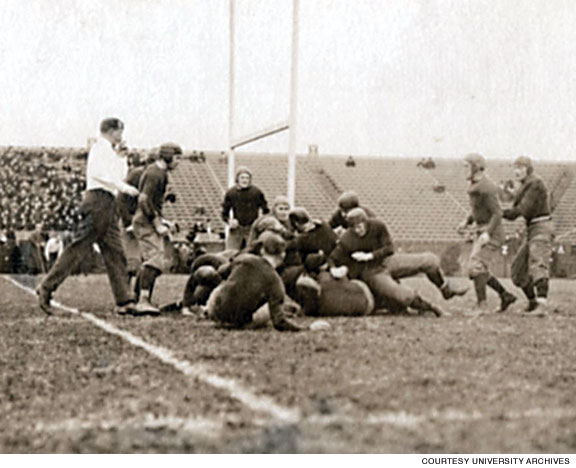 November 9, 1912: In a game Dan Rottenberg C'64 dubbed the "Miracle against Michigan" in his 1985 book Fight on, Pennsylvania: A Century of Red and Blue Football, Penn became the first team to win after trailing 21-0. The Quakers' 27-21 victory over Michigan was delayed after fans stormed the field to celebrate Richard Marshall C1914's game-winning punt return touchdown—with about a minute still left to be played.
September 24, 1921: Although John Heisman L'1892 ["Heisman's Game," this issue] had more coaching success elsewhere, he did lead Penn to one of its most lopsided victories ever—an 89-0 shellacking of Delaware to open his second of three seasons in charge. Rex Wray C'22 raced to four touchdowns, and according to a Gazette writeup in the October 14, 1921 issue, the score "could have been doubled had Coach Heisman kept the regulars in the line-up."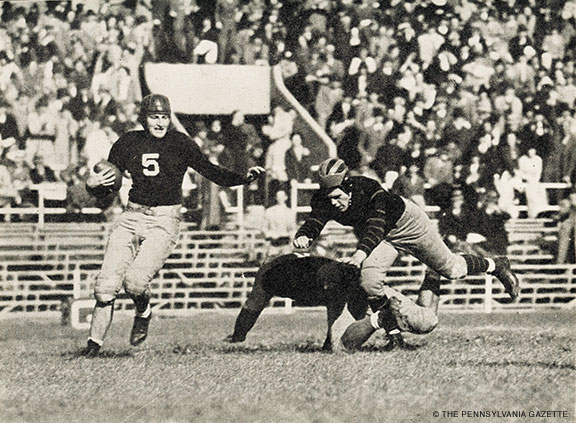 October 17, 1936: In one of the most storied Penn football games of the 20th century, Lew Elverson W'37 returned a punt 57 yards for the game's only touchdown and the Penn defense prevented rival Princeton from scoring all five times the Tigers got inside the Penn 10-yard-line. From the Gazette's November 1, 1936 issue: "By radio, short wave, Morse code or some other means graduates of Pennsylvania have been apprised that their football team after a wait of forty-two years scored a verdict on the gridiron over the team from Princeton."
November 15, 1947: Led by the legendary Chuck Bednarik Ed'49, the Quakers in 1947 pulled off their only undefeated season under famed coach George Munger Ed'33. Nearly 80,000 fans at Franklin Field watched them maintain that with a 7-7 tie against nationally ranked Army—a team that had crushed them the previous seasons and beat them in a Franklin Field thriller the next year.
October 24, 1953: The 1953 season was Munger's last, and only losing one. But with the Quakers handicapped by new Ivy League restrictions while still playing a national-caliber schedule, they had several valiant efforts as the underdog—including this 9-6 upset win over 10th-ranked Navy behind a game-winning field goal from Ed Gramigna W'54 in the final minute. Gramigna, as quoted in the December 1953 issue of the Gazette, said, "All you do is swing your foot, hit the ball and say a prayer."
November 2, 1963: Penn's only Ivy League win of the 1963 season was a 7-2 stunner over a Harvard team that had the longest unbeaten streak in the nation and that month had been featured in Sports Illustrated. From the December 1963 issue of the Gazette: "Who expected Penn to whomp Harvard? Nobody, is who. So what did those puzzling Quakers do? They pulled off the boldest stunt since Lady Godiva's crew cut."
November 3, 1973: In what the New York Times called "one of the most unusual games in the 92-year-old series between the schools" and "a statistician's nightmare," Penn and Harvard combined for nearly 1,000 yards of offense with the Crimson prevailing on a late TD pass, 34-30. As they often did, running back Adolph "Beep Beep" Bellizeare C'75 and quarterback Marty Vaughn W'75 WG'81 put on an offensive show for the fans at Franklin Field that day.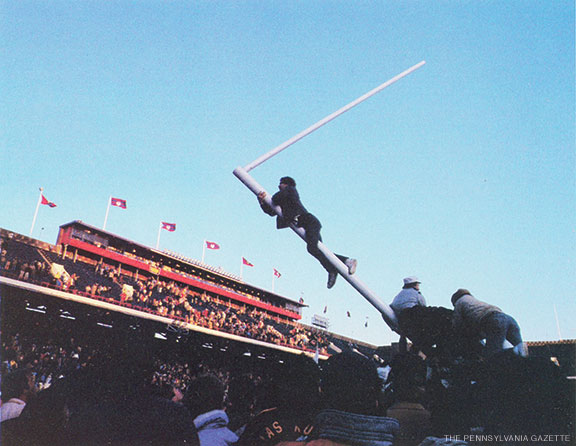 November 13, 1982: Penn's 23-year Ivy championship drought ended in near-miraculous fashion as Dave Shulman W'84 kicked the game-winning field goal to beat Harvard with no time left on the clock—just after missing the same kick but getting another crack at it when the Crimson were called for a roughing-the-kicker penalty. As Steve Flacco W'83, father of Super Bowl-winning quarterback Joe, told the Gazette as fans triumphantly tore down the goalpost and tossed it into the Schuylkill River: "It's not over until it's over. Even when it's over, it's not over."
November 6, 1993: Leading up to a nationally hyped showdown between Penn and Princeton, Tigers star running back (and future NFLer) Keith Elias spiced things up by talking a lot of trash. But it was his diminutive counterpart at Penn, Terrance Stokes C'95, who ran for a program-record 272 yards while Elias was held to 59 as the Quakers rolled to a 30-14 win, setting the stage for back-to-back perfect seasons in '93 and '94.
November 16, 2002: ESPN's College GameDay visited an Ivy League stadium for the first time, and even a rainy day couldn't dampen Penn's spirits as the Quakers rolled to a 44-9 rout of Harvard. Just like a decade earlier, the win helped Al Bagnoli's team pull off two straight undefeated seasons in the Ivies.
November 7, 2015: Ray Priore's first year as head coach had plenty of wild moments, including this 26-23 overtime win over Princeton on Homecoming. With Penn's Ivy League title hopes on the line—the Quakers would claim a piece of the crown in '15 and '16—Donald Panciello W'17 blocked a field goal as time expired in regulation and Eric Fiore W'16 caught the winning TD in overtime. —DZ