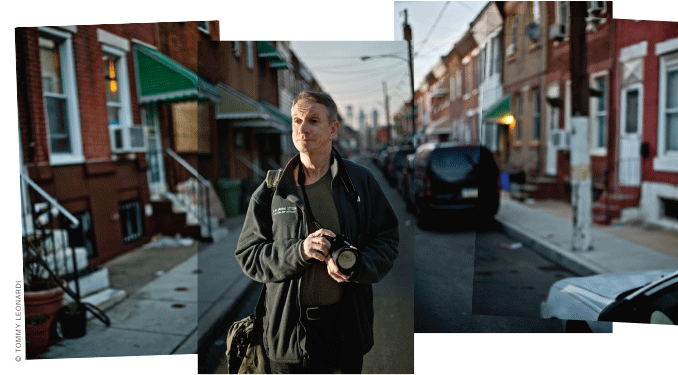 Class of '82 | When the filmmakers of Silver Linings Playbook were deciding where to shoot the movie, they contacted Dan Gorman CGS'82 GEd'98, a location scout who's worked on many productions filmed in the Philadelphia area. He read the script and saw that not only did it feature a character obsessed with the Philadelphia Eagles; it was also set in the city's suburbs.
"The Eagles! Suburban Philadelphia! We're filming this in my hometown!" he said to himself. Soon cast members Jennifer Lawrence, Bradley Cooper, and Robert DeNiro were spotted in the nearby suburb of Upper Darby and other spots in Delaware County, shooting on residential streets and sites that were part of Gorman's youth.
Though he had his eye on film and television work at Penn, Gorman found his way into location scouting by accident. After graduation, he headed to California, hoping to study film and break into the industry. Eventually, he found a job as a glorified go-fer, and one of his duties was to provide maps for the production crew on how to find the next location. Gorman, who did political cartooning for The Daily Pennsylvanian and Pennsylvania Punch Bowl, drew images on the maps to assist readers. People enjoyed the images and began giving him other assignments, such as managing the location, but he preferred location scouting, as it gave him more room to be creative.
Long before a film shoots, Gorman checks out a location and begins taking pictures, keeping the camera still but moving his feet a few inches to his right with each click, eventually procuring images that give a site the requisite depth.
"I send photos to the production company and get feedback, usually from the production designer," he explains. "I then tweak my search to fit their needs, and once we find something that he or she might like, we show them to the director. If he likes it, we scout the location to see if the site works for both of them."
Once the location is chosen, deals have to be made with the owner and sometimes the renter of the property, he notes. "The local government entity has to be informed. Parking for trucks, trailers, and crew cars have to be found. Traffic disruptions and the inconvenience of stuffing a minimum of a hundred people into a neighborhood for a number of days need to be discussed with the local police and neighbors. So when the actual filming takes place I am usually gone. Actually, if things are going well, I am on the next project to shoot in the city when the actual filming takes place, though I do sometimes visit locations to see how the home owner and the crew are doing during a shoot."
He says two professors at Penn taught him about film and he still applies what he learned.
"Stuart Samuels [professor of the history of ideas] taught history and film, and his courses showed me how to look at films in different ways and to understand that film and art are more a product of their time than the times they portray," he says. "Amos Vogel was a communication professor, and he showed me the art in film even at the most commercial level. I think of that every time I scout, no matter how poor I think a script may be."
Gorman's alma mater has figured in several of the films he scouted. The most recent was a scene filmed in the David Rittenhouse Laboratories for How Do You Know, which starred Reese Witherspoon, Paul Rudd, Owen Wilson, and Jack Nicholson.
He is currently scouting locations for a film that would be the biggest production he's ever worked on, but a confidentiality agreement prevents him from disclosing details.
"For this movie they didn't give me a script, which is unusual," says Gorman. "They told me specific things they needed, like specific-sized houses, but they also gave me vague directives like, 'Find us places that look like other places in the world in the Philadelphia area.'"
One scene takes place at the quadrangle of an unspecified college, so the day before Thanksgiving found Gorman visiting five Philadelphia college campuses (including Penn's), taking pictures.
One film he's particularly proud of is Law Abiding Citizen, which starred Jamie Foxx and Gerard Butler. Director Frank Darabont ( The Shawshank Redemption, The Green Mile, and the TV show The Walking Dead) wasn't sure where he would film it, so he sent the script to scouts in several large American cities. One of them was Gorman, whose suggestions intrigued Darabont so much that he decided to film it in Philadelphia. Eventually, Darabont dropped out of the project, but the movie was made on the locations Gorman recommended. Gorman says the locations he suggested helped give the film its gritty, realistic look and feel.
Sharon Pinkenson, executive director of the Greater Philadelphia Film Office, has worked many times with Gorman.
"Dan is one the best location scouts in the US, and we're lucky to have him residing and working in the Philadelphia region," she says. "He came to us with a lot of experience, having worked for a long time on the West Coast, but it's clear that his knowledge of this region is deep and varied. He grasps what's needed and wanted by a director and production designer, and he knows the difference between architectural styles—and whether or not that perfect location is also a practical one."
He put that knowledge to use for Silver Linings Playbook. At first, the idea of using the exterior of a stone row house as the home for the blue-collar protagonist and his family struck the filmmakers as unrealistic.
"I sold the director on the idea of using the exterior of a stone house by convincing the designer first, and then taking them to meet the owner of the property," explains Gorman.
He also scouts for TV shows and commercials filmed in the Philadelphia area.
"I'm like a tourist," he says. "I visit interesting sites and take pictures, much like someone on a vacation would do."
—Jon Caroulis