From the Battlefield to the Field of Dreams
Class of '08 | On a sun-drenched March afternoon at Tempe Diablo Stadium in Arizona, the Los Angeles Angels of Anaheim were taking on their division rival, the Texas Rangers. Watching from the stands was Nick Francona W'08, notepad in hand, studying the Rangers' batters: their strengths, their vulnerabilities, their ability to adjust. He noted that one hitter struggled with a good curve, while the next had a pattern of patiently waiting for his favorite pitch, a knee-high slider. When the Angels took their turn at the plate, Francona shifted his focus to the Rangers' pitcher: how he used the strike zone, the movement on his fastball. Later, he shared his surveillance with the Angels' scouting department and coaches.
Francona is the third generation of his family to work in Major League Baseball—his grandfather, John "Tito" Francona, was a slugger in the 1960s; his father, Terry, has managed the Boston Red Sox, Philadelphia Phillies, and now the Cleveland Indians. And his powers of observation were undoubtedly sharpened by his stint in the Marine Corps, when he served as the leader of a sniper battalion in Afghanistan.
Baseball and military service have shaped his life.
"As a little kid growing up, I loved getting up and going with my dad to the clubhouse every day," Francona remembers. "But there wasn't a lot of baseball talk around the house. When you do something that involves a lot of traveling, and sometimes being at it 16 hours a day, the last thing you want to talk about at home is baseball."
Coming out of high school in 2004, Nick was drafted by the Red Sox in the 40th round of the amateur draft. Instead, he enrolled at Penn, where he was a southpaw pitcher for the Quakers in 2005 and 2007. He went 0-1 with a 5.91 ERA his freshman year, then tore the labrum in his pitching shoulder. Surgery followed. But after posting a 15.43 ERA in less than five innings his junior year, he saw the writing on the wall.
"The harsh reality that baseball was not in my future was a tough thing to swallow," Francona admits. "But now I see it as a blessing, because it happened early enough in my life so I was able to find something else that I was passionate about."
That passion was international security and foreign affairs. During his senior year, Francona secured an internship with the Washington Institute for Near East Policy, where he worked alongside military veterans, including fellow alumnus Andrew Exum C'00 ["A Dark Task," Jul|Aug 2004].
"My mom was a huge Red Sox fan and his dad was the Red Sox manager," explains Exum, a former Defense Department advisor and now a business consultant with Boston Consulting Group. When they weren't chatting about Penn, baseball, or life in general, Exum talked about his time as an Army Ranger, and advised Francona that military service would teach him invaluable leadership and management skills. Francona was intrigued by military intelligence, and how it was used in ground-level operations.
"I've watched his progression with pride and admiration," says Exum, "knowing I might have had some small role to play in his success."
After receiving his bachelor's degree in economics from Wharton, Francona enrolled in the Officer Candidates School for the US Marine Corps. Three years later he was stationed at a compound in Helmand Province in southwest Afghanistan, where he directed a 30-man Marine sniper battalion from March through October 2011.
"I was a sophomore in high school when [the September 11 attacks] happened, and one of my fellow students' mom was killed in the World Trade Center that day," he says quietly. "I had no idea then that I would be fighting a war linked to that event. On the 10th anniversary of 9/11, I was in the middle of nowhere in Afghanistan, in one of the biggest hotspots for insurgents in the country."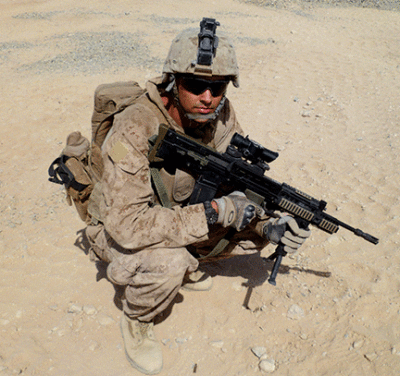 Francona commanded three 10-man sniper teams, whose job was to support Marine missions. That included countering enemy snipers, preventing Taliban fighters from planting IEDs (improvised explosive devices), executing helicopter raids, and conducting reconnaissance operations.
Francona frequently traveled through areas that had seen heavy fighting, or were suspected sites of Taliban activity. While personal safety was always a concern, Francona says he was more worried about protecting his men.
"The main thing is being very careful where you walk and watching for IEDs, because anywhere you step you could blow up," he says. "But you can't let fear paralyze you or you lose the objective of why you're there.
"I was always looking after my guys," he adds. "I relied on them; they relied on me. As an individual, what you're doing could be overwhelming, but when you're working together as a platoon, you feel you can take on the world."
While Nick was in-country, his father listened for news reports from the region. "I was really scared for him," says Terry, "but I was also really proud that he elected to serve his country."
After his discharge, Francona worked as a defense consultant at Booz Hamilton Allen in Washington. He also stayed involved in veterans issues, serving on the board of directors of Hugs for Heroes, which arranges shipments of gifts and letters to military personnel overseas and mentors vets by helping them write resumes and prepare for job interviews.
But the itch to get back to baseball was strong, and he sent his resume to several teams. The Angels called, and now the young man who was keeping an eye out for IEDs is sizing up the strengths and weaknesses of opposing ballplayers.
Asked about his son scouting the Indians and perhaps pumping him for information, Terry laughs.
"I'm sure when we get together," he says, "we'll just talk about family things."
—Benjamin Gleisser