Rodin, Rockefeller, and Resilience in Davos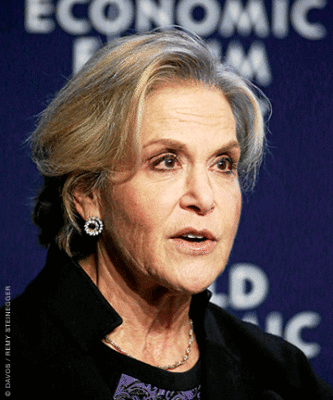 Class of '66 | From the moment Judith Rodin CW'66 Hon'04, now head of the Rockefeller Foundation, was tapped to co-chair this year's World Economic Forum (WEF) in Davos, she resolved to turn it into a place where real change begins.
"We at Rockefeller don't have meetings where we just talk, and we don't go to meetings where we just talk," Penn's former president told the Gazette. "We want to have real impact on the ground. We want to feel it."
The forum, which takes place every January in the snow-covered Swiss Alps, always has the potential for greatness. It attracts some 2,500 global leaders in business, government, the media, higher education, and the nonprofit sector to address the world's greatest challenges. (Other Penn-connected attendees included President Amy Gutmann, outgoing Wharton Dean Thomas Robertson, and a contingent of Wharton faculty, all of whom participated in panels, interviews, and other events. Besides discussing issues affecting higher education at the WEF's Global University Leaders Forum, Gutmann hosted a reception for Penn alumni and friends.) This year the list of challenges included: "Sustaining a World of 9 Billion," "Achieving Inclusive Growth," "Embracing Disruptive Innovation," and "Meeting Society's New Expectations."
Each year the WEF also selects high-profile co-chairs to set the agenda and keep participants focused on its themes—not an easy task given that many conference-goers have individual agendas or prefer to spend their week networking.
According to W. Lee Howell, one of the WEF's managing directors, who spearheads the annual meetings, Rodin "more than fit the criteria for a Davos co-chair." In addition to having the "dynamism" and ability "to help shape the global agenda," he noted, she also has a proven track record of rallying large communities to perform work that makes a measurable difference worldwide.
Since becoming the Rockefeller Foundation's president in 2005, Rodin has overseen a focus on promoting inclusive economies "that expand opportunities for more broadly shared prosperity" and building resilience among "people, communities, and institutions" to better respond to natural disasters and other stresses. One key initiative is the foundation's "100 Resilient Cities Network," which rewards cities that are effectively preparing to bounce back from disasters with additional resources and recognition. (Both her Rockefeller work and her Penn initiatives for revitalizing West Philadelphia provided material for a WEF session titled "A Journey of Discovery with Judith Rodin.") Another Rockefeller program, Digital Jobs Africa, aims to persuade the private sector to outsource jobs to low-income areas and prepare the populations there to excel in these roles.
The Rockefeller Foundation's work "was cited by many, many [people], across many sections, and highlighted quite visibly," Rodin told the Gazette. "That may have been one of the reasons that they asked me to serve as co-chair this year."
Armed with confidence generated by her past successes, she set out to ensure that this year's forum emphasized tangible progress. She pushed for longer, more focused meetings—with a greater likelihood of yielding results—to supplement the headline-grabbing speeches for which Davos is known. She also insisted that mayors and governors be present (alongside the standard heads of state), noting that "there is so much innovation in action on the ground, and these are the folks that are every day at ground zero, delivering services."
In addition, at every panel, meeting, and dinner, she urged participants—from Fortune 500 CEOs to US senators to representatives from human-rights groups—to stop talking and start acting. At the forum's concluding session, for example, Rodin listened as her fellow co-chairs—a high-powered group that included Yahoo CEO Marissa Mayer and the heads of Total, Novartis, and the Industrial and Commercial Bank of China—gave cautious, hedged responses to a question about their willingness to increase their level of investmentsthis year. Then she responded:
"We can't expect business to sit back and wait for economic growth. You are the engines of economic growth, so let's make sure that smart investments fueling the economy is part of how you define your success for 2014."
For Rodin, Davos also represented an opportunity to meet with representatives from business, government, academe, and philanthropy—"to really weigh in on where we thought there was dynamism, and where we thought there was room for action."
So she focused on finding partners to help achieve such Rockefeller Foundation goals as lowering youth unemployment, which is double the overall unemployment rate in many countries.
"We are not there to proselytize, but we are there to find like-minded partners," she explained. "So we were listening intently to those business leaders who really get it, and who are putting some skin in the game around those issues."
To find those allies, she hosted dinners, appeared on panels to highlight the foundation's work, and brokered a "really, really critical" half-day meeting with the International Business Council, at which the key issue on the agenda was youth employment.
"My wish," she said on the final day of the conference, "is that we transform this moment so that young people will see the world as a place of opportunity, rather than a place closing down."
—Alyson Krueger C'07