The Fine Line Between Yea and Nay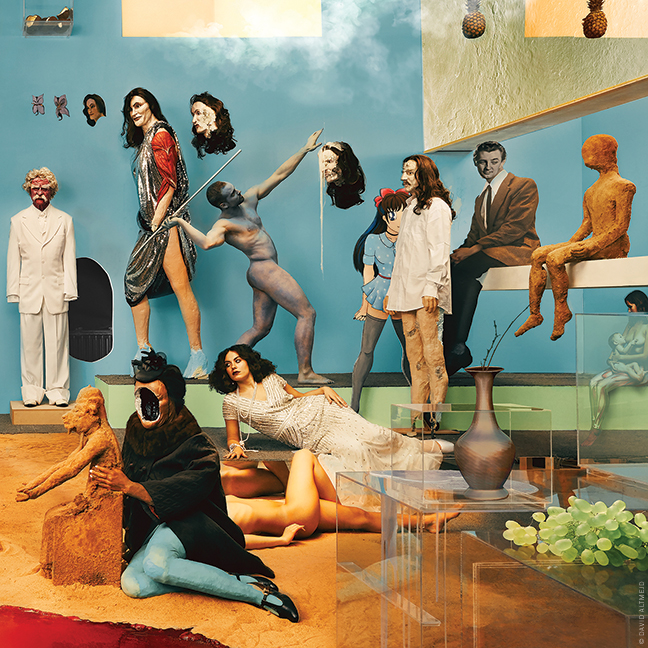 Yeasayer's new album is predictably unpredictable.
"Dead Sea Scrolls" begins with a trickle. A nondescript vocal melody, what you might expect from a quartet in boaters and pinstripes. The voices stutter before they drop out. Then Ira Tuton Wolf C'03 snaps a rubber-band bass line aimed at the skin of the bass drum head, and Chris Keating's voice writhes in response:
The holy market gets you high,
The holy market takes you low,
Now easy come and easy go,
A wicked mind on chthonic throne,
It's just another fake-out
Just another sleight of hand to keep control …
Amen and Goodbye , the fourth album from the experimental band Yeasayer, favors this kind of sonic fake-out. Every song leads you through a familiar pop current before dropping you off in darker waters, yet somehow you're never left without a paddle.
The Brooklyn-based band, which has been together in one form or another since 2006, consists of Wolf, Keating, and Anand Wilder C'04 (with an assist from his sister, Aparna Wilder C'02, who handles publicity). Wilder and Keating are Yeasayer's principal songwriters and vocalists.
"We're always writing songs and seeing how weird we can make them without being totally impenetrable," said Wilder in an email interview that took place after the band's tour of North America and Europe and before its regular summer schedule.
The band offers comfort in the uncomfortable and the flawless hairpin turn that got you there—the edge-of-your-seat and the get-on-your-feet. Yeasayer has not abandoned that edgy approach with Amen and Goodbye, its first album on the Mute label.
That strategy occasionally translates to radio/pop success, such as in the hypnotic "I Am Chemistry," which features a guest vocal from The Roches' Suzzy Roche, a disturbingly mesmerizing video, and references to poisons ranging from digitoxin to NaCN—sodium cyanide. But the band still views the holy market warily.
"Marketability is something that all artists have to consider, whether they admit it or not," said Wilder. "As much as you'd like to be able to control every aspect of your career, it's out of your control as soon as the songs are out in the world." So while radio/pop success inevitably factors into this working band's songwriting, at the end of the day, the songs end up out there, where things are unpredictable.
That unpredictability extends to their fans. It seems that when Yeasayer gets too weird, they turn off a broader radio/pop audience, but when they appear too radio/pop friendly, they turn off their alternative fan base.
"We've always tried to meld seemingly disparate elements in an effort to make something beautiful but also unsettling, nostalgic, and novel," said Wilder. Many bands founded around the same time have been terminally deterred by mixed reviews, and have either changed so much, album to album, that they're unrecognizable, or have progressed so little that they sound like a cover band of themselves. But Yeasayer has stayed true to their objective since the beginning, and they've never let radio/pop success determine it, despite the difficulties that philosophy can pose for a working band.
In discussing the band's relationship with sculptor David Altmejd, who designed the album cover, Wilder said: "There's this thing called 'demo-itis' that musicians refer to, where you get really attached to the sound of an early draft of a song. We always try to fight against that tendency, and I think David tries not to be too precious either. He's totally willing to slash and distort his meticulously sculpted pieces in order to unearth something fresh and exciting."
Or, as Wilder sings on "Half Asleep":
What was the point of being adored?
I could convince you with one, but my excuses are several.
—Maxwell Gontarek