Having It All and Keeping It Too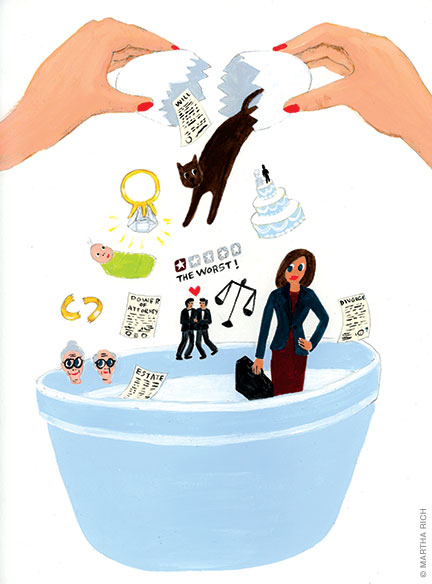 What does a woman want? Sometimes just some good legal counsel.
Despite all the advances made in recent decades, women can still be at a disadvantage in the workplace, the arts, and dating. Lisa Green C'82, a former corporate lawyer in New York who now serves as communications director for a major firm, recently published a book designed to help women feel a bit less vulnerable in matters of the law. Published in hardcover last year by HarperCollins, On Your Case: A Comprehensive, Compassionate (and Only Slightly Bossy) Legal Guide for Every Stage of a Woman's Life comes out next month in paperback.
Green, who majored in political science at Penn and earned her law degree from New York University, spent six years as a commercial litigator at a "big fancy white-shoe New York law firm." Unable to curb her "desperate attraction to journalism," she has indulged it by working as a legal analyst for NBC News and writing for msnbc.com, The National Law Journal, and The Wall Street Journal. She likens On Your Case to The Joy of Cooking, in that women can use it as a reference when confronted with various legal challenges. But it also makes entertaining reading and addresses situations one may not foresee: If your cheating ex-fiancé wants you to return the engagement ring, do you have to do so? What if a sperm donor wants visitation rights to your child? And what happens if you meet someone online and they stalk you?
"I know it's daunting to plan for bad news," Green writes. "But we both know that avoiding reality is worse. Let's promise each other to build our confidence in the future, and our family's strength, through productive activity: not just power walks through the park, or editing our closets to rid ourselves of last season's jeans, but systematic attention to the ways the law can help organize and improve every stage of our busy, rewarding lives."
More than 200 pages of the book's 334 are devoted to romantic and family relationships—from adopting a baby to the rights of your special-needs child. But it also offers counsel on workplace harassment, estate planning, elder care, and hiring an attorney.
Green drew on her own experience—in addition to her law career, she has raised two children (now 21 and 23) with her ex-husband—and has been approached by innumerable friends for legal advice. Freelance writer and occasional Gazette contributor Caren Lissner C'93 interviewed Green about the book—and maybe her next one.
---
What made you decide to write a book?
I started doing on-air legal analysis. I didn't start the book until my second child left for college. It was my way of dealing with the empty nest, but also a way of writing down and making a project of a phenomenon I noticed: women friends having legal issues and being unusually unsure of what to do. I have a lot of highly competent professional friends who generally know what's going on, but when it came to the law, there was a big yawning gap of ignorance that needed to be filled.
What's the best way to approach the book?
I have no objection to anyone reading start to finish. I tried to make it as entertaining as possible. But my analogy for the book is that it's like The Joy of Cooking of law. The Joy of Cooking is never going to be the most entertaining or compulsively readable book beginning to end, but if I need to know how to boil an egg, roast a chicken, or make a killer dessert, it will never fail. If you are facing a situation with aging parents or contemplating a divorce, or your kids are in college, there are sections of this book that are worth your time.
Most of it is about relationships and family, but it doesn't address, for example, a woman seeking a patent. Is that an accurate reflection of what women seek advice on most?
I think it's accurate. From my own experience and that of my friends, for almost all women, even women who practice law, your first encounter with a legal issue is personal or family-related. It may not be a divorce. It may be remarrying and having to cope with sort of dividing the pie up differently. Or college, which used to be this sort of easygoing experience devoid of legal issues and is now a hotbed of accusations that are serious. Yes, if I did another book, it would be more business-minded, perhaps with contracts and patents and copyrights that small-business owners need, and a lot of women do that. I just thought, this is where the need seems greatest, where people often don't know whether to hire professional help or DIY. I'm trying to make sense of complicated emotional issues that require rational thinking.
There are so many new aspects of the law as it pertains to a woman's life—the evolving opportunities with fertility treatments, cyberbullying, online dating, the nuances of sexual harassment. What will the next big topics be?
For sure, cyber law in all of its facets, whether it's our ability to turbocharge harassment through easy anonymous criticism, or kids taking out their emotions on each other, or consumers turning to Yelp to try to destroy the business model of someone who they felt did a poor job. We're just beginning to understand the ramifications of a world where communication is so easy and consequences are harder to pin down. Where do you draw the line between protecting people who are freely communicating and protecting reputations?
The other issue that's still ongoing, although we've made wonderful progress, is same-sex marriage. In the course of writing the book, the law changed, certainly for the better, but there are still battles going on over the rights of these couples and their families.
Is another book in your future?
I hope there is. I've tried to listen and learn from audiences and see where the need is greatest. I always liken it to personal finance about a quarter-century ago. Before Suze Orman taught us all that forgoing a latte a day could yield demonstrably better results in your retirement savings, I don't think people dealt with personal finance the way they do now. I'm determined to make law the next scalable frontier in that way. I want to assure people, not just women, that a little bit of knowledge really makes an enormous difference.
Probably the greatest legal decision I've ever made was helping my mother sign the power of attorney, and now she's declining, and she's empowered me and other family members to help make decisions for her and run things for her. And that was time sensitive—and we're really glad we did it.
What kind of feedback have you gotten?
One of my favorite audiences is other lawyers. At first I was nervous about speaking to lawyers about the book because they find fault. But a lot of lawyers are grateful for the book because the law is increasingly specialized. If you have a sister-in-law who's a patent attorney, she probably can't help you with your child-custody situation. So the book kind of acts as a foundation of knowledge. A lot of lawyers have difficulty simplifying matters. I really am aiming for people who don't have a law degree, but are smart and really want to understand without being weighted down with Latin or unnecessarily complex terms. It's a kind of an appetizer before meeting the lawyer or trying to work things out on your own.
I had to laugh when I saw the small section titled, "Having Sex with Your Lawyer," and it basically says: Don't have sex with your lawyer.
You'd be surprised. Fraught emotional relationships yield fraught emotional activity. That's really an admonition that you should go to a lawyer who should be protective and should know better than to take advantage. That's not unique to law, of course.
I had always heard that people who live together for seven years are automatically common-law married, but it seems like that's a complete myth. Yet there are states that do recognize types of common-law marriage. What other legal myths do you hear?
It's a little bit more complicated. In a minority of states, you can live together for a period of time with the intention of acting like husband and wife … I think it's intent plus time. The cases you see, you'll see that they "held themselves out," wore a ring, if the woman was using the common-law name to sign contracts. Most states don't recognize it. It's a holdover from when judges had to ride in on horseback, and you couldn't get a justice of the peace. This was an alternative.
[As for other myths], I think people think that if they write negative reviews about someone online, they're not subject to the same reputation-protecting laws as when they write something negative about someone in a newspaper. But defamation can happen online just like in print. People should think twice before harming a person in an actionable way on the internet. Don't be confident that you are beyond the reach of the law. It would be nice to turn the temperature down, in any event. That's not just a legal observation; it's a human observation.
Do you think women can have it all?
I think everyone should go into life trying to have it all, and let life bat you back, rather than curtailing your ambitions going in.