Going Global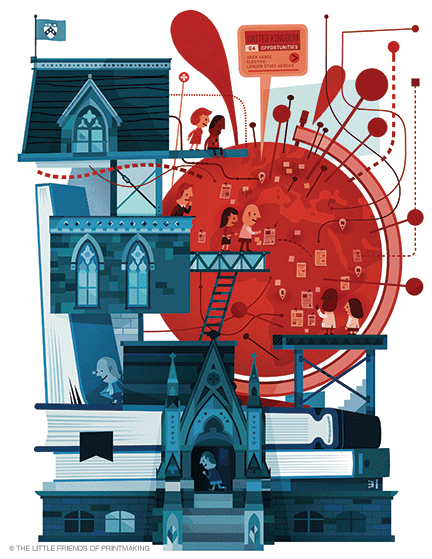 Penn has a longstanding commitment to global engagement, dating all the way back to Ben Franklin. That commitment is now stronger than ever with the recent appointment of a vice provost for global initiatives and the creation of a five-year strategy to increase understanding of global challenges, foster international engagement by students and faculty, and maximize Penn's impact around the world.
BY MOLLY PETRILLA | Illustration by The Little Friends of Printmaking | PDF download
---
I hover over India and when it turns red, I click. INDIA: 27 opportunities appears in a tidy red box. I scroll through research grants and overseas classes. The Law School is sending students abroad for a human rights fellowship. Wharton is offering an immersion program. I could take an architecture course or join a photography studio in Mumbai—well, I could if I were a School of Design student.
Still in India, I glide from Student Opportunities to Faculty Projects. There are 67 of those. A clinical trial is examining tuberculosis treatment in adults with advanced HIV. Wharton is looking at "high-end outsourcing activities." Michael X. Delli Carpini C'75 G'75, dean of the Annenberg School for Communication, is helping a fledgling university develop its own school of communication.
On my last stop, Alumni & Alumni Clubs, I discover 1,433 Penn alumni living in India and four clubs to support them. (Two are for Wharton grads, one for law alums, and then there's a general India Alumni Club.)
My international adventure doesn't stop in South Asia. This map, part of the new Penn Global website (global.upenn.edu), is peppered with student, faculty, and alumni activity all over the world. Belgium? Twenty-seven faculty members are working on projects there. Japan? Some 1,942 alumni call it home.
It's staggering, really, to sit down and, with a few clicks, discover Penn's international reach—a reach that will be further expanding over the next five years thanks to a new vice provost, a new five-year strategy, and a host of new initiatives, including this mesmerizing map.
---
Global engagement has a long history at Penn, starting with its bespectacled founder Benjamin Franklin. He headed to Paris in the late 1770s charged with a critical task: convince the French to support America's independence efforts.
The British weren't happy to see Franklin in Europe, especially as it became clear that the French loved him. Aristocrats embraced his intellect. His face appeared on men's watches and snuffboxes. Women styled their hair to resemble his fur cap. By 1779, Franklin had not only completed his original task, but had also become the first American minister—ambassador, we would say now—to be received by a foreign government.
In addition to his talents and achievements as a publisher, author, inventor, Founding Father, and scientist, Franklin was the country's first diplomat. It only made sense, then, for his growing University to also embrace the wider world.
Starting under Franklin and continuing through the 19th and 20th centuries, Penn welcomed international students; sent its own students to study abroad; and established classes, offices, centers, and associations to solidify its place in the global arena.
When Amy Gutmann was named the University's eighth president more than 200 years after Franklin's French success, she vowed to take Penn's global engagement to still greater heights. She included "engaging globally" in the Penn Compact, and in 2005 she became the first Penn president to visit India. As she wrote in the Gazette that same year: "We are building on a solid foundation to create a new vision of local and global engagement. It is not an exercise in noblesse oblige … Rather, it is a collaborative, integrated approach to teaching, research, campus development, and economic activity that will boost Penn's capacity to serve our society and humanity" ["From College Hall," Sept|Oct 2005].
The question became how to make this new vision for engagement happen. Data on the University's global efforts were scattered across schools and offices. There was no unifying point of contact, no central resource to keep track of everything Penn was up to abroad. To address that, in 2011 the University named Ezekiel Emanuel as its first vice provost of global initiatives—a post that came in addition to the Diane v.S. Levy and Robert M. Levy University Professor's appointments in the Wharton School and the Perelman School of Medicine.
"I think the president was very clear about the basic goal when they hired me," Emanuel says. "We needed to coordinate what we were doing in global activities, and we needed to have a strategic vision of where to invest the University's time, effort, and resources."
There was one problem: "We didn't actually know what we were doing," Emanuel explains with a chuckle. "We had no inventory. The extent of what was going on was literally unknown. When we pulled all the data together, we were shocked by how many things people are doing [abroad]. It was surprising, and not just unknown to us, but unknown to everyone else. Faculty and student researchers in India, for instance, didn't know about other Penn people who were studying or doing research there."
After gathering all the relevant information, Emanuel and his team in the new office for global initiatives drew up a five-year strategy. Released in December, the "Strategic Framework for Penn's Global Initiatives 2012-2017" is built around the core values of "understanding, engagement, and impact" and rests on three "strategic pillars":
 Prepare students for an increasingly globalized society.
Strengthen Penn as a global agenda-setter.
Promote healthy, inspiring, productive lives.
 "I think you can be laissez-faire about [global activities] and just let things happen, in which case we might not maximize our impact, or you can try to be strategic about it and encourage people to do things that really are best for Penn," Emanuel says of developing the new strategy.
"As our world has become more interconnected, Penn's role in the world has grown exponentially," Gutmann says. "We now have a strong strategic framework to guide our future global initiatives … Our global strategic plan will focus our efforts and lead Penn to even deeper levels of global engagement in our teaching, research, and public outreach."
Here's how.