Seeds of a Quiet Revolution
Lots of aid projects in the developing world provide materials—from latrines to laptops—but little in the way of involvement or input for the people they are supposed to benefit. In Nicaragua a group of Penn alumni, faculty, and students are trying a different approach in a rural education effort that emphasizes sustainability and collaboration over technology.
BY NATHANIEL POPKIN | Photography by Nathaniel Popkin, Matthew Tarditi, and Adriana Chamorro | PDF download
---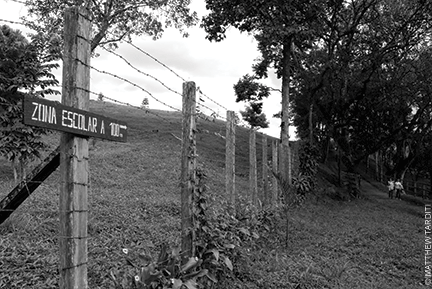 On the Buenos Aires coffee plantation in Nicaragua, a sign points the way to the "school zone."
---
Late one evening in October 2010, Duilio Baltodano W'70 sat on the patio at Vista Hermosa, his house in the Barrio Altamira section of Managua. Baltodano, a prince of Nicaraguan coffee, was in good spirits. It was the start of the harvest, or cosecha, and that year's was expected to be the largest yet. With commodity prices high, it was also likely to be the most profitable in the nation's history.
Dinner was to be a celebration of sorts for Baltodano, his son Ernesto C'05, and their partners from the US, Sharon Ravitch GrEd'00, senior lecturer in the Graduate School of Education, and Matthew Tarditi GEd'10 GrEd'14. They had just completed the first year of an experiment in rural education called Semillas Digitales (Digital Seeds) that had started in the small primary school at Baltodano's rainforest-certified coffee plantation, Buenos Aires, in Nicaragua's highlands, outside the small city of Jinotega. The initial results were promising—students had made statistically significant gains in most subject areas—and that morning Baltodano had briefed the national media. During the press conference he wanted to make it clear that implementing the project, even at this modest scale, had heightened his expectations.
These are the seeds of a quiet revolution, he said. "Together, yes, we can change the system of rural education in Nicaragua."
Everyone at dinner agreed that the press conference had been a success. Although they had never been to the capital before, the children of Buenos Aires had presented themselves with poise and clarity. It was impossible not to feel inspired. But as dinner was brought out, the conversation shifted to the project's next phase. Starting in February 2012, Semillas Digitales would enter a school named Abisinia, in a much larger and more urban community about 45 minutes drive on dirt roads from Buenos Aires. From Abisinia, it would spread to another school at the plantation Los Potrerillos and four more schools in the region by the end of 2013.
The prospect seemed to trouble Duilio. Were they moving too quickly, or not quickly enough? Certainly, philanthropists had already donated hundreds of thousands of laptop computers to schools in poor countries. "I could give away some laptops, take a picture, and go home. That would be impressive. But really," he wondered, "what is our goal as a family? What do we want to accomplish?"
Born in 1948 the scion of one of Nicaragua's wealthiest families, Baltodano was not always so reflective. After he graduated from Penn in 1970, his father sent him to work as a trader in the coffee exchanges in Hamburg and Geneva. He convinced his father's friend Don Alfredo Pellas Chamorro to send cases of the famous rum that Pellas made, Flor de Caña—ostensibly so that he could market the product in Europe. But the gregarious and fun-loving Baltodano threw parties instead.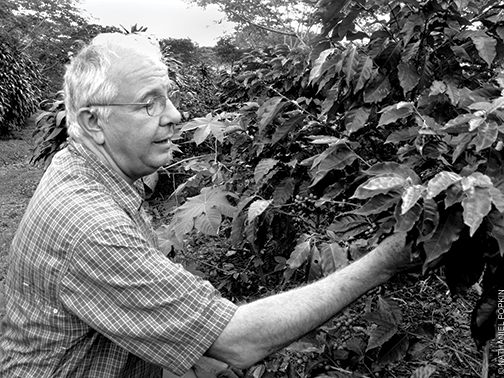 Coffee-grower—and rural-education reformer—Duilio Baltodano W'70.
---
When he returned to Nicaragua, his father sent him to INCAE, the Central American business school set up by Harvard University in the 1960s. Baltodano studied sales and marketing, not trade. He lived large and gave little thought to questions of poverty and justice. He went to work managing CISA, the family's agro business, importing farm supplies and equipment and exporting coffee and other commodities. At that time, only the Samozas, who had kept Nicaragua under dictatorial control for four decades, exported more coffee than the Baltodanos.
But as the dictatorship grew more oppressive, Baltodano's awareness began to grow. Many among the elite—including his uncle Emilio, who was a member of a powerful group of businessmen known as the "gang of twelve"—openly supported the growing Sandinista opposition. Nevertheless, after the Revolution in 1979, the government nationalized imports and exports. And that left Duilio "naked, broken, with nothing."
This was the third blow to the family's business interests in less than a decade. In 1972 an earthquake had destroyed much of the firm's infrastructure; then, during the Revolution, Samoza's bombs had decimated the main office. Now, Baltodano knew he would have to adapt to survive. He sent his wife Indiana and their newborn son Duilio to Miami.
"I said to myself, 'I'm going to continue in Nicaragua, remain as long as I can,'" he recalls. "And so I had to decide what am I, a politician or a businessman. As a businessman I had to be quiet, never get mad with anyone. Once I get impatient or mad or aggressive, they will throw me out. The directors of the state companies: now we are friends, but then I was trying to reach common ground. It wasn't ideology, but pragmatism. I would always say, 'Let's talk about business.'"
The Sandinistas were badly weakened by the US-backed Contra war, and in 1990, they lost the first election held under a new, democratic constitution. A "conciliation" government, led by the conservative Doña Violeta Chamorro, loosened the market. The Baltodanos sought to revive their coffee-growing business.
The highlands, particularly near Jinotega, were still under the control of various violent militia, remnants of Sandinista and Contra fighting groups, who continued assaulting each other well after the war had ended, and who terrorized and even murdered small farmers trying to get on with their lives. To survive, most coffee producers sought high yield, achieved by growing their coffee trees in full sun. But just then Illy, Starbucks, and other high-end coffee roasters began looking for better quality, and as a result growing philosophies shifted toward the use of shade and other natural methods. These clients also required improvements in housing, health, and education for the workers and their families.