A New Era in Penn Athletics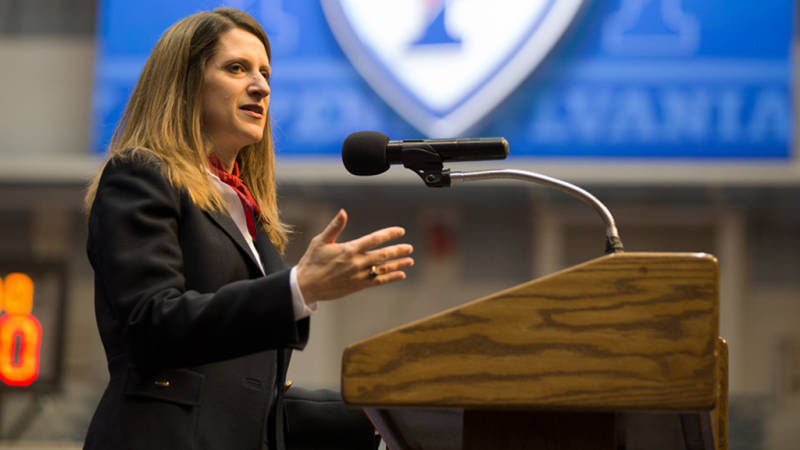 Four months ago, Penn announced that athletics director Steve Bilsky W'71 would be retiring at the end of the school year after 20 years on the job.
Since then, the search has been on to find his replacement – a search that officially ended Monday when the University introduced its new director of recreation and intercollegiate athletics, Dr. M. Grace Calhoun, at a press conference at the Palestra.
Calhoun, who currently serves as the athletic director at Loyola University Chicago, brings a wealth of experience with her to Philadelphia, having previously served on the athletic administrations at Indiana, Saint Francis (Pa.) and the University of Florida, as well as with the Patriot League (where she was associate executive director). She also has ties to the Ivy League, having run track at Brown and worked as an administrator at Dartmouth.
To begin the press conference, Penn provost Vincent Price praised the work of Bilsky, calling Penn's athletic facilities the best of "any urban campus in the country" and telling the audience, "I cannot imagine a better foundation for the future than the one Steve has built." (To read about the legacy Bilsky leaves behind, read this Q&A with him from the last issue of the magazine.) But Calhoun, he said, can build upon that foundation because she "brings three kinds of experience that will make her an extraordinary asset to the Penn community: a record of inspirational on-campus leadership, deep experience with the governance of the NCAA and, most importantly, a true passion for the welfare of students."
Calhoun then stepped up to the podium and, with a smile on her face, addressed the audience and fielded questions from the media. Here are some of the highlights of what she said as she eagerly awaits to take over as Penn's new athletic director on July 1.
On her excitement for starting a new job at Penn: "As I stand in the Palestra, looking at all of this history and tradition, I promise I will never forget how really cool it is to be the director of recreation and intercollegiate athletics at Penn. Wow, what an honor."
On balancing winning with the Ivy League's ideals: "Penn can and will set the gold standard for combining competitiveness with an educationally sound approach to athletics. No one cares more than I do about winning. I'm a competitor through and through. Yet you will soon find I approach athletics and recreation as an educator."
On how her husband has always supported her as she's bounced from job to job: "I have promised this move is for the long haul."
On goals for Penn's 33 varsity programs: "I believe all teams should be positioned to compete for their respective conference titles on an annual basis and even higher aspirations where national access and success does not come at the cost of our coveted Ivy ideals."
On waning attendance at Penn sporting events (which Bilsky called "one of his biggest concerns going forward): "There's a lot of competition for students' time these days. Many have grown up in places or a time where going to athletics was not part of their culture, not part of what they did. So we need to train them that this is fun, this is community building, that these will be some of the great moments they'll take with them for the rest of their lives. … This is a national issue. This is nothing that's unique to Penn by any means. But I think it's how you approach it. What will make things more fun for students? I always feel that if we can get them into the Palestra and show them a good time, they're going to keep coming back. So it's all about how we put that together and create those experiences that they want to come out to. … Think about the history and tradition here. I do think that Penn students all need to have part of that experience before they leave here and we'll work hard to do that."
On being the first female athletic director in the Big 5: "I've always looked at that as a sense of responsibility – that I need to ensure that I do a fantastic job because I know if I do so I'm helping open doors for other women, just like so many other phenomenal women have helped to open doors for me by being the first to serve in their positions."
On fundraising: "I personally love to do it. I enjoy meeting people. I enjoy sharing my passion. And if you feel real strongly about what you do and you look at student-athletes every day and know they deserve high-quality experiences, it's really easy for me to put together a compelling pitch. … It's something Steve Bilksy did an incredible job with. My challenge is to keep that moving forward. We're coming off a big campaign so it's all about how we reframe it now. From today, I plan to ask for a list of phone numbers and start making those connections and see what we can do to continue to raise that bar."
On transitioning from Loyola to Penn: "I start as of July 1. Steve Bilsky is in the position until then and I fully expect him to continue his decision-making until then. This will be the sanest transition I've had. I've had a lot where I finished in one state Friday and start in my next job Monday. So I'll have plenty of time to really start doing a lot of listening."
On the balance between revenue vs. non-revenue sports: "As an Olympic sport athlete myself, I never thought I was any lesser of a student-athlete because I chose to do an Olympic sport and not a revenue sport. And in fact, there were not a lot of options with revenue sports when I was young. I have felt that all student-athletes should feel like they are treated equivalently. There are certain expectations that they should all have, and that I will do my best to support them all equivalently."
On the state of the men's basketball program and the job security of head coach Jerome Allen after another poor season: "Well, first and foremost, during this transitional period, we have no plans to make any changes. I believe strongly that I really need to get in and assess the situation firsthand. I believe everyone is entitled to a fair opportunity. Right now, I certainly can see the records, as everyone does. I can read the blogs, as everyone can. But I really need to understand what's happening there, and I certainly will begin that evaluation and my fact-finding immediately. I certainly am very committed to a fair and full process with this, and figuring out how I can best support the program going forward."
– Dave Zeitlin